In this tutorial I'll be demonstrating how to convert RGB to CMYK with Illustrator. This only requires a few clicks, but some manual adjustments will need to be made after the conversion. You'll see what I mean moving forward.
Why Convert to CMYK?
If you've ever designed something to be printed, your print shop will likely require a document in CMYK color format, even though most design software uses RGB format by default.
In short, RGB is a color format that is intended for use on screens and digital displays. RGB colors are generated using light. CMYK is a color format intended for print. CMYK colors are generated using ink.
Ink cannot generate as many colors as light can, so it's common for RGB documents to be using colors that are not within the range of what can actually be printed. This is why your print shop will decline to print your document if it's in RGB format. This is a common problem for us Inkscape users.
When designing for print, you should always start out in CMYK mode. If you've already created your design then you'll need to switch it from RGB to CMYK.
Convert RGB to CMYK with Illustrator
To convert your RGB document to CMYK using Adobe Illustrator, simply navigate to File -> Document Color Mode and select CMYK Color. This will change the color format of your document and restrict it to shades that are exclusively within the CMYK gamut.
The following is just a written overview. Please watch the video tutorial below if these instructions are unclear and/or you want more step-by-step instructions.
To demonstrate this process I'll be using the following design as an example. It's just a depiction of some standard colors.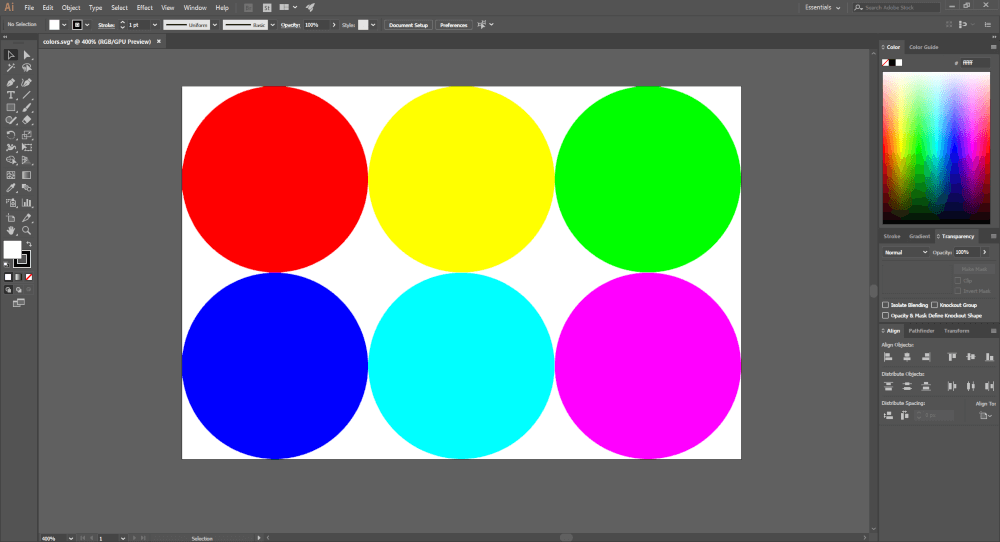 You can confirm that this document is indeed using the RGB color format as indicated in the thumbnail title…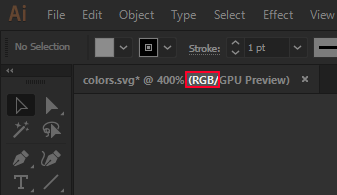 To change the color mode, simply navigate to File -> Document Color Mode and choose CMYK Color. You'll notice the thumbnail title update, and you'll also notice the colors of your document change as well.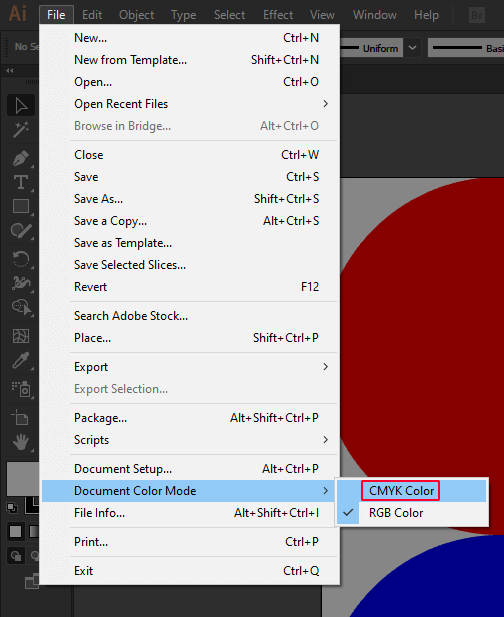 Depending on the colors in your document, you're going to notice that some of them change. The colors will appear dull and muddy. This is common when converting RGB to CMYK. Here's a before and after to illustrate what I mean…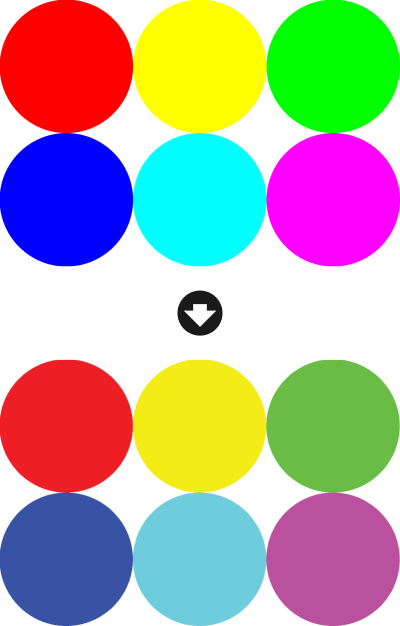 The colors on the bottom look noticeably worse because the original colors were out of the CMYK range (or "out of gamut" as it's called.) Therefore it defaulted to its nearest counterpart.
To correct this you can click on each individual object and manually adjust the color so that it's more in-line with how you intended it to look. What I like to do is open the color menu and drag the color selector to the top-right. This will bring some life back into the color, but it can also bring it out of gamut as indicated by the warning icon in the color menu…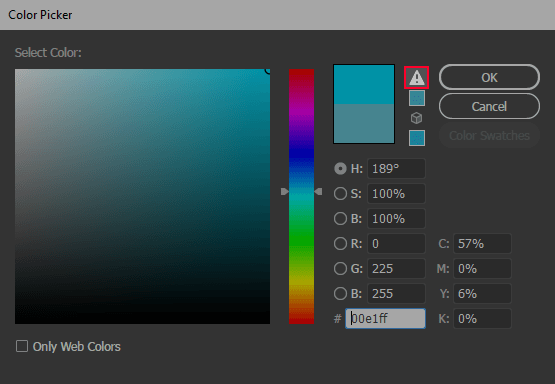 Simply click on that warning icon so that it defaults to the nearest color that is within the CMYK range and click OK.
Here's how my CMYK colors look after adjusting all of them…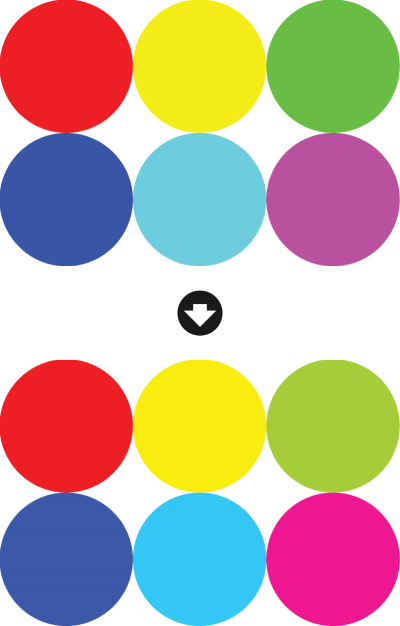 As you can see, they don't quite match up with the original RGB colors, but I was able to bring them back to life.
Once you're finished go ahead and save/export your document and you're done! That is how you can easily convert RGB to CMYK with Illustrator! If you have any questions leave a comment below. As always, thanks for watching!
Master The Software
Want to learn everything there is to know about your favorite design apps? Check out our interactive video courses and private community for getting help when you need it!
The Inkscape Master Class

A comprehensive series of 60+ videos where I explain every tool and feature in Inkscape.

Affinity Designer Master Class

A series of 80+ explainer videos where I go over every tool and feature in Affinity Designer.

The Illustrator Explainer Series

A series of 100+ explainer videos where I go over every tool and feature in Adobe Illustrator.

The Logo Design Academy

An 18-part video series teaching my entire creative process for designing logos, from start to finish.
This post may contain affiliate links. Read affiliate disclosure here.