Frequently Asked Questions
Logo Design FAQ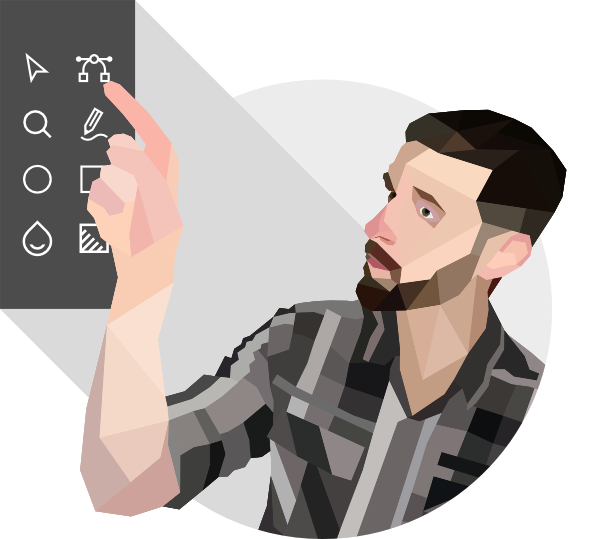 Nick Saporito
Graphic Designer & Content Creator
Here are some answers to some of the questions I'm most commonly asked.
Index
How much does a logo cost?
Will you be designing the logo or do you outsource it to someone else?
How long does it take to have a logo completed?
How is payment handled?
What if I don't like the designs?
What files will I receive?
How does copyright/ownership of the final design work?
Would you be willing to sign an NDA?
Do you offer any other design services?
Can I discuss my project with you over the phone?
How much does a logo cost?
I hate to give the boring answer, but I have to because it's the only appropriate answer — it varies. My prices generally range between $100 and $1,000. I understand that's quite a drastic difference so allow me to explain.
I price logo designs based on roughly how much time I estimate they'll take. Because each logo project is different, so too is the price tag I place on them. Simple, straightforward projects where you have an exact idea of what you're looking for typically don't require much of my time, therefore they tend to be on the cheaper end. However, larger projects that require more brainstorming, design exploration, and research, tend to be on the higher end.
Another factor is your own budget. Try to think of it in terms of purchasing blocks of my time rather than a logo. The more of my time you're able to purchase, the more time I'll be able to invest in your logo, the more options and variety you'll get to choose from, and the more revisions you'll get to make.
I try my best to find a solution for every budget. When filling out your design brief, you'll be asked what your budget is. If I can work something out within your budget, based on the criteria you've given me, I'll be happy to work with you.
Will you be designing the logo or do you outsource it to someone else?
I will be designing your logo myself. I don't have a team or any staff working for me, and I never outsource my logo projects to anyone else. Everything on my portfolio was created by me and is indicative of the quality standards you can expect when hiring me.
How long does it take to have a logo completed?
I'll have your first drafts sent over within 1-3 days of starting a project, depending on how much work needs to be done. Changes/revisions are returned within 24 hours of request (excluding weekends and major holidays.) From there it's just a matter of how many revisions will be needed.
Typically speaking, the average logo project is completed within a week, from start to finish.
How is payment handled?
For smaller projects ($300 and below,) full payment is required upfront in order to secure a spot in my schedule and begin work. For larger projects ($300 and above,) I can accept a 50% deposit to start, then the remaining 50% to be paid after the first drafts are delivered.
I accept payment via PayPal, Square, and all the major card merchants (Visa, Masterard, etc.)
What if I don't like the designs?
If you're not happy with the designs I present then you can elect to cancel the project if you'd like. Due to the nature of releasing original ideas and the investment of time it requires, I can only refund 50% of the cost if you've already paid in full. Deposit payments non-refundable.
Refund requests must be made before the 2nd round of revisions. This is to prevent people from canceling on me after having spent days and weeks working on countless revisions.
Once we've outlined the scope of work and agree on a price I'll be sending over a standard service agreement for you to look over and approve before getting started. It addresses refunds and the like in more detail.
What files will I receive?
You will receive all of the files and formats you could possibly ever need for a logo. Here's the main formats…
SVG – True vector format. This is the editable source file that can be edited by me, you, or another designer if need be.
PNG – Rasterized format with a transparent background. Ideal for applications where your logo will be layered over a preexisting background, like websites, advertisements, mobile apps, etc.
JPG – Another rasterized format, similar to PNG, only without a transparent background because JPG doesn't support alpha channels.
+ More
You can read more about all of the variations and file types you can expect on a post I wrote about logo files for clients.
How does copyright/ownership of the final design work?
All logos that I create are done as a work for hire. This means that you will automatically assume ownership and will be recognized as the author/copyright holder of the final design as if you created it yourself. The only instance in which you won't be granted ownership is if you cancel the project.
Would you be willing to sign an NDA?
I understand the fragile and precarious nature of business, and I also understand the role that non-disclosure agreements play in securing your intellectual property. However, I have to place a 20% surcharge on projects where I'll be required to sign an NDA.
As a designer, I am judged mostly by the work that I've done for previous clients. Not being able to share that work on my portfolio and other marketing materials hurts my ability to do business and be hired by future clients. The surcharge is meant to help mitigate that loss.
Do you offer any other design services?
Yes, mostly branding-specific design. Here's some of the design services I offer in addition to logos…
Stationery – business cards, letterheads, envelopes, presentation folders, etc.
Advertising – trade show banners, brochures, static PPC ad banners, flyers, etc.
Merchandise – t shirts, book covers, labels and packaging, etc.
Social media branding – cover graphics, channel art, profile pictures, podcast covers
Web graphics – buttons, icons, headers, infographics ,etc.
Mobile applications – app icons, splash screens, icons/UI
Some of the services I do not offer are as follows…
Character/mascot illustrations – any kind of detailed illustrations are beyond my area of focus
Calligraphy/hand lettering
Font design – I regularly design custom lettering for logos, but I don't have the software or expertise required to generate proper font files
3D Modelling – anything that requires the use of 3D software (character design for games, property renderings, etc.)
Animation – video intros, animated PPC ads, animated logos
Website design – although I do have a generalized understanding of web design, my competencies aren't advanced enough for me to feel comfortable offering it in commerce. I do have colleagues I can refer you to though
Any kind of coding – programming, software/app development, etc.
If there's something else you'd like me to design that isn't listed here just reach out and ask.
Can I discuss my project with you over the phone?
My design services are mostly conducted through email. I have to reserve phone time for paying clients with whom I already have a working project. So if we already have a project in the works and you want to hop on a call, sure, I'd be glad to schedule a call.
However, if you're considering hiring me for a project and would like to discuss it further, I'll have to refer you to the design brief page, then from there we can hash out the specifics through email. The reason for this is that phone calls are very time-consuming, and when I've opened up my phones lines to the general public in the past, I had too many people just making casual inquiries that hardly ever materialized to actual business. Although I'm very appreciative that there's so many people who take an interest in my work, it's just too disruptive to my workflow and it isn't fair to the people who've already paid me to be working on their projects.
As a freelancer, my time is the product that I sell, and it's a finite resource. It simply isn't practical for me to allow anyone to call me up on a whim and take time from inventory. I understand the importance of communicating all of the specifics of your project, but submitting a design brief is the most effective way of doing so because it addresses all of the information I need in order to best serve you. It also gives me a written record to refer back to if needed whereas with a phone call I have to rely on my memory.