If you use open-source design software like Inkscape and GIMP, you've probably designed something to be printed professionally, only to have it be rejected by the print shop because it's in RGB color format and not CMYK. There are several ways to export CMYK with Inkscape though, and in this post I'll be going over 5 of my favorite methods for doing so.
Check out the video presentation below, or continue on for the written instructions:
CMYK vs RGB
You may be wondering what the difference is between these two color models. Color management is so complex and advanced that it's an entire skill set in and of itself, but I'll try to break it down in a very simple and understandable way.
RGB
RGB is a subtractive color model that uses some combination of three different colors of light — red, green, and blue — to form every other color within its spectrum.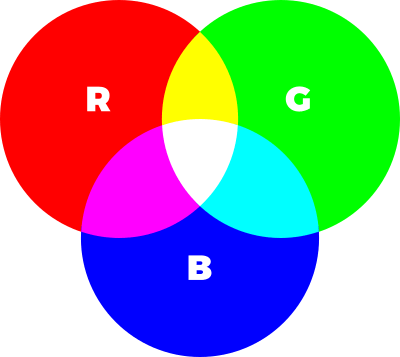 Since RGB uses light to generate colors, it provides for a more vibrant and diverse spectrum than CMYK does. This makes the RGB format ideal for use on screens and digital displays because they can produce a wider variety of colors.
RGB format is not ideal for print though because there's a pretty good chance that some of the colors you're using are outside of the range of what can be produced with ink. I've found this to be particularly true with neon shades of green, blue, orange, pink, etc.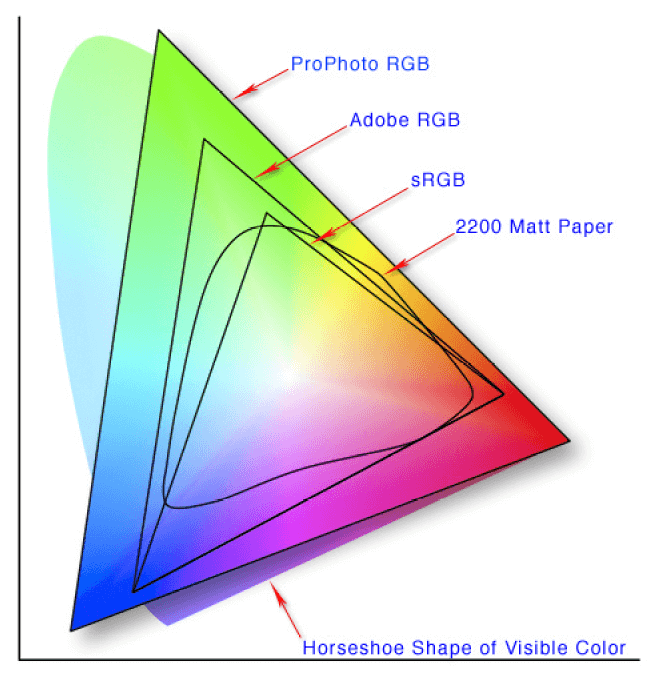 Printing documents that use RGB color format usually results in the colors appearing muddy and desaturated. Some print shops (like VistaPrint) handle the spot conversions quite well, but most print shops will reject documents in RGB format because they don't want to be held responsible for the finished product looking different in print than it does on the customer's digital display.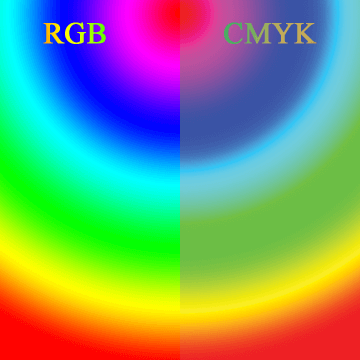 This is why you should work in the CMYK color format when you're designing something to be printed. CMYK ensures that your design will look the same in print as it does on your screen.
CMYK
CMYK is an additive color model that uses some combination of four different colors of ink — cyan, magenta, yellow, and black — to produce all of the other colors.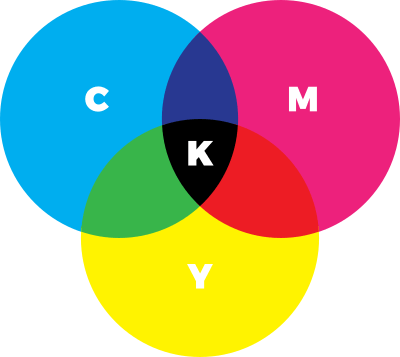 Although it provides for less vibrant color options, working within the CMYK color space ensures that none of the colors you're working with will be outside of the range (or "gamut" as it's called) of what can be produced in ink.
How To Export CMYK with Inkscape
One of the biggest downsides of using Inkscape is that it currently can only produce documents in RGB format, making it a nightmare for print design. However, there are some workarounds. They're far from perfect, but they will allow you to export CMYK with Inkscape in some capacity. Let's have a look.
1. Scribus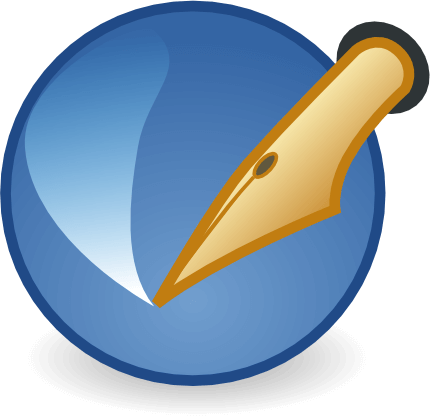 Scribus is an open source desktop publishing application similar to Adobe InDesign. The great thing about Scribus is that it allows you to open PDF files that were originally created in Inkscape and export them in CMYK color format. I made a video tutorial about it a few years ago…
Follow the instructions in the video tutorial if you need an editable PDF file in CMYK format. As demonstrated in the video, the PDF file that you generate will remain an editable vector file that can be opened with Inkscape, Illustrator, CorelDraw, or any other vector graphics software.
2. Krita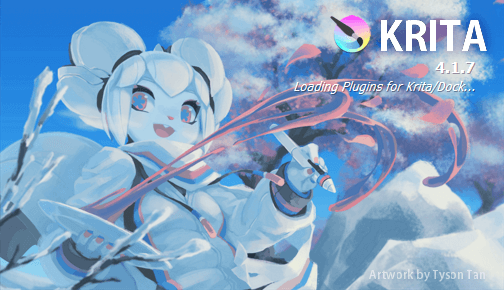 Much like GIMP, Krita is also an open source image editing and photo manipulation application. Unlike GIMP though, Krita comes with the ability to generate CMYK files built-in.
To generate a CMYK PNG or JPG file with Krita, simply open your document and go to Image > Properties, click on the Image Color Space tab, and choose CMYK/Alpha from the Modes drop down.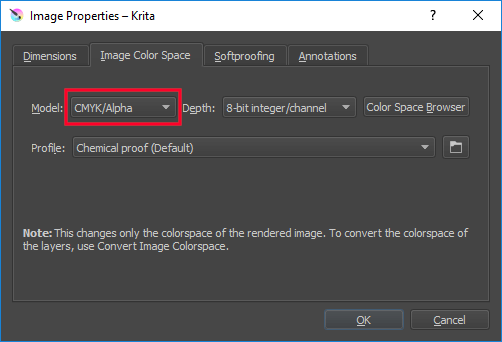 Go ahead and click OK to finalize. All you have to do now is simply go to File > Export and choose the format you'd like to generate your CMYK file in.
Using Krita to export CMYK with Inkscape is ideal if you need a rasterized format like PNG, JPG, TIF, etc. However, there's no way to create editable vector files (like PDF) with Krita.
3. RGB2CMYK
Rgb2cmyk.org is a free online tool that allows you to upload an RGB document and generate it with a CMYK color profile in either JPG or TIF format.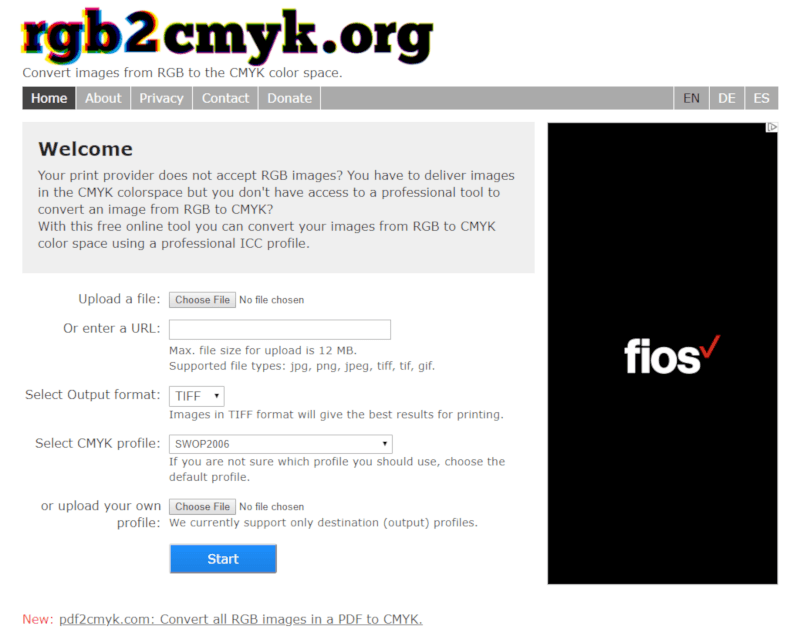 The site is great if you need to export CMYK with Inkscape in raster formats. It's very simple, self-explanatory, and helpful. However, much like Krita, this solution isn't viable if you need an editable vector file like PDF.
One problem I've noticed with rgb2cmyk.org is that the color conversion is sometimes pretty far off. This is to be expected any time you convert an RGB document to CMYK, but the difference here can be pretty stark. I've encountered color banding and contrasting issues at times.
4. The ExportPDFCMYK Extension
ExportPDFCMYK is a third-party extension for Inkscape that allows you to save your work in PDF format with a CMYK color profile.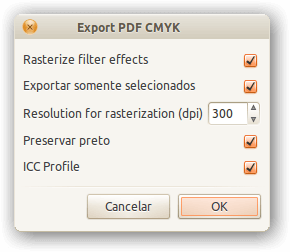 Unfortunately this extension is only available for Linux users, so if you're a Windows user and you need to export CMYK with Inkscape, you'll have to look elsewhere. For you Linux users though, you can find the download link and installation instructions on the Wiki page.
One downside to using this extension is that it only produces PDF files, so you'll have to use one of the other solutions if raster formats are required.
5. Illustrator Free Trial
The final method to export CMYK with Inkscape — and this is my personal favorite — is to simply use Illustrator to make the conversion.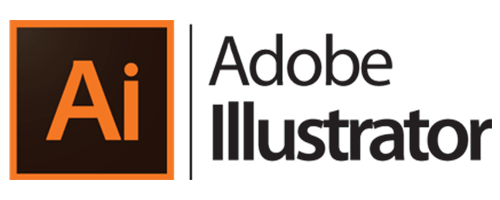 I know that Illustrator's price tage isn't justifiable for some of you, but if you're in a bind and you really need a CMYK document, it may be worth it to download the free trial so you can export your work.
Illustrator really is the best way to produce CMYK documents that you originally created with Inkscape because it allows you to produce them in any format you want, including editable vectors in SVG, EPS, PDF, and AI formats, as well as rasterized formats like JPG, PNG and TIF. And the great thing about Illustrator is that it's what most print shops use in preparation, so you'll never have to worry about cross-platform discrepancies.
To convert your work to CMYK format with Illustrator, first save your Inkscape document as an SVG file, then open it with Illustrator.
Now go to File > Document Color Mode and select CMYK Color.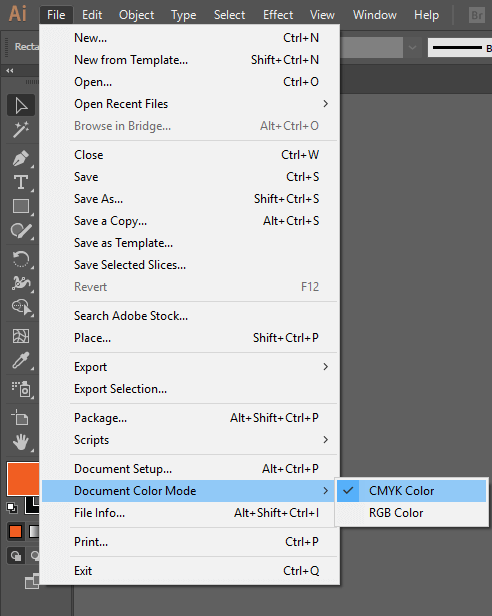 You'll know your document is within the CMYK gamut by referring to the canvas tab at the top of the screen, which will indicate either RGB or CMYK.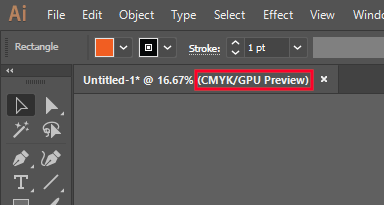 Now all you have to do is simple save or export your document in any format you'd like, and you're all set!
Logos By Nick LLC is a participant in the Amazon Services LLC Associates Program, an affiliate advertising program designed to provide a means for sites to earn advertising fees by advertising and linking to Amazon.com. As an Amazon Associate I earn from qualifying purchases. Read affiliate disclosure here.