One of the most common ways users look to utilize Inkscape is using it as a means of fitting an image to a shape. This is a rather simple process that can be accomplished with clipping paths, and thanks to the non-destructive nature of working with clipping paths, this effect is completely reversible. Today's tutorial will guide you through all of this as we explore how to cut out a shape from an image with Inkscape.
Cutting out a shape from an image with Inkscape is simply a matter of placing your shape over the image, then creating a clipping path using both the shape and the image. There's a few pointers to keep in mind that will help make this a smoother process though. Let's dig in.
Cut Out A Shape From An Image with Inkscape
To cut out a shape from an image with Inkscape, place your shape over the images, select both the shape and the image at the same time, then create a clipping path from it by navigating to Object, Clip, Set.
The following video tutorial will walk you through the entire process of using Inkscape to cut out a shape from a rasterized image
It should be noted that this tutorial is for making your image fit a specific shape. If you're looking to cut a hole in your image using a shape, check out the tutorial I made for that here.
Step 1: Import your image into Inkscape
In order to cut out a shape from an image with Inkscape, we first need an image to work with.
To import your image into Inkscape, drag and drop the image file onto your canvas or navigate to:
File > Import
When asked if you want to link or embed the image, choose embed and leave the rest of the settings as their default.
For this demonstration I will be using the following image: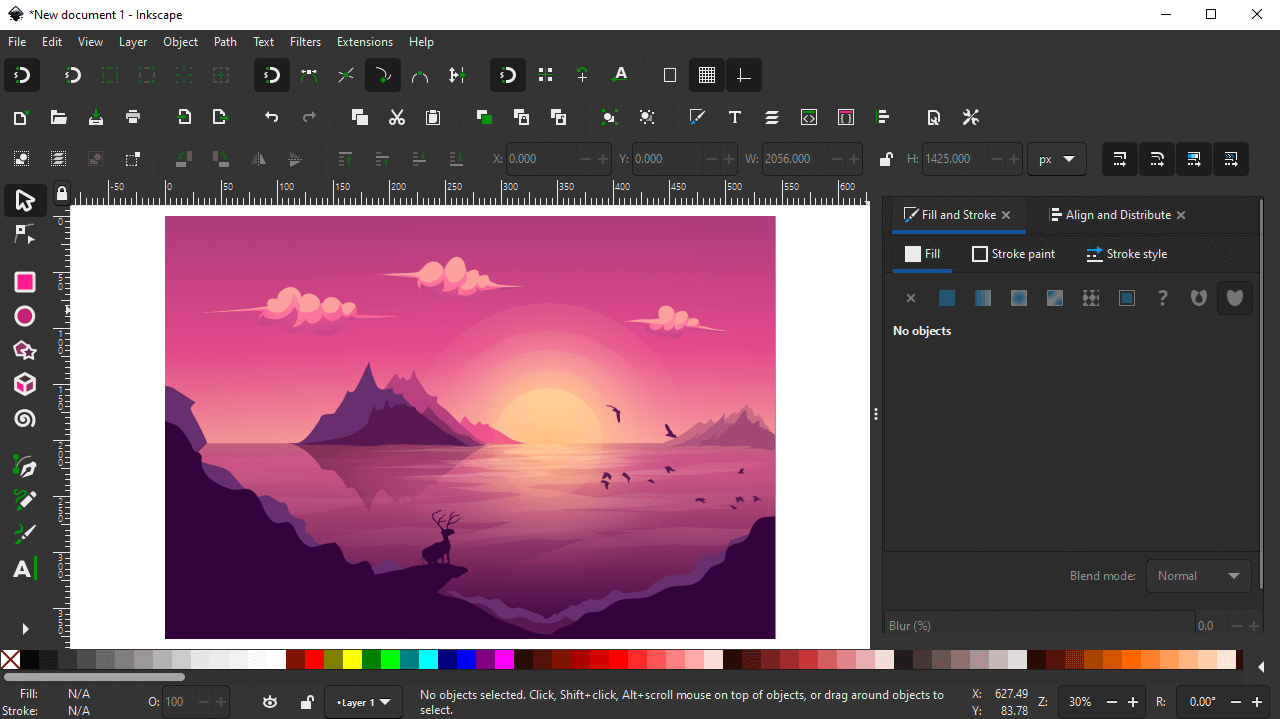 Although this example image was created as a vector illustration, it is indeed a rasterized image, meaning it's made of pixels and is in PNG or JPG format.
Step 2: Place your shape over the image
Now we will create the shape you'd like to use to cut out your image with.
For this demonstration I will be using a silhouette version of the Inkscape logo. You can use whatever shape you'd like though. In fact, you can even use text if you'd like!
Place the shape over your image. In order to make this an easier process:
Make the shape a color that contrasts with the image. This will make it easier for you to distinguish your shape from the image.
Reduce the opacity of the image. This will make it so that you can see the area of your image that will be cut out with the shape over it. Otherwise you have to guess where they line up.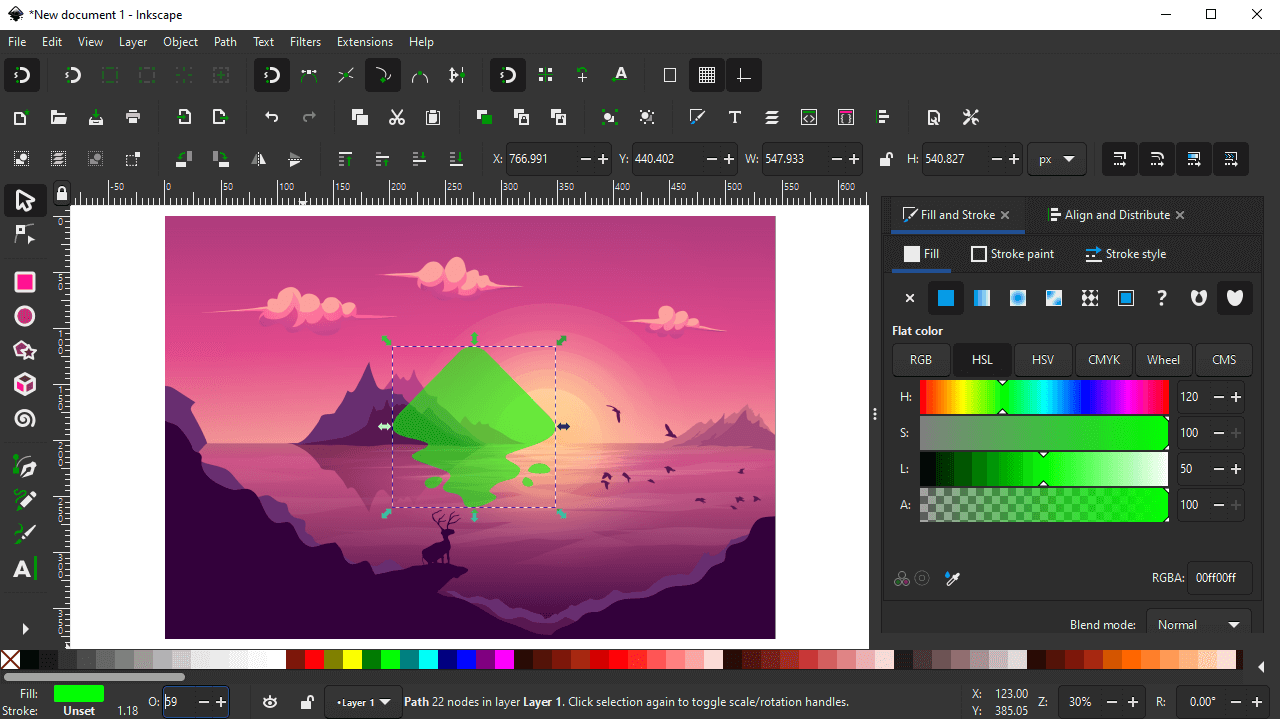 You can reduce the opacity of your object using the O: input field in the bottom-left corner of the screen: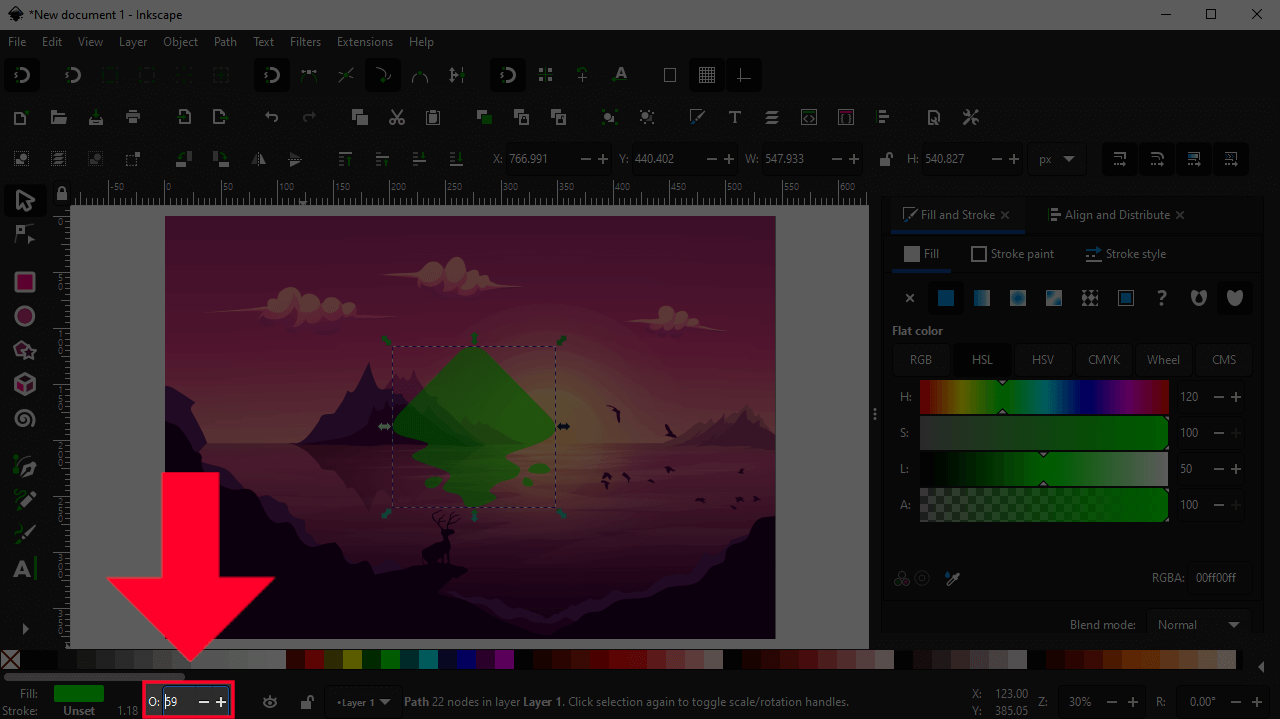 For this image I have the opacity set at 59, but the value you should use will depend entirely on your image's composition.
The goal is to make it so that you can see through the shape well enough to know where it aligns with your image, but also keep it opaque enough that you can still see it against your image.
Step 3: Adjust the size and position of the shape relative to the image
Now it's time to adjust the shape so that we are only cutting out the portion of the image that we want cropped.
Using the Select Tool, scale your shape up or down according to your image and move it on top of the area of the image that you'd like to cut out.
For my example image, I wanted to include the deer silhouette, the mountains, the sun, the sky, and one of the birds, so I scaled and positioned my shape accordingly: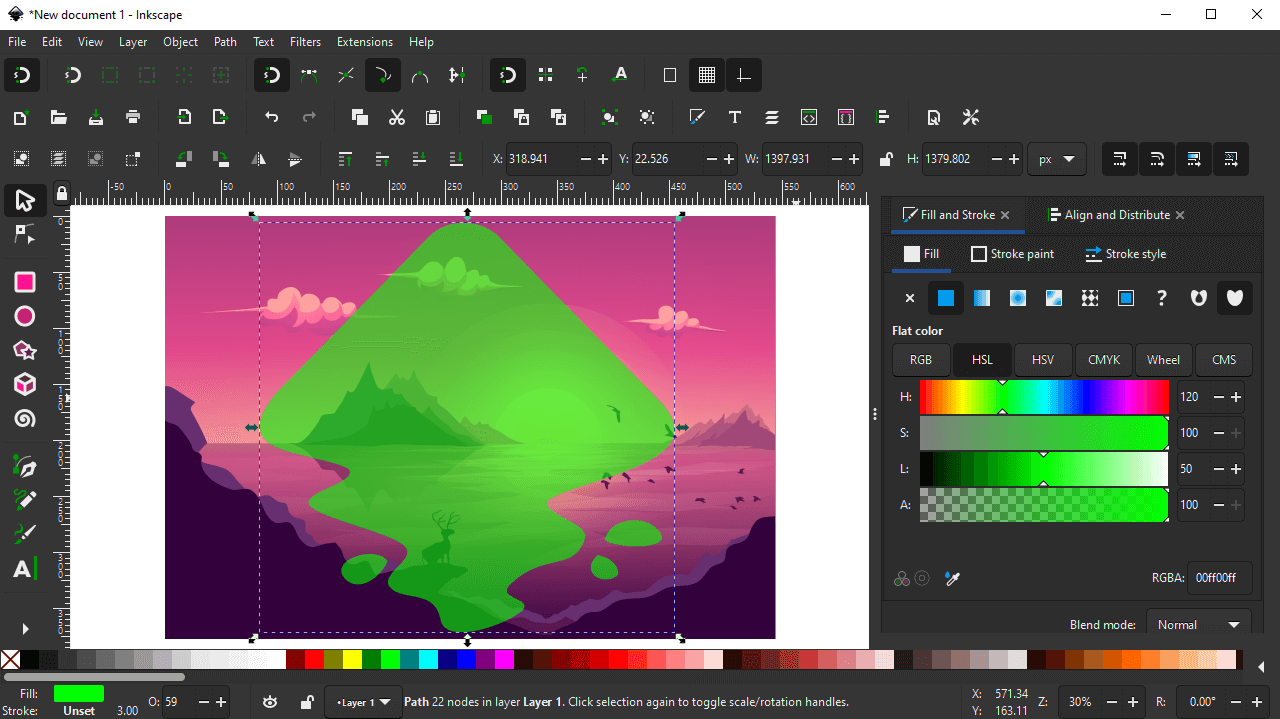 Step 4: Select both objects and make a clipping path with them
This final step is where the magic happens. We will be using the handy clipping path feature to cut out a shape from an image with Inkscape.
To do this, first make sure that you have both objects selected at once — the shape and the image. You can select both objects at the same time by holding Shift and clicking on them, or by clicking and dragging a selection over both of them using the Select Tool.
With both objects selected, navigate to:
Object > Clip > Set
This will effectively cut out your image according to your shape: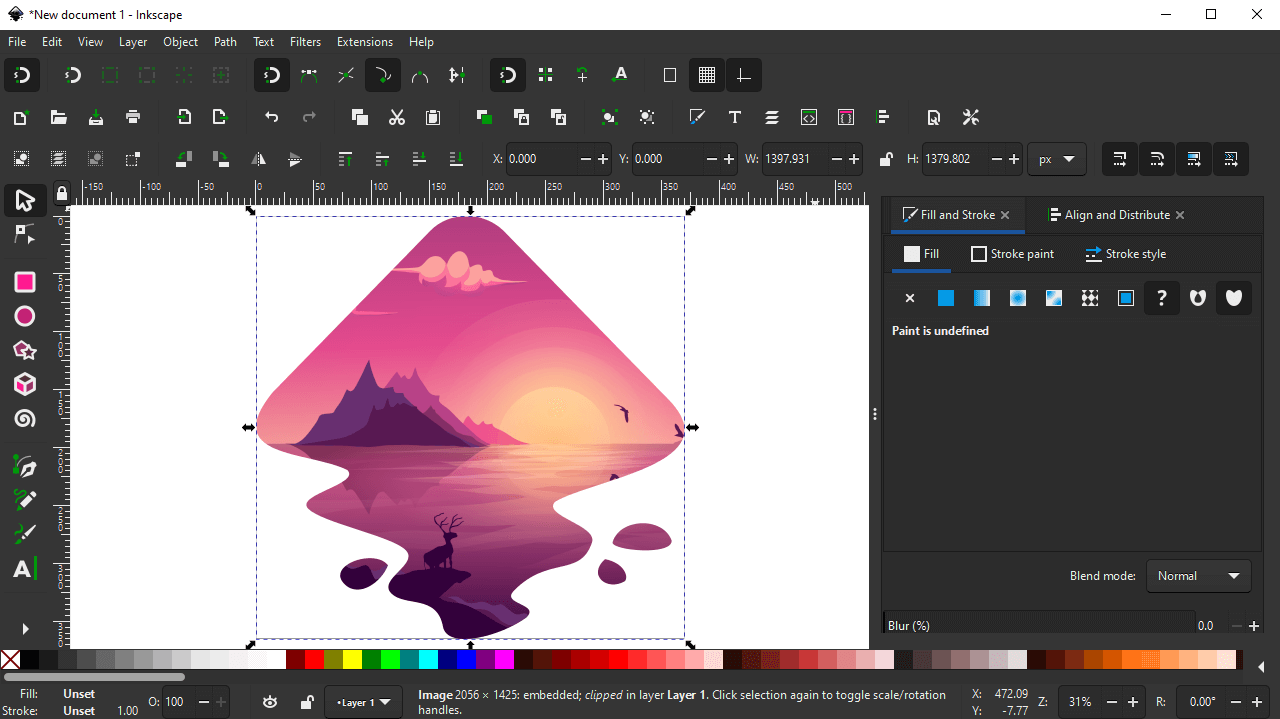 And it's that simple!
Remove Image From The Shape
One of the benefits of working with clipping paths is that it's completely reversible.
If at any point you'd like to remove the image from your shape, you can do so by selected it and navigating to:
Objects > Clip > Release
This will release the clipping path, placing you back to where you left off in step 4.
Conclusion
As we've gone over in previous tutorials such as cropping images with Inkscape, the clipping path feature can be used for lots of different things. You can even use it to cut out a shape from an Image with Inkscape. It's a handy tool that allows you to work with images as well as vectors.
If you have any questions or need clarification on any of the steps in this lesson, simply leave a comment below.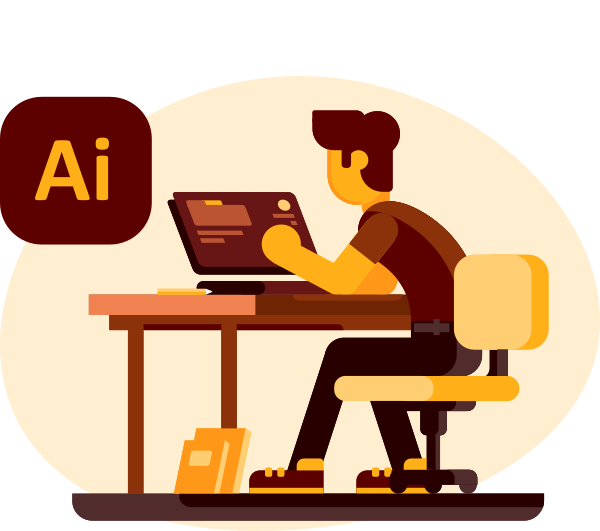 Become A Master of Adobe Illustrator!
Want to learn more about how Adobe Illustrator works? Check out my Illustrator Explainer Series - a comprehensive collection of over 100 videos where I go over every tool, feature and function and explain what it is, how it works, and why it's useful.
This post may contain affiliate links. Read affiliate disclosure here.