Many times I've been asked to create tutorials demonstrating how to design a logo in GIMP. Theoretically, a logo could be designed in GIMP, and I have demonstrated how to do so, but you should really look elsewhere for logo design. Using GIMP to design a logo is like using a fork to cut a steak — there's better tools for the job. And when it comes to logo design, Inkscape is the better tool. In this post I'll be going over an Inkscape vs GIMP comparison and breaking down the main differences between the two applications and when it's appropriate to use each.
In order to understand why logos should be designed in Inkscape rather than GIMP, we first need a basic understanding of the fundamental difference between the two applications.
Inkscape vs GIMP
Comparing Inkscape vs GIMP is like comparing an apple to an orange — they both classify as a fruit, but they're different kinds of fruits. Likewise, Inkscape and GIMP both classify as design applications, but they serve different purposes.
Raster Graphics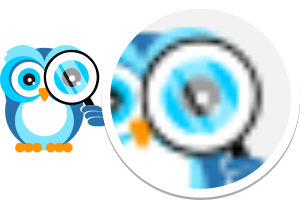 GIMP is a raster graphics editor, much like Adobe Photoshop. Raster graphics are graphics that are made entirely of individual colored boxes known as pixels. This includes photographs and the overwhelming majority of web and application-based graphics you'll see on a digital display, like a monitor or smartphone screen. Graphics that are made entirely of individual pixels are static and set as a specific size. If you take a photo that is sized at 1,280 x 720 pixels, that would mean the photo is essentially an arrangement of 921,600 individual colored pixels, sort of like a collage.
Raster graphics applications are great for altering photos, painting and drawing. GIMP would be the ideal program for designing posters, headers and album art. Here's an example of what can be done with a raster graphics editor like GIMP…
Vector Graphics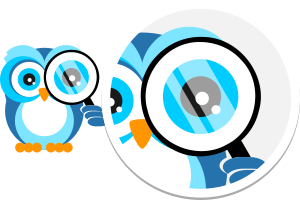 Inkscape is a vector graphics application, much like Adobe Illustrator. Vector graphics — unlike raster graphics — are not made of pixels; they're made of mathematical formulas that dictate all of the properties of the graphic on an X and Y axis, and these formulas are far more dynamic than a series of colored boxes. They can be scaled infinitely without quality loss, and they retain far more information about the graphic, which allows you to edit it later on if need be.
Vector graphics applications are great for creating logos, icons for apps and websites, and cartoon illustrations. Here's an example of what can be done with a vector graphics editor like Inkscape…
Why Logos Should Be Vector
Since raster graphics are stuck at a predetermined size, it's generally not a good idea to design logos in a raster format because a logo needs to be used on a variety different mediums and at different sizes. If you design a logo to be 1,920 x 1,920 pixels in size, what happens when you want to have it printed on a billboard and the print shop informs you that they'll need a copy of the logo at 5x the size it already is? If you scale the logo up to that size, it's going to look awfully pixelated. This is why we need a more dynamic format for our logos, which is what Inkscape provides. If we had a vector Inkscape file for our logo, we could simply open it and scale the logo up to the size that the print shop is requesting, then render it to a raster format like PNG or JPG.
Raster graphics editors like GIMP and Photoshop are best used for editing and manipulating photos as well as designing print items that call for a specific size, like business cards and brochures. But if you were to design a logo in a raster format, you'd be placing crippling limitations on how the logo can be used. Vector formats are limitless though. Not only can they be scaled infinitely without quality loss, but true-vector formats also retain more information about a graphic (like node points,) meaning your logo can be edited and updated on a whim and without any loss of quality. Simply put, a logo that is designed in vector format will always be capable of being used in any imaginable way a logo could possibly be used.
But Won't I Need Raster Copies Of My Logo?
Yes, you absolutely will. In fact, the logo you see at the top of this website is in a raster format (PNG). However, since I designed the logo using vectors, I was able to use the vector Inkscape file to render a PNG at the precise size I needed it to be. If I would've originally designed the logo with GIMP, I would've had to re-create it all over again in order to fit the specific size I needed it to be for this site. Either that or I would've had to distort it to make it fit.
You will always need raster copies of your logo, but that doesn't mean that it should be created in a raster format. Having an exclusively raster logo with no vector file for it is like having a website that you can't edit or update.
Is It Ever OK To Create Logos with Gimp?
I'm not the graphic design police. It's not my position to tell you what you can and cannot do. If GIMP is what you feel most comfortable with and you plan to use your logo in a very limited context — only your website, app or social media profile/posts — then go right ahead. However, I would advise creating it at an incredibly large size, like at least 3,840 pixels high or wide (the bigger the better though!) The reason for this is so that you will always have a large copy handy in the rare occasion that you may actually need it. It's much easier to scale a logo down than it is to scale it up.
And this probably goes without saying, but I would also recommend saving a copy of it with the XCF extension, which is the GIMP-native editable format that will allow you to go back into the design with all of the layers and elements intact in case you ever need to make some alterations.
The Takeaway
Inkscape and GIMP are both incredibly useful design tools that serve very different purposes. Instead of viewing them them through the lens of either-or, acknowledge them as must-have assets for anyone looking to get design work done with open source software. Like an apple and an orange, one isn't better than the other. You don't have to choose one over the other, and you'd be disadvantage if you were to do so.
This post may contain affiliate links. Read affiliate disclosure here.