In this tutorial I'll be demonstrating how you can use Inkscape to create a gold effect. More specifically, I'll be showing you how to create gold text.
To create this gold effect with Inkscape, we'll be using linear gradients and applying five specific colors that, when combined, create the illusion of shining gold.
Create A Gold Effect with Inkscape
For this demonstration I will be applying the gold effect to some text. If you'd like to create gold text with Inkscape as well, I would recommend using the Ayres font. For whatever reason, this gold effect seems to look best with this particular font. I tried it on some other fonts but it didn't quite look right.
For complete step-by-step instructions, please watch the video tutorial I've put together:
The following is just a brief overview of the steps taken to create our gold effect.
Step 1: Generate Some Text
The first step is to create some text on the canvas.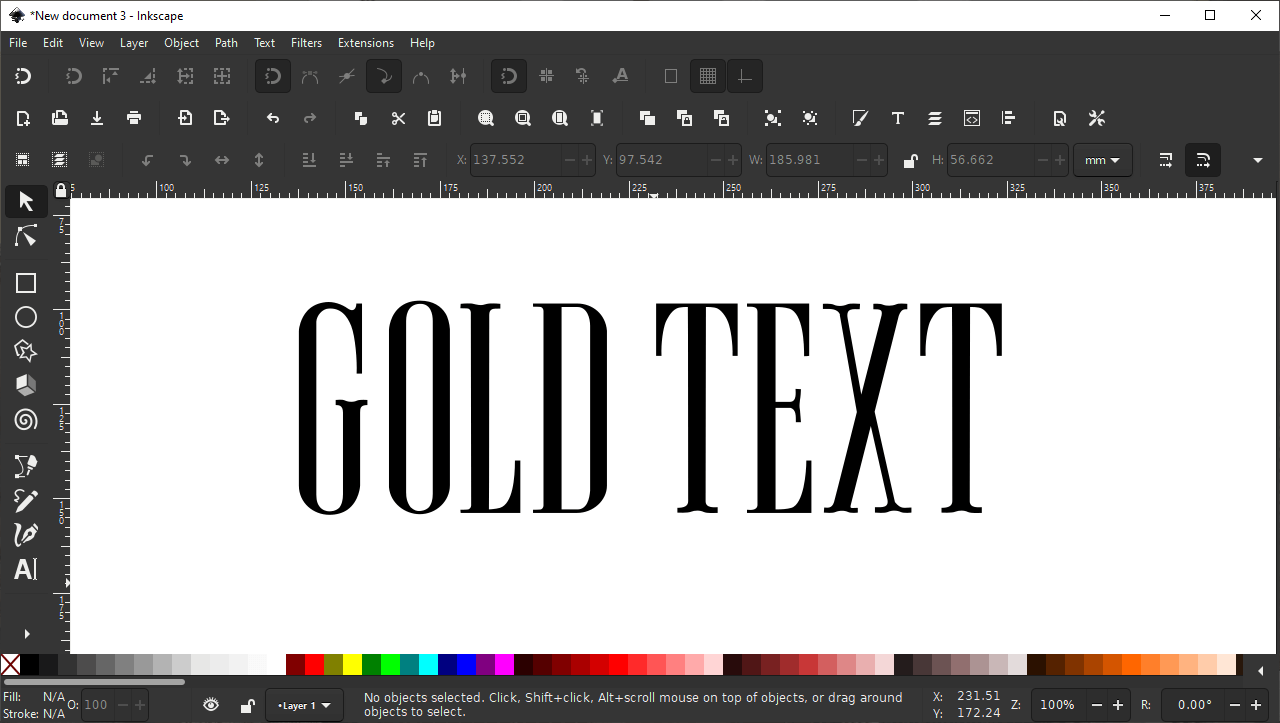 You can apply this gold effect to another object if you'd like though. It doesn't need to be text.
Step 2: Apply A Linear Gradient
Next, we'll apply a linear gradient with 5 stops.
In order for this gold effect to look right it's important that we use the following five shades in our gradient:
ffd587ff
cfa344ff
9a5f00ff
ffd699ff
f5be39ff
These five colors, when used in order (from top to bottom) in a linear gradient, create the illusion of gold: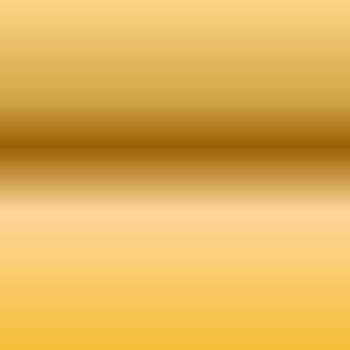 Here's how the text looks with the gold gradient applied: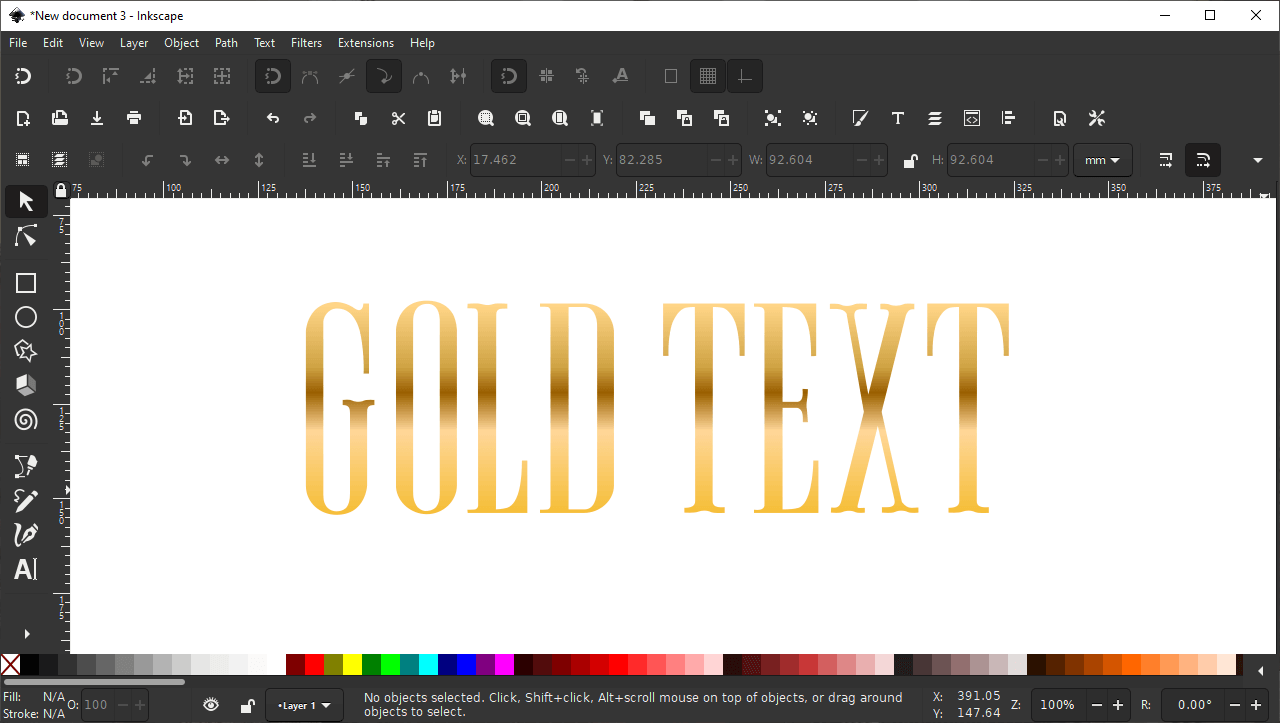 Step 3: Create An Offset
In order to make this look more like gold material, we're going to create a duplicate of the text and apply a stroke that will act as somewhat of an offset.
The duplicate copy will be placed beneath the original text, and it will be given the same gradient that was given to the original text, only in reverse: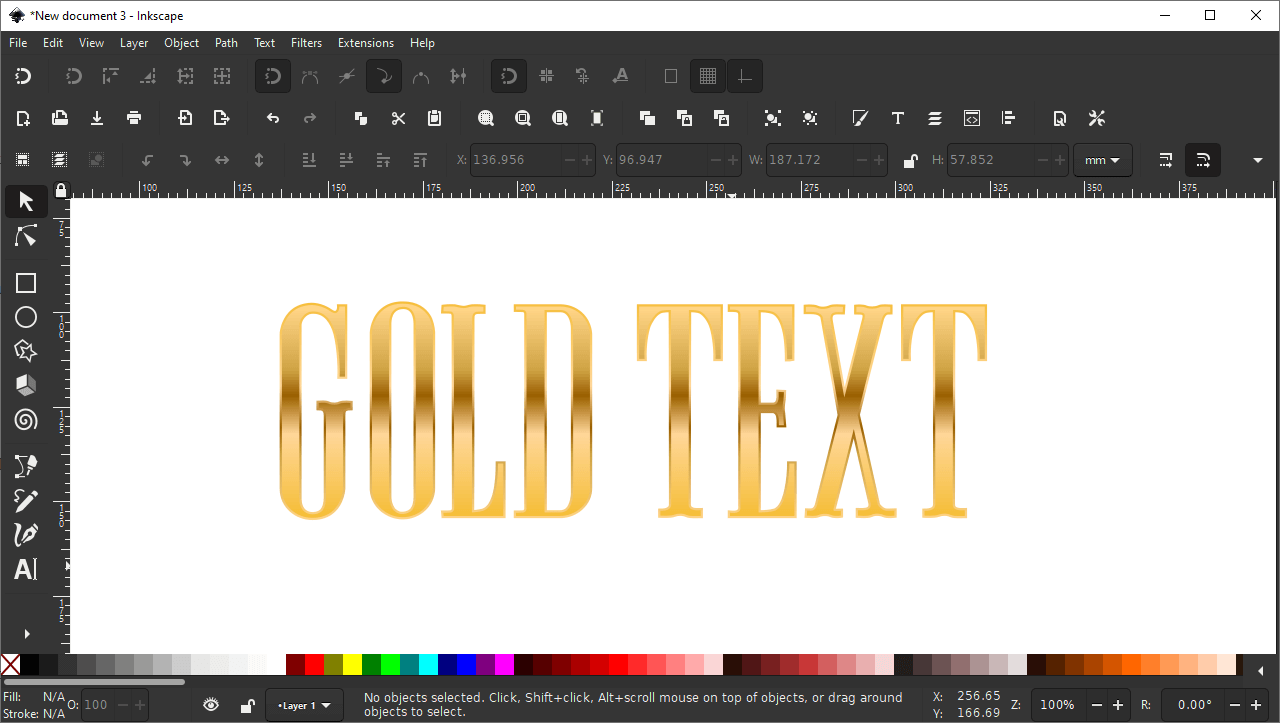 This acts as somewhat of a bevel and helps sell the gold effect.
Step 4: Add A Shine
Next, we'll be adding a shine — or reflective light effect.
To do this, we'll create a copy of the gold text, inset it, and then intersect it with an ellipse placed over the top third of the text. This process is too complicated to explain through written text so you'll have to check out the video tutorial above.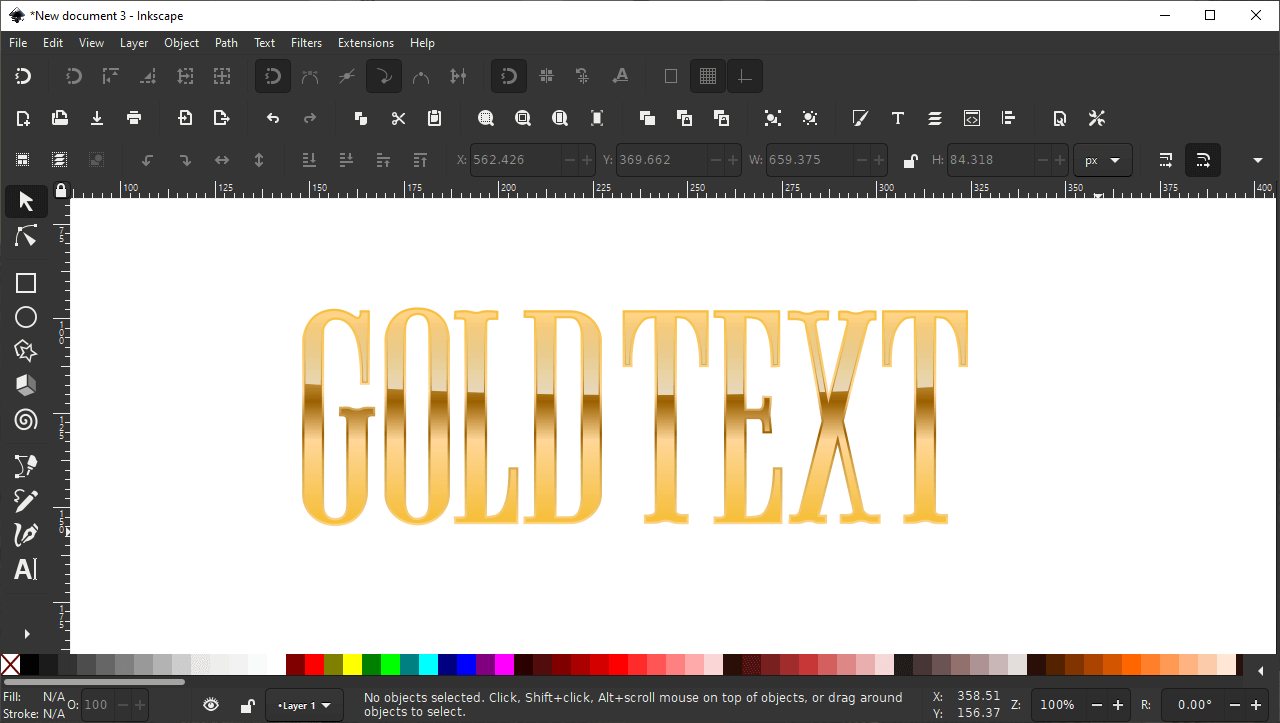 It'll be given a gradient from white to transparent to make it look like reflective light.
Step 5: Add A Drop Shadow
The final step in making our gold text with Inkscape is to add a drop shadow beneath the text.
This is done by create a duplicate copy of the text, making it black, positioning it beneath the original text, and giving it a blur: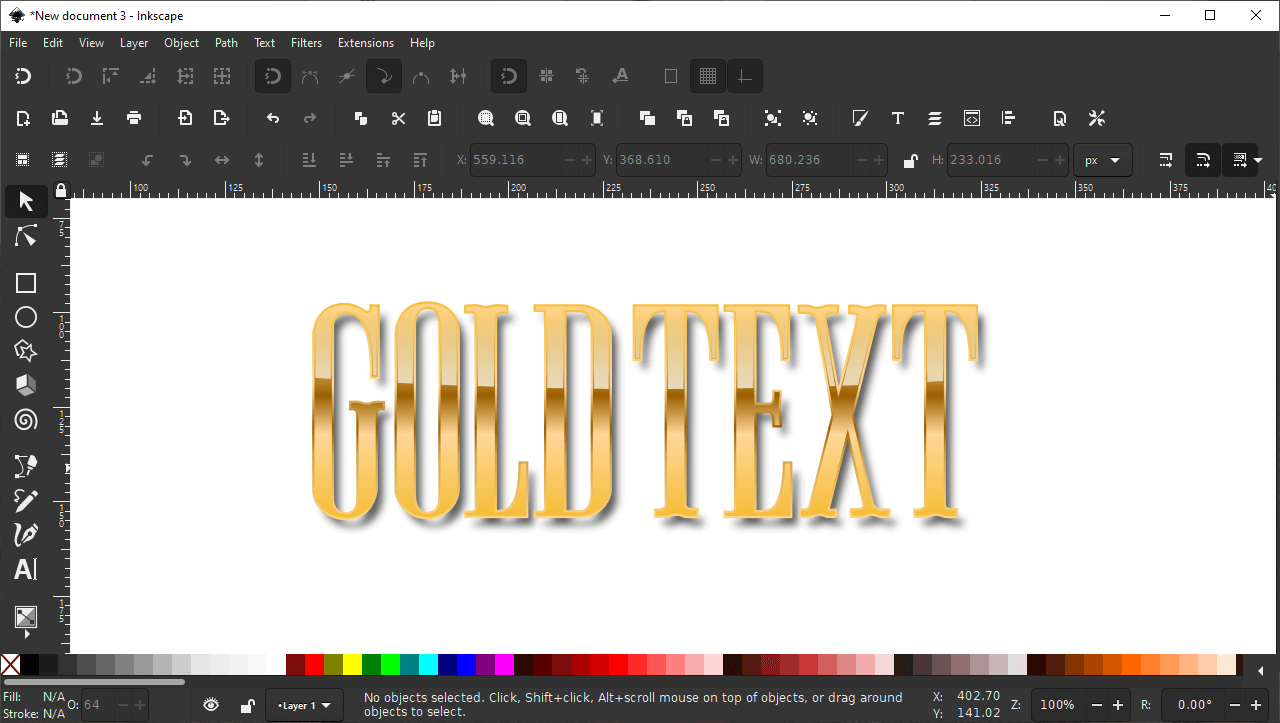 This really makes the gold text pop off the page, making for a great final touch.
Go ahead and place your finished gold text on top of a dark backdrop to make it pop even more: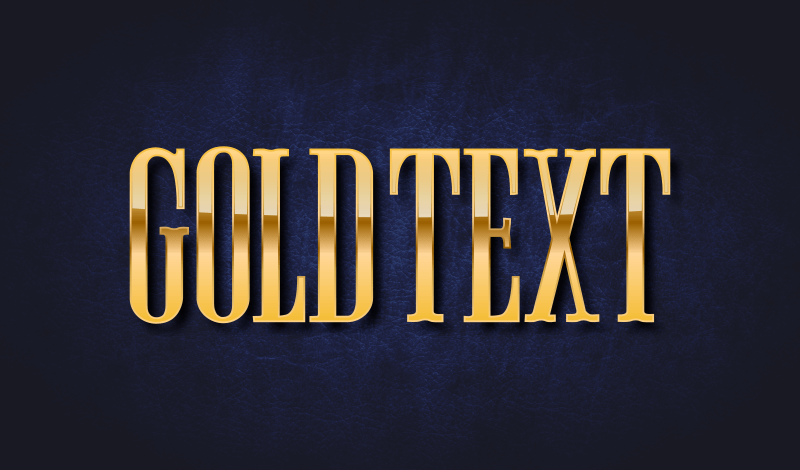 And that should do it for this lesson. That is how you can create a gold effect with Inkscape!
Conclusion
Creating a gold effect with Inkscape is simply a matter of applying the right gradients, offsets, and a drop shadow. This techinique can be applied to virtually any vector object. And what makes Inkscape such a great tool for creating something like this is that it's easier to work with gradients in Inkscape than it is in any other application. This is something I touch on a bit in my comparison of Inkscape vs Illustrator.
If you have any questions just leave a comment below. As always, thanks for watching!
Logos By Nick LLC is a participant in the Amazon Services LLC Associates Program, an affiliate advertising program designed to provide a means for sites to earn advertising fees by advertising and linking to Amazon.com. As an Amazon Associate I earn from qualifying purchases. Read affiliate disclosure here.