How To Change The Default Background Color in Inkscape
How To Change The Default Background Color in Inkscape
https://logosbynick.com/wp-content/uploads/2020/07/inkscape-dark-workspace.png
800
470
Nick Saporito
Nick Saporito
https://secure.gravatar.com/avatar/d9a1bc4f29b2352da1ce14ad033328ab?s=96&d=mm&r=g
In this tutorial I'll be demonstrating how to change the default background color in Inkscape so that you can have a dark background (like Illustrator) or any other color you'd like! I'll also be demonstrating how to save your chosen background color as a default so that you can work with it every time you launch Inkscape.
Learn How To Design Logos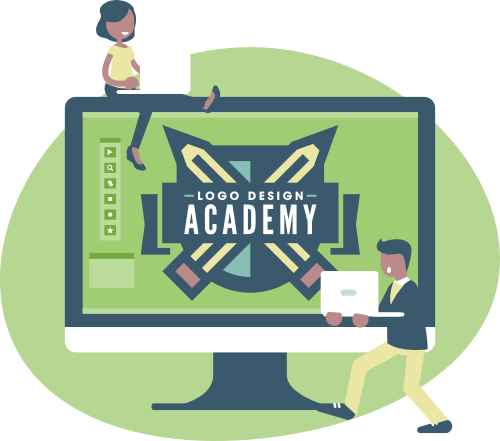 If you want to learn how I come up with logo design ideas, be sure to check out my Logo Design Academy - an interactive 18-part video course where you will learn my entire creative process for coming up with logo ideas and implementing them.

This is something that I've been asked about a lot, especially by those of you who are switching over to Inkscape from Illustrator and find the glaring white canvas of Inkscape to be somewhat of a nuisance when you're working. Today we are going to fix that!
Change The Default Background Color in Inkscape
To change the default background color in Inkscape, open up the Document Properties menu by pressing Control + Shift + D, then click on "Background color" and set it to any color you'd like using the menu interface.
Knowing how to change the default background color in Inkscape is a matter of changing the Document Properties. Then, once changed, we'll be saving it as a template.
Step 1: Determine Your Version Of Inkscape
The first thing you must do is make sure you're working with the proper version of Inkscape. This tutorial is meant for version 1.0 and above.
If you don't know which version you're using, navigate to Help > About Inkscape.
If you're using version 1.0 then continue on. If you're using an older version (like 0.92 and below, for example) then please refer to an older tutorial I made about changing Inkscape's default startup file.
150+ Logo Templates Need a professional logo but have a limited budget? Or are you a designer looking to add to your inventory of design elements? Check out my bundle of 150+ high quality logo templates, all designed by Yours Truly.

Step 2: Change The Document Properties
Next, we'll be opening the Document Properties menu by pressing Control + Shift + D on the keyboard.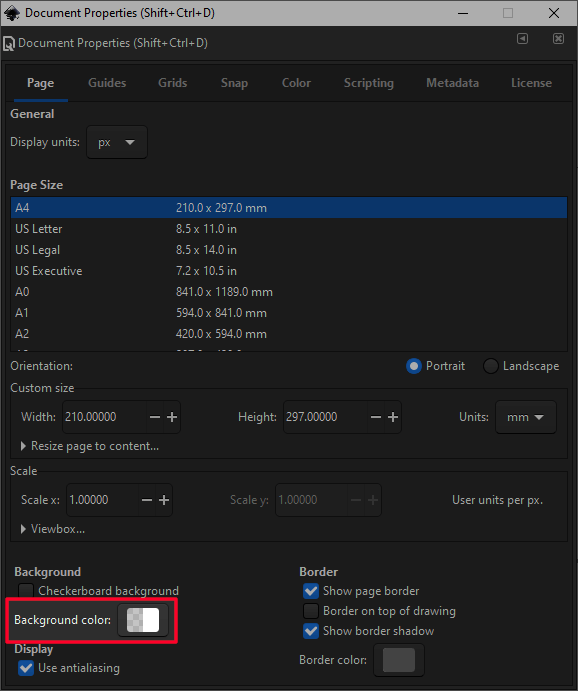 In the Document Properties window, look for the option to change the background color, click to open it, then manually set it to whatever color you'd like using the menu interface. For this demonstration I'll be using a dark gray background.
You'll be able to see the background of your canvas change in real time.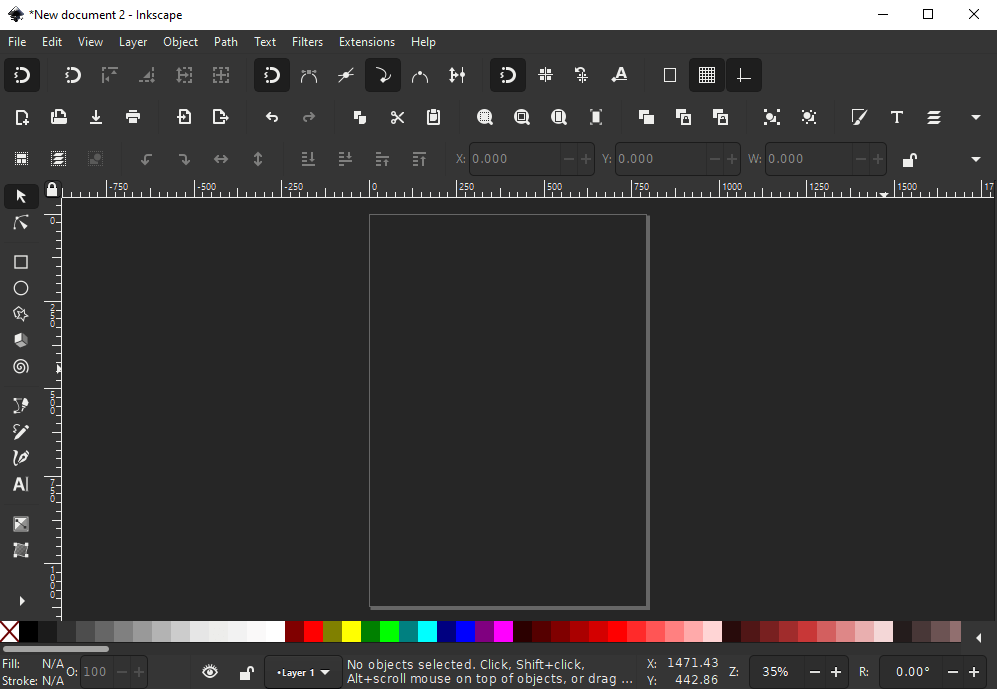 Step 3: Create A White Artboard
Next, we'll have to create a white artboard so that we'll have a white background to contrast our designs against as we're working. We can also reset the document's boundaries based on this artboard.
To do so, simply grab the Squares & Rectangle Tool (keyboard shortcut: R) and create a white rectangle sized at 1,280 x 1,280 pixels. Then, head back to the Document Properties menu and reset the page boundaries by click the button that says "Resize page to content."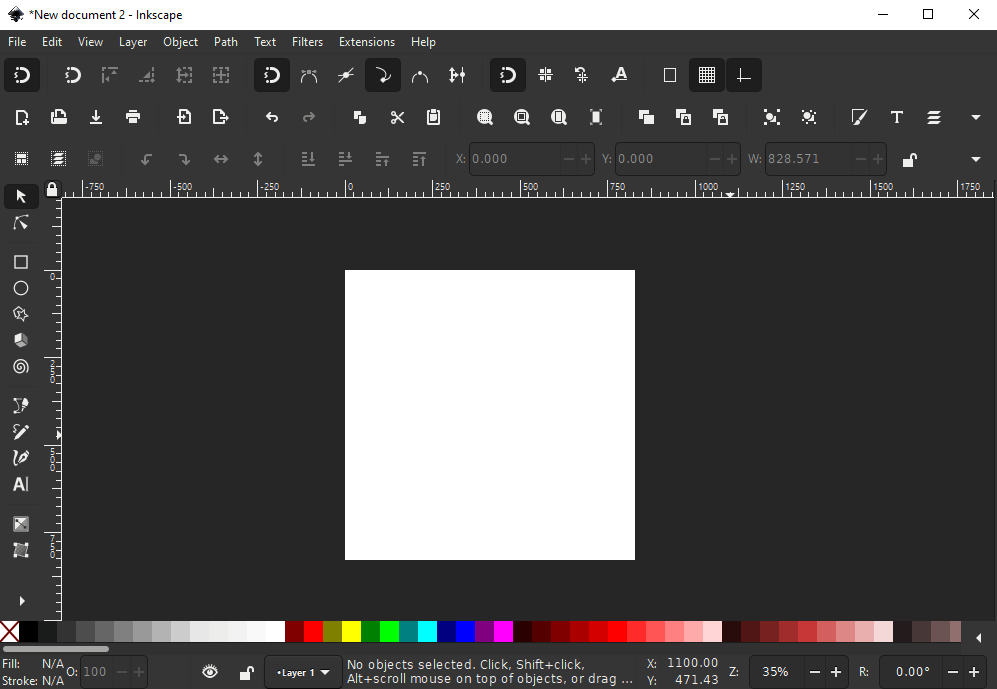 Now we have to lock that artboard in place so that we can't mess with it when we're working. To do so, open the Layers menu by pressing Control + Shift + L, rename the current layer to "Canvas", lock it, then create a new layer on top and name it "Contents".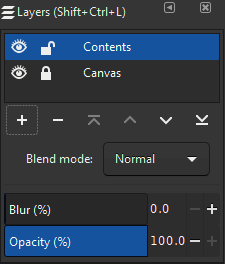 The contents layer will be where we do our work. The canvas layer will be locked and out of way when we're working.
Step 4: Save Your Document As A Template
The final step would be to save this document as a template so that we don't have to manually create it every time we open Inkscape.
A really useful feature that has been added to Inkscape version 1.0 is the ability to save whatever you're working on as a startup file. To do so, go to File > Save Template, then name your file whatever you'd like.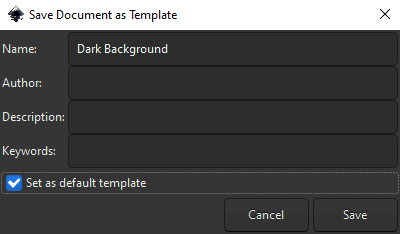 Make sure to check the box that says "Set as default template" if you'd like to change the default background color in Inkscape every time it loads. If you'd just like to use it occasionally, then leave this part unchecked and save it as a regular template. You can then open it any time you'd like by navigating to File > New from Template.
Free Download
I've included a download link below in case you'd like to simply use my example template instead of setting this up yourself. Simply open the SVG file, then follow step 4 of this tutorial to save it as a template.
Download link: dark-workspace-template.zip
And that is how you can change the default background color in Inkscape! If you have any questions simply leave a comment below. As always, thanks for watching!
Become A Master of Inkscape!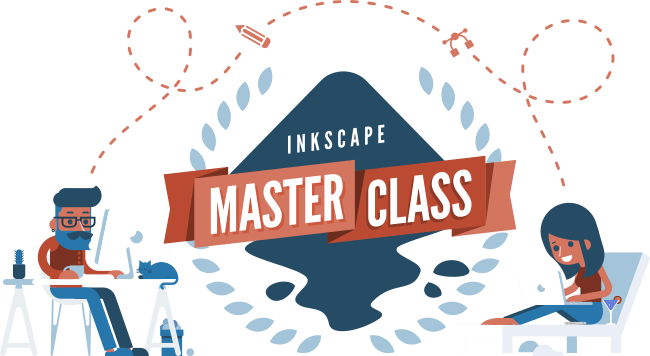 Want to learn more about how Inkscape works? Check out the Inkscape Master Class – a comprehensive series of over 50 videos where I go over every tool, feature and function in Inkscape and explain what it is, how it works, and why it's useful.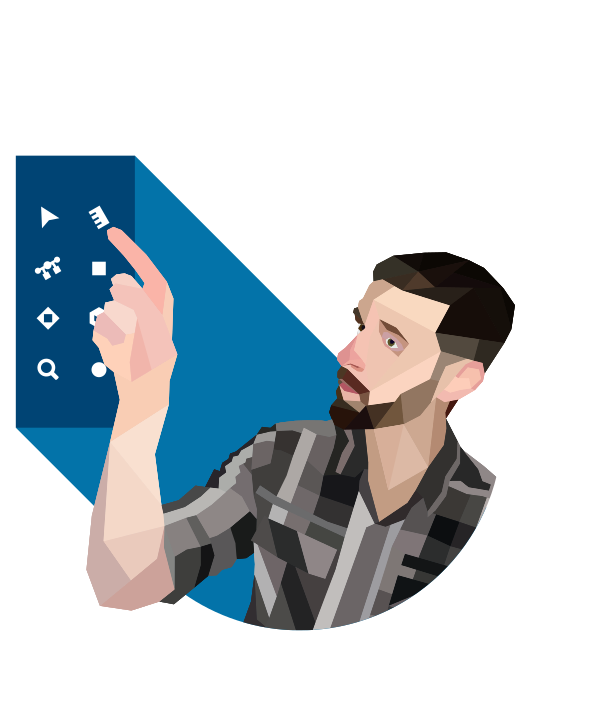 Want Me To Design Your Logo?
I'm Nick, and I design logos. I can help you enhance your image and make an impactful impression with some next-level branding. Check out my portfolio to see how I've helped others and learn more about how I can do the same for you.

---
Logos By Nick LLC is a participant in the Amazon Services LLC Associates Program, an affiliate advertising program designed to provide a means for sites to earn advertising fees by advertising and linking to Amazon.com. As an Amazon Associate I earn from qualifying purchases. Read affiliate disclosure here.