Graphic design technology has come a long way over the years, and the rise of mobile devices — like smart phones and tablets — has made it easier than ever to create digital art, whether you're a professional or a hobbyist. Two of the most well-known apps for digital art would be Affinity Designer and Procreate — both of which top the charts in the app store. In this post we'll be doing a comprehensive breakdown of Affinity Designer vs Procreate so you can decide which app is right for you and your artistic needs.
In short, the difference between Affinity Designer vs Procreate is that Affinity Designer is a full-scale design suite with robust features, whereas Procreate is streamlined for drawing, sketching, and painting.
That being said, just because one application has more features than the other, it doesn't necessarily make it a better tool. The app you should choose will depend entirely on the type of art you're trying to create, how you plan on using that art, and how comfortable you are using design software as a whole.
What Is Procreate?
Procreate is a mobile design application, developed by Savage Interactive Pty Ltd., exclusively for the iOS platform: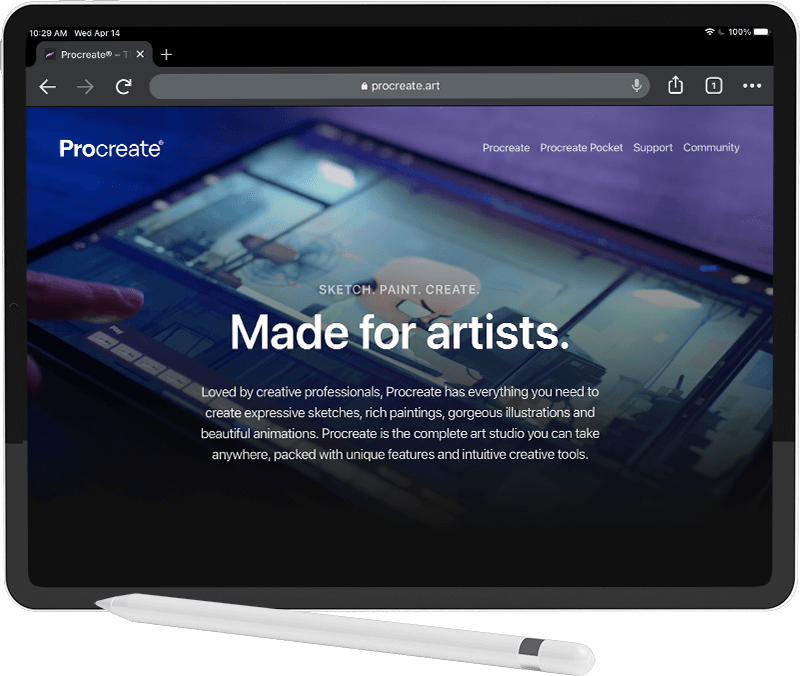 The app works primarily on the iPad, but there's also a version for iPhones called Procreate Pocket — both of which are nearly identical in terms of features, capabilities, and layout.
As of the time of this writing, Procreate currently tops the charts in the iPad's app store, ranking #1 for the most popular paid app. Boasting over 23k reviews (most of which are overwhelmingly positive,) Procreate has won a CNET Editor's Choice Award for 2020.
Despite its popularity on the iOS platform, Procreate has yet to branch out into other platforms, like Android.
What Can Procreate Do?
Procreate's primary utility is sketching, drawing, and painting: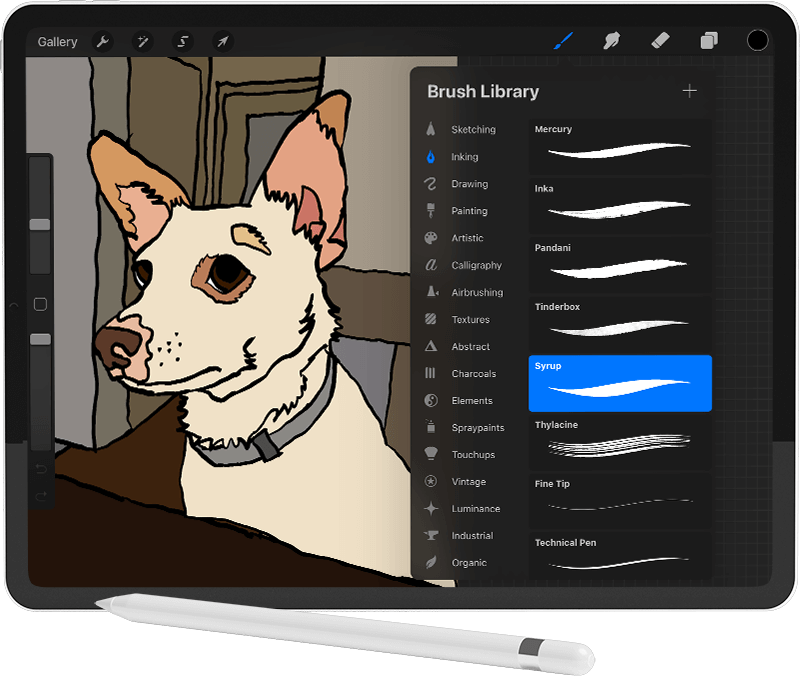 When you first open the app, you can choose to open a photo from your library, or start fresh with a blank canvas.
Sketching, Painting, and Drawing
Once you've opened a new document, you'll be able to choose from a seemingly endless supply of brushes and styles to draw, paint, and sketch, using your finger or an Apple Pencil. Procreate utilizes pressure sensitivity technology, meaning the harder you press on your pen, the thicker and more distinguished your brush strokes will be. Reducing the pressure will reduce the intensity of these effects.
Much like your standard design applications, everything you draw will exist on a series of layers. Layers can be added, removed, duplicated, and transformed: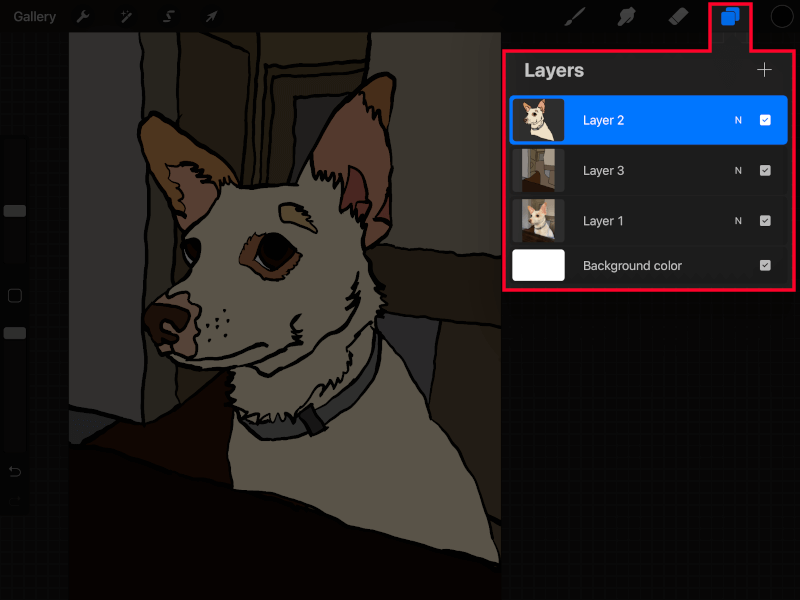 Add Text To Images
Procreate also allows you to add stylized text to your artwork, with a wide variety of fonts to choose from. Text objects will be placed on their own layer, and can be rasterized and combined with other layers.
When working with text, you'll be able to transform all of the properties of your text objects like you normally would in a desk top application; including the kerning, the baseline, tracking, orientation, and more. You can also opt to make your text into an outline rather than a solid fill.
Make Photo Adjustments
Not only is Procreate an excellent tool for drawing, but it can also be used to retouch your photos in a variety of ways:
Hue, saturation, brightness
Color balance
Color curves
Noise and Sharpen
And more
Add Special Effects
As a Procreate user, you'll be able to apply various different effects and filters to your photos and artwork, including:
Blurs (Gaussian, motion, and perspective)
Gradient maps
Add noise
Generate halftones
and More
Make Basic Transformations
Procreate also allows you to make basic transformations to your photos, including cropping, scaling, rotating, shearing, and adjusting an image's (or a selection's) perspective.
You can also use the Liquify effect to warp your images based on finger swipes and pen strokes.
Make Simple Animations
Procreate can also be used to make simple animations. I was able to use a tutorial by Brad Colbow to create some animated sketch text:

Much like other design applications, animations in Procreate consist of a series of frames, each of which is represented by its own layer. So to create animations, all you have to do is place each from on its own layer.
Output Your Work In Usable Formats
Finally, Procreate allows you to save and export your finished artwork in a variety of usable formats, including:
Procreate (their proprietary format)
PSD (layered Photoshop format)
PDF
JPEG
PNG (utilizing transparency)
TIFF
Intrigued by its ability to save files in PSD format, I saved my artwork as a PSD file and opened it on my desktop with Photoshop: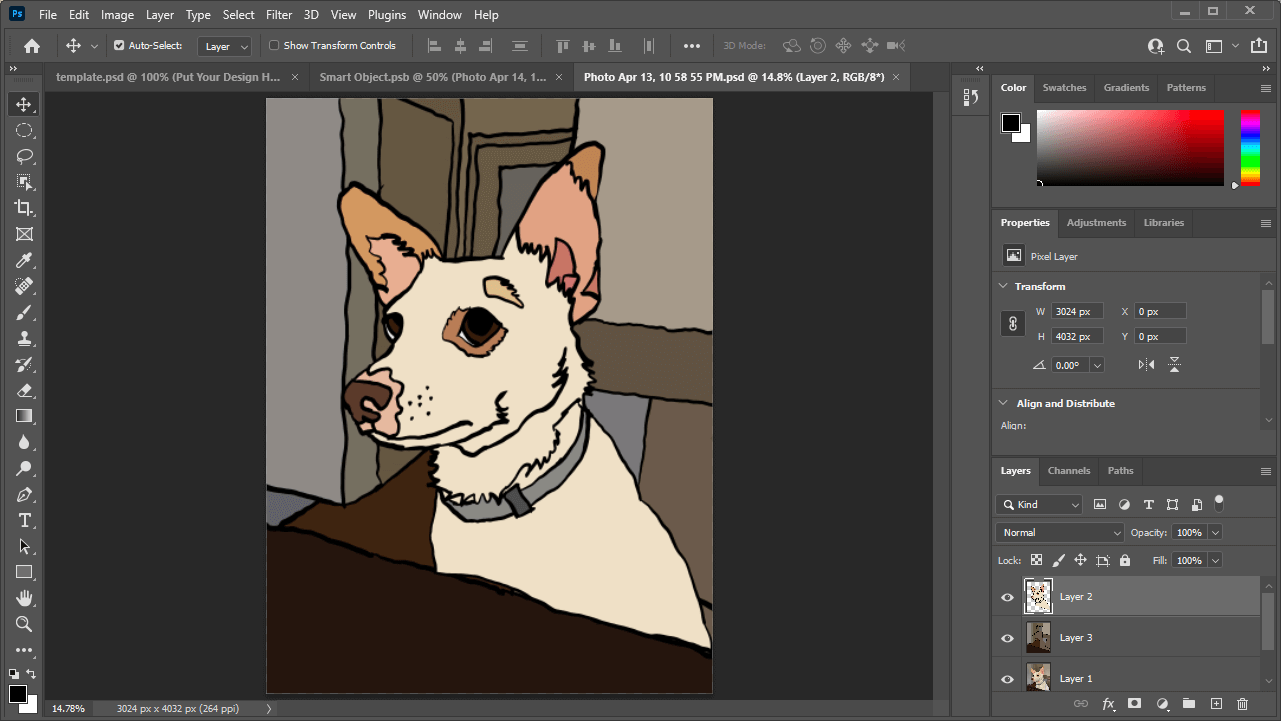 As you can see, the file opened seamlessly, with all of its layers intact. This makes Procreate an excellent option for anyone who wants to create artwork and work with it cross-platform.
What Can't It Do?
As useful as Procreate may be, it isn't an all-in-one solution, but rather a specialized tool. Here are some of the limitations you will run into as a Procreate user:
Work with Vector Graphics
Vector graphics are made of coordinates rather than pixels. Because of this, vectors can be scaled infinitely without quality loss. Vector is the preferred format to work with when designing logos, user interface, product labels and packaging.
Procreate is not a vector design application, and it's not trying to be. Because of this, you'll want to opt for Affinity Designer vs Procreate if you plan on creating vector illustrations.
Put Text On A path
Another downside to working with Procreate is its limited ability to place text on a path so that you can curve it or wrap it around a circle. Unfortunately, this is something that will have to be done manually by rotating each individual letter.
This, combined with its lack of vector support, makes Procreate a less than ideal tool for designing logos.
Create Color Gradients
Finally, Procreate currently lacks the ability to create gradients — or transitions from one color to another. In order to fill your objects with color gradients, you'll have to paint them manually using different brushes and fill colors.
What Is Affinity Designer?
Affinity Designer is primarily a vector design application, but it also allows you to paint, draw, and make adjustments to photos the same way Procreate does.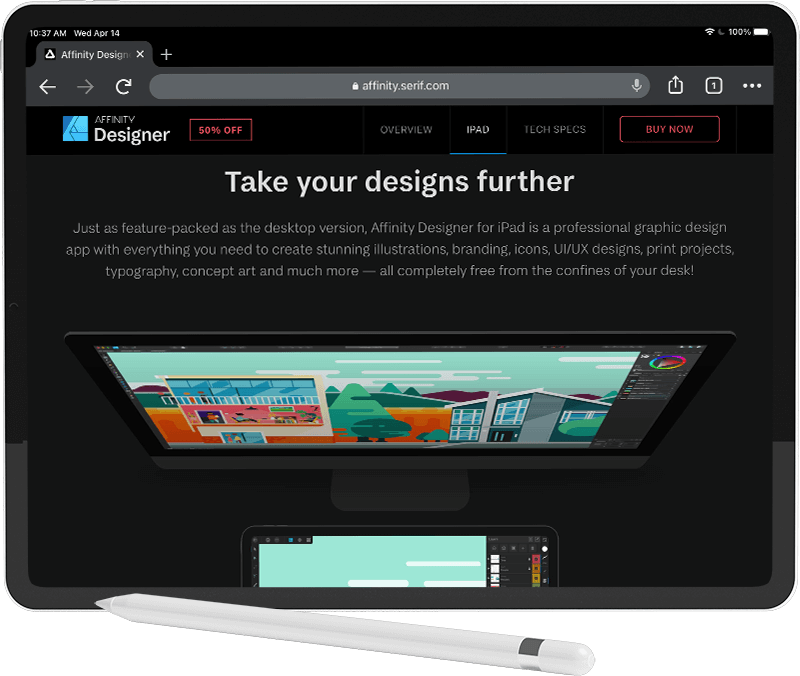 Unlike Procreate, Affinity Designer isn't just a mobile application. Developed by Serif Europe Ltd, Affinity Designer also has a desktop application that runs on both Mac and Windows. The mobile version, however, only works on the iPad. Android is currently not supported, and unlike Procreate, there is no streamlined variation for the iPhone.
Affinity designer is one of many applications in the Affinity suite of products. Much like how Adobe has Photoshop and Illustrator, Serif has Affinity Photo and Affinity Designer. Photo is intended for working with raster images in the same way Photoshop is, whereas Designer is meant for working with vector graphics in the same way Illustrator is.
What Can Affinity Designer Do?
Affinity Designer is arguably the most comprehensive mobile design application. It packs nearly all of the features found in the desktop app, and delivers them in a way that is rather easy to pick up if you're already familiar with the desktop app.
Having prior experience with the Affinity Designer desktop app, I was able to put together this vector banner design with relative ease: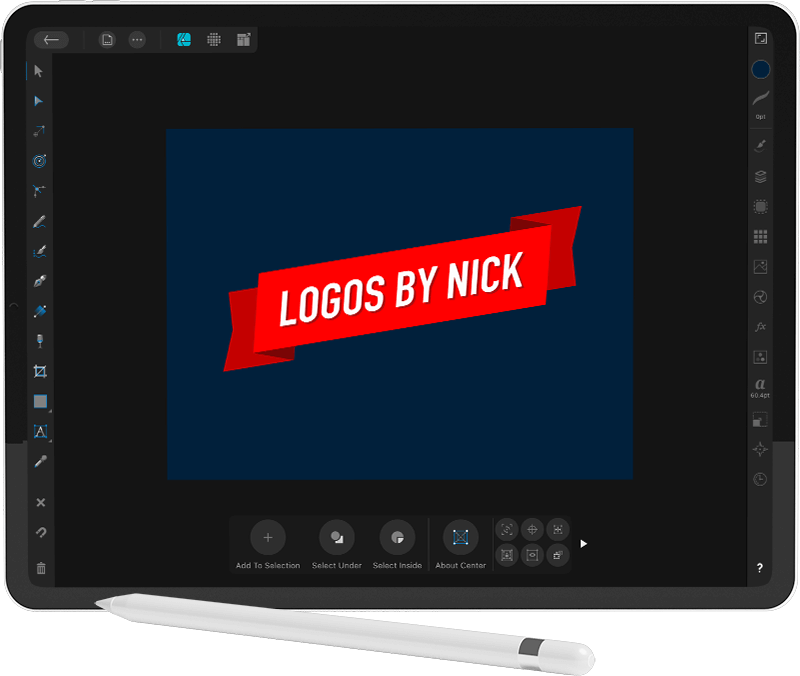 Create and Edit Vector Graphics
The primary advantage of Affinity Designer vs Procreate is its ability to work with vector graphics — or create scalable illustrations using coordinate points (known as "anchor points") rather than pixels.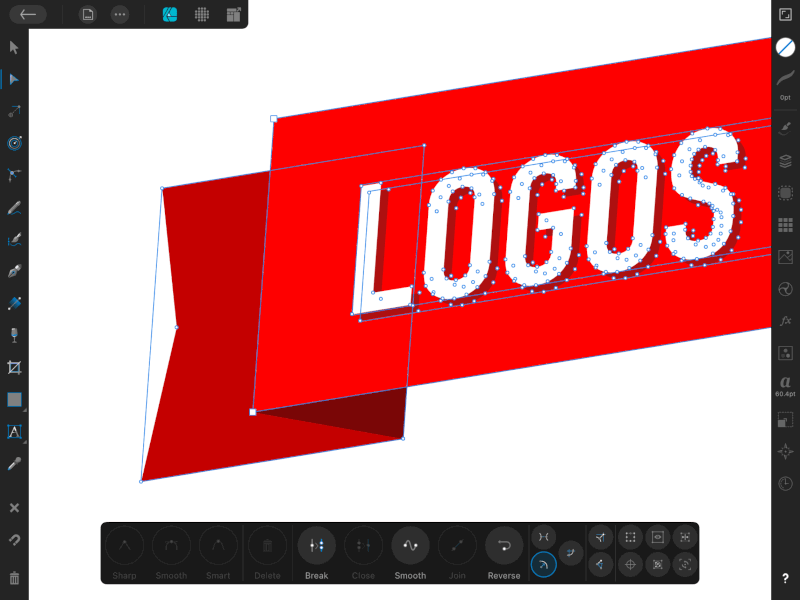 This would make Affinity Designer ideal for designing logos, icons, user interface, product packaging, and more.
Everything That Procreate Can Do
Much like Procreate, Affinity Designer allows you to paint and draw using finger swipes or the Apple Pencil. Brush strokes and transformations are each placed on their own layers, which can be rearranged and transformed in all of the same ways they can in Procreate.
Via its Pixel Persona, Affinity Designer also allows you to make nearly all of the same photo adjustments that Procreate does, and then some. It also allows you to apply effects, filters, and add text.
Apply Adjustment Layers
Another benefit of using Affinity Designer is having the ability to work with adjustment layers, which allow you to make non-destructive transformations to existing layers: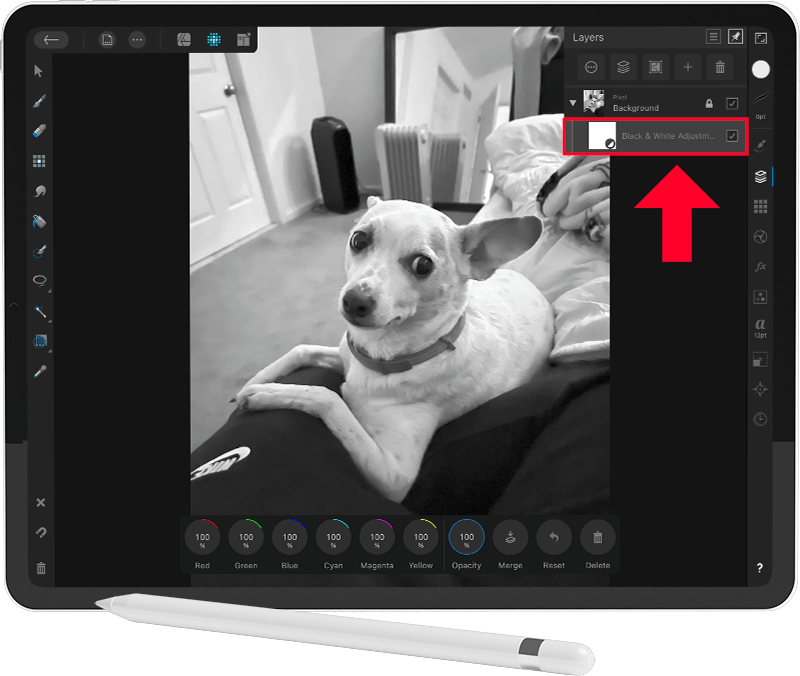 Adjustment layers are great because they can easily be removed at any point down the line. They can also be moved around to different layers and combined with other adjustments to create compound effects.
Some of the adjustments that can be made in Affinity Designer include:
Brightness/contrast
Channel mixing
Color balance
Color curves
Exposure
Gradient mapping
HSL properties
Levels
Shadows/highlights
Soft proofing
Thresholds
White balance
And more
Put Text On A Path
Affinity Designer makes placing text on a path as easy in the mobile app as it is in the desktop app: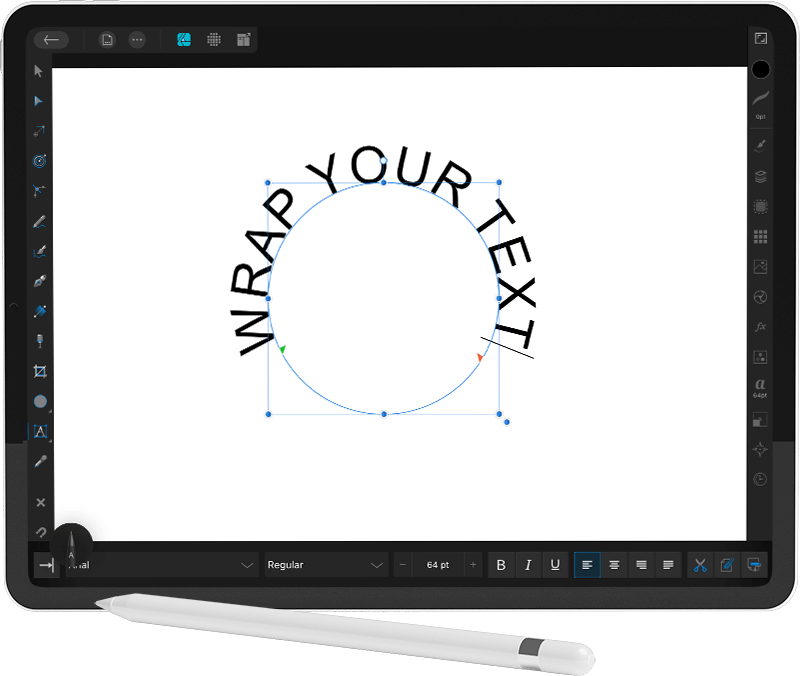 Unlike Procreate, you'll be able to wrap your text around circles and various shapes, or place it on any other kind of path you've drawn.
Create and Edit Gradients
Another feature of Affinity Designer that isn't present in Procreate is the ability to create and edit gradients: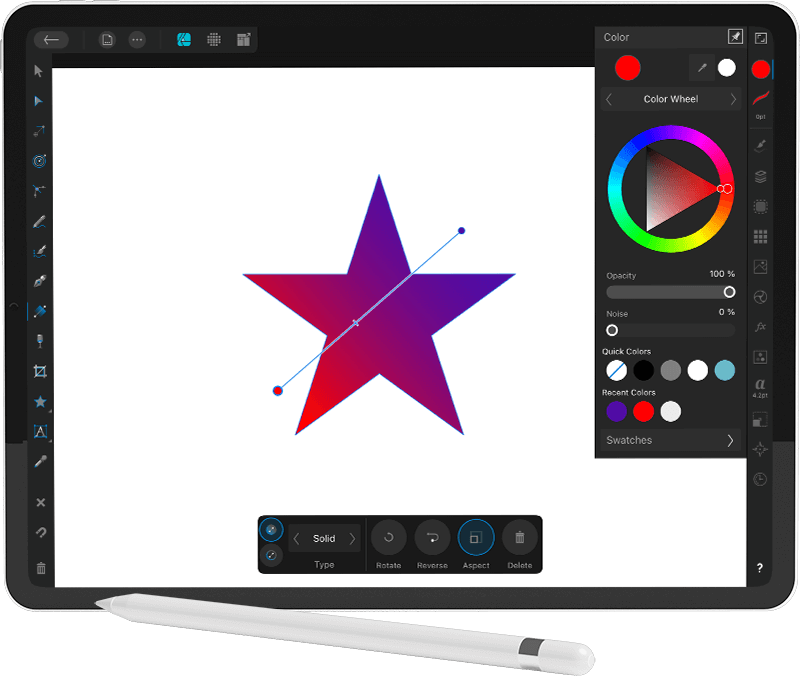 Work Cross-Platform
Finally, Affinity Designer allows you to save your artwork in their proprietary AFDESIGN format and then open it with your desktop app to work on it further. And seeing as how they're both the same application, there won't be any of the cross-platform compatibility issues that you can expect to run into when working between Procreate and Photoshop.
In addition to the proprietary format, Affinity Designer allows you to export your work in virtually any usable format you could possibly ever need for a graphic, including:
PNG
JPEG
GIF
TIFF
EXR
HDR
TGA
PSD
PDF
EPS
SVG
This makes Affinity Designer a dream to work with for any graphic designer who may want to occasionally do some work on their tablet, but retain the ability to work on it more extensively on their desktop.
What Can't It Do?
As of right now, the only thing Procreate can do that Affinity Designer cannot do is animation. So if animation is important to you, you'll want to pass on Affinity Designer.
Affinity Designer VS Procreate
Now that we've gone over some of the capabilities and limitations of each application, let's take a closer look at how these two design tools compare.
Features
When it comes to features, Affinity Designer wins hands-down. Not only does Affinity Designer possess all of the raster effects and painting abilities that Procreate has, but it piles on even more possibilities by letting you work in a vector environment as well.
In addition, Affinity Designer gives you far more granular control over some of the finer details, like layer masking, blend modes, pattern fills, and more. It even gives you control over the ICC color profiles embedded in your document!
In short, Affinity Designer is professional graphic design software that was somehow adapted to a mobile platform, whereas Procreate is simply a drawing app.
Winner: Affinity Designer
Ease 
Of
 Use
When it comes to learning curves, Procreate has the edge here.
Having no prior experience with how mobile drawing apps function, I was able to pick up Procreate quite easily. The UI is simple, makes sense, and it's a breeze to work with.
Affinity Designer, on the other hand, is more complex. Despite already having extensive experience with the desktop version of Affinity Designer, seeing the mobile app's interface for the first time was a bit jarring. It took a while — and a lot of Googling — to finally get the hang of it and understand the layout.
I can only imagine how intimidating Affinity Designer must be to someone who has no prior experience with graphic design software.
Winner: Procreate
Price
When it comes to price, Procreate currently sells for $9.99 USD.
Affinity Designer, on the other hand, retails for $19.99. It should be noted though that Serif occasionally puts Designer on sale for 50% off, making it the same price as Procreate. So if price is a concern for you then you may be better served waiting for the next sale.
Winner: Procreate
Who Should Use Affinity 
Designer
Considering the differences between Affinity Designer vs Procreate, let's take a closer look at who would be best served using each application.
Professional Graphic Designers
If you're a graphic designer by trade, and you plan on incorporating mobile design into your workflow, Affinity Designer's robust features make it the hands-down choice by far.
As great as Procreate is, it does lack a lot of the features needed to do graphic design on a professional level.
Designing For Print
Seeing as how Affinity Designer gives you more granular control over things like file formats and color profiles, it would certainly be the better choice for anyone who will be designing something for print. This includes flyers, t shirts, merchandise, banners, decals, signs, branding stationery, and more.
Opting for Affinity Designer vs Procreate will mean that you are equipped with everything needed to format your artwork to the print shop's specifications.
Anyone Who Is Serious About Graphic Design
If you're someone who plans on pursuing graphic design beyond just drawing, adjusting photos, and making memes, you'd be better off starting with Affinity Designer right off the bat.
Affinity Designer will make for a proper introduction to the world of professional graphic design software. And once you're familiar with the fundamentals of how it works, that knowledge will carry over to other applications, like Adobe Illustrator and Inkscape.
Who Should Use 
Procreate
Considering that Procreate is more of a streamlined drawing app, let's go over who would be better off opting for Procreate over Affinity Designer.
Hobbyists
Procreate would be an excellent choice for anyone who simply likes to draw. If you're a classic pencil-and-paper artist who wants to move your skill set into the digital age, Procreate is your best bet. It's a clear step above any of the free alternatives, and its price makes it accessible to nearly anyone.
Not only does Procreate specialize in drawing, but its simple and easy-to-understand interface will make for an easy transition to digital art, as opposed to the more intimidating interface of Affinity Designer.
Casual Design Users
If you're someone who occasionally needs some quick DIY graphics — whether it be as an ancillary part of your work, or to supplement a related hobby — Procreate would also be the best choice for you. Examples include:
YouTubers who only need to design thumbnails for their videos
Bloggers who need to design headers for their posts
Influencers who may need to touch up photos and design graphics for social media
Procreate lends itself quite well to these casual uses.
The Final Verdict
Now that we've gone over all of the differences between the two apps, I'm going to give you my own personal take on the Affinity Designer vs Procreate matchup.
As someone who has worked professionally as a graphic designer for over a decade, I am beyond impressed with Affinity Designer's mobile app. I never thought I'd see the day that graphic design software could be every bit as extensive on a tablet as it is on a desktop computer. However, context matters. And when it comes to creating digital art with mobile devices, I can't imagine a scenario where I would use a tablet for anything other than drawing and sketching.
As useful as Affinity Designer's vector tools are, I can't see myself ever using them in any real world scenario. I could see it being useful if I were on the go and needed to edit a vector file real quick, but aside from that, vector design is one of those things that really needs to be done with a mouse and keyboard.
That said, if I'm going to compare Affinity Designer with Procreate, I think it's only fair that I compare them within the context that I would actually use them, and that is for drawing. And when it comes to drawing, I have to give Procreate the slight edge. Drawing with Procreate just feels more natural and intuitive. There's no learning curve and no confusion. Everything makes sense — the UI is self-explanatory. You can simply pick it up and start drawing.
In the end, both tools have my seal of approval, and the one you should choose comes down to your own personal needs. Make your choice and let your creative side take over from there!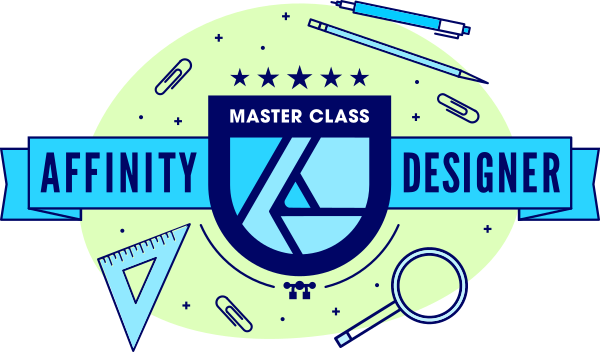 Become A Master of Affinity Designer!
Want to learn more about how Affinity Designer works? Check out my Affinity Designer Master Class – a comprehensive series of over 60 videos where I go over every tool, feature and function and explain what it is, how it works, and why it's useful.
Master The Software
Want to learn everything there is to know about your favorite design apps? Check out our interactive video courses and private community for getting help when you need it!
The Inkscape Master Class

A comprehensive series of 60+ videos where I explain every tool and feature in Inkscape.

Affinity Designer Master Class

A series of 80+ explainer videos where I go over every tool and feature in Affinity Designer.

The Illustrator Explainer Series

A series of 100+ explainer videos where I go over every tool and feature in Adobe Illustrator.

The Logo Design Academy

An 18-part video series teaching my entire creative process for designing logos, from start to finish.
This post may contain affiliate links. Read affiliate disclosure here.