We have a lot on our plates as designers, and we should take advantage of everything we have at our disposal to make our jobs easier.
Here's a list of 5 awesome and free resources that will make your job easier as a designer.
Free stock photos are hard to find. Free high quality stock photos are even harder to find. Not on Pixabay, though.
Pixabay somehow manages to offer a large and diverse library of high quality stock photos, videos, vector graphics and more, and without charging a single penny and without requiring attribution. Content on this site is 100% free with no strings attached.
I'm sure it won't be long until one of the major stock photo sites buys them out (this happens regularly, and in cyclic fashion,) so enjoy it while you can.
Most fonts you'll see on most font directory sites are free to download, but that doesn't mean they're free to use. They're only free if you're using them for personal and non-commercial purposes. If you wish to use them for client work or your own personal branding, you'll have to purchase a license from the creator.
In comes Font Squirrel. Not only are all of the fonts on the site free, but they're 100% free for commercial use as well. I'm always more than happy to show a client a catalog of their fonts if they're on a budget and can't justify spending more money on commercial font licenses.
This site is a hidden gem, and I very rarely hear anyone talk about it.
I couldn't tell you how many times I've had a client come to me with an old, rasterized logo that they needed recreated, but didn't know which font was used. With WhatFontIs, you simply upload the image to the site, and it will not only identify the font, but it'll identify nearly-identical fonts as well.
This site has saved me from wasting countless hours browsing through font catalogs, trying to figure out what font I'm looking at.
If you design logos, you want to make the best impression on potential clients possible. Displaying a nice logo helps, but displaying a nice logo being depicted in real world application will be a grand slam.
365 Web Resources compiled a list of 18+ free PSD mockups that you can simply import your logo into using Photoshop, then render a photorealistic picture of your logo in use.
The quality of these PSDs is nothing short of mind-blowing, so much so that I'm now using them on my own portfolio. You can't tell that these images were digitally imposed even upon close inspection. I tip my hat to those who created them.
T shirt design is a hot commodity in the graphic design indsutry. Everyone from Youtubers to affiliate marketers need t shirts designed and regularly hire freelancers (like us) to create the designs for them.
UCreative was kind enough to put together a collection of 19+ blank t shirt templates that are free to use, so you can superimpose your own designs onto them for display on your portfolio or to send your clients as mock ups. Your designs will always sell better when you display them in a real world context.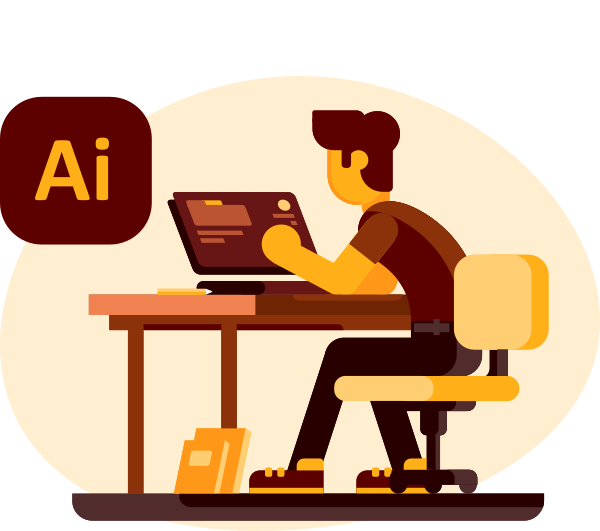 Become A Master of Adobe Illustrator!
Want to learn more about how Adobe Illustrator works? Check out my Illustrator Explainer Series - a comprehensive collection of over 100 videos where I go over every tool, feature and function and explain what it is, how it works, and why it's useful.
This post may contain affiliate links. Read affiliate disclosure here.