UPDATE MARCH 20TH, 2017: I recently built a new rig. Here's a look at my latest setup: http://logosbynick.com/look-new-design-setup/
So here's a look at my design setup. It's rather simple, minimalist and clutter-free, which is just how I like it.
It's a custom-built desktop, sporting an i5 with 16GB of memory and running Ubuntu with the Vertex Dark theme and the Ardis icon set. I absolutely love how customizable Linux is. The dark theme looks sharp and is very easy on the eyes, and the Ardis icons are sleek and modern.
Here's a closer look at the theme…
Keyboard
For the keyboard, I'm using the GMYLE Ultra Thin Wired USB Mini Keyboard. I chose it primarily because it's small and compact, which gives me quicker access to all of the keys. As a graphic designer, I use hotkeys and keyboard shortcuts regularly, so this is a great benefit for me and makes my job more time efficient. I also like the sleek, minimalist design. It looks sharp and it's very easy to clean between the keys and whatnot. Not bad for only $10.
Here's a closer look at the keyboard…
Mouse
For the mouse, I'm using the Etekcity Scroll X1 (M555). This device packs a lot of quality for only $15. The first thing I noticed when opening the package is how heavy it is. This thing was built to last. The top of the device is covered with a soft rubber-like finish, although it looks like plastic in the images. The chord, which connects via gold-plated USB, is not your typical wire. It's a copper wire with braided fabric covering it, which offers stretch resistance and durability.
There's DPI adjustment buttons, and there's also two additional buttons on the left side that allow you to navigate forward and back, relative to a browser, folders, or anything else you may be browsing, which is a luxury I've gotten used to. I don't think I could go back to a standard mouse now.
Finally, the mouse fits my hand comfortably and looks incredible. To say the design is aesthetically-pleasing would be an understatement. It looks awesome. This is probably the best mouse you'll find at this price point.
Here's a closer look…
Microphone
You don't necessarily need a microphone for graphic design work. I use this for my Inkscape tutorials that I post on Youtube. The microphone I chose is the CAD U37 USB Studio Condenser. For only $47, this is as good a microphone as you can find in this price range. The audio is surprisingly crisp and clear, and you'll get even better results if you do a basic cleanup of the file in Audacity.
Here's an audio test of the CAD U37…
To complement the microphone, I'm using the Dragonpad pop filter, which does an excellent job of eliminating those ghastly "p" sounds. $7 well spent. In addition, I'm also using a NEEWER microphone suspension boom scissor arm stand that attaches to my desk. I can't recommend that stand though, because as you can see in my picture, the CAD U37 doesn't exactly fit, so I had to go rogue and figure out a makeshift solution…
Software
Although I have a Windows 7 partition on this machine, solely for the sake of using Adobe's Creative Cloud, I much prefer Linux and open source software.
For 99% of my design work, I use Inkscape and GIMP. For tutorial screencasts I post to Youtube, I like to use Kazaam Screencaster, then edit the file with Blender. I also use Audacity to sharpen the audio.
There's the basics of my work station. Let me know if you have any questions, and thanks for checking it out!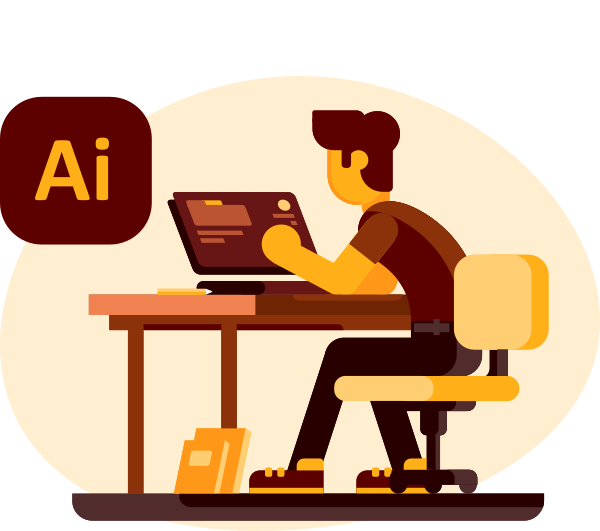 Become A Master of Adobe Illustrator!
Want to learn more about how Adobe Illustrator works? Check out my Illustrator Explainer Series - a comprehensive collection of over 100 videos where I go over every tool, feature and function and explain what it is, how it works, and why it's useful.
This post may contain affiliate links. Read affiliate disclosure here.