If you're in the market for a graphic design laptop then the new MacBook Airs are hard to miss. Thanks to the new ARM-powered M1 chip, using a MacBook Air for graphic design is now a reality, but you should only do so depending on the type of design work you'd like to pursue.
Despite the punch it packs, the Air may not be sufficient for more intense design tasks, like animation and video editing. However, it can certainly handle some common design tasks, like photo editing, drawing, painting, and vector illustration.
In this post we'll be going over whether or not you should use a MacBook Air for your graphic design needs.
Using a MacBook Air for graphic design is suitable when it comes to lighter tasks, like editing photos and vector illustrations. However, animation and video editing may require more power.
Let's have a closer look at what you can expect if you plan on using this lightweight innovation for your design work.
MacBook Air
On November 17th, 2020 Apple released the new MacBook Air with its own ARM-powered M1 chip. The chip somehow manages to provide more power for less battery life. Combined with the fan-less design and the reasonable $999 USD price tag, it was enticing enough for me to pick one up as a long-time Windows user.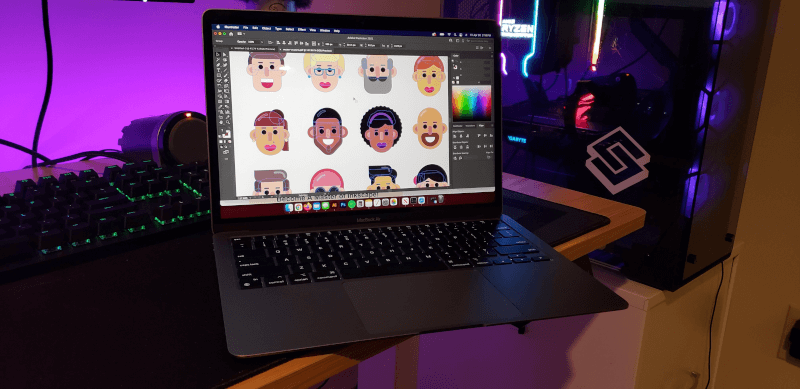 Let's have a look at the specs of the new M1 Air:
| | |
| --- | --- |
| CPU | Apple M1 Chip; 8-Core |
| Graphics | Integrated |
| RAM | 8 GB Unified |
| Storage | 256GB SSD |
| Screen Resolution | 1680 x 1050 |
These specs can be compared directly with the hardware requirements of each design application. It should be noted that additional memory and disk space can be added for a surcharge if you're looking for a little more power.
Using A MacBook Air for Graphic Design
If you're considering using a MacBook Air for graphic design then there are some pros and cons you should consider for deciding to do so. Let's have a closer look.
Pros
The pros of going with the new M1-powered Air are as follows:
ARM-Powered M1 Processor
Apple's new M1 chip provides more power than previous generations, and it's enough to challenge its Intel-based adversaries. As you can see from the specs table above, it's more than enough to handle the likes of Adobe Photoshop, Illustrator, Affinity Photo, Affinity Designer, and so on.
Anecdotally, my experience with using the Adobe Creative Suite on the new MacBook Air has been nothing short of flawless. I don't know if this is because the Adobe apps were designed to run on the MacOS, or if it's because of how well Apple's components communicate with each other, but somehow Photoshop and Illustrator both run better on my MacBook Air than they do on my Threadripper rig with a RTX 2080 Super that I built last year. It loads quicker and there's less lag.
No Fan Noise
A couple of years ago I wrote a post comparing the MacBook Pro with an MSI gaming laptop, explaining why I chose to go with MSI. However, after using the MSI laptop for a while, I found the fan noise to be too obnoxious (not to mention how hot it gets!)
One of the benefits of using a MacBook Air for graphic design is that there's no fans and no fan noise (hence the name "air".) Using this sleek new laptop has been a refreshing change of pace for when I'm working on the go.
Long Battery Life
Another benefit you'll enjoy as a MacBook Air user is the outstanding battery life.
On a test done by Linus Tech Tips, the MacBook Air's battery lasted for nearly an entire weekend before running out! Quite the contrast from my MSI gaming laptop, which drains battery life so quickly that you can nearly watch it drop in real time.
This, combined with its slim, sleek, and lightweight design, makes it a convenient device for travel.
MacOS Compatibility
Finally, the biggest benefit you'll enjoy when using a MacBook Air for graphic design is the cross-platform combability between your other Apple devices, like the iPad.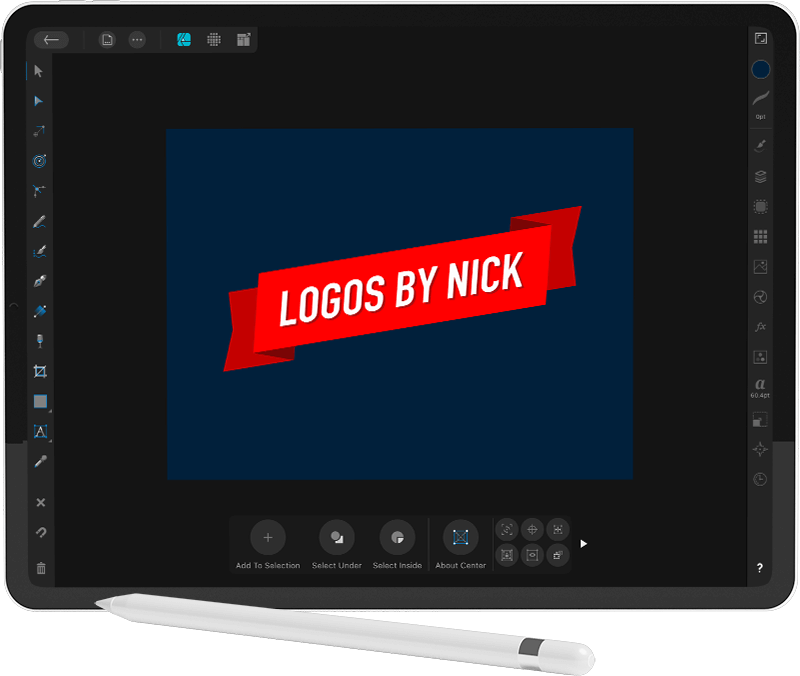 This means that if you routinely use a drawing app for the iPad — like Procreate or Affinity Designer — you'll be able to transfer files between devices without having to use something like DropBox or Google Drive.
It also means that you can easily work with photos you've taken with your iPhone much more efficiently.
Cons
Despite all of the benefits that you'll enjoy as a MacBook Air user, there are some aspects where it falls short:
Screen Size
The biggest disadvantage I've noticed when using my Air for design work is that the screen isn't quite as big as I like it to be when designing.
Even though it has a resolution of 1680 x 1050 (which is rather impressive for a screen this size,) the 13.3 inch screen size doesn't quite cut it for me. I like to have lots of space when designing (but this is just personal preference.)
This can be remedied by screen mirroring to an external monitor or TV.
Instability When Using Open Source Applications
For those of you who like to use Open Source applications, like Inkscape and GIMP, you may want to look elsewhere.
Both applications tend to be slow and unstable on the MacOS, especially since the release of the Big Sur update. As reported by the GIMP team, users are experiencing slowdown and invisible selection outlines, and I can confirm this myself as I've had many of my academy students reporting similar problems.
Lack of GPU
One of the tradeoffs of not having to endure obnoxious fan noise is the lack of a GPU, which is required for certain types of animation and can boost the performance of other design apps.
This means that if you're going to be doing CPU-intensive design work, like animation or video editing, then the MacBook Air would probably not be the best choice.
Who Should Use A MacBook Air for Graphic Design
Considering all of the pros and cons — as well as the hardware requirements of various design applications — the MacBook Air is a good option for the following uses:
Photo editing
Photo retouching
Painting, drawing, and sketching
Vector illustrations: logos, icons, UI, and character illustrations
Designing thumbnails and headers
Designing promotional graphics for social media
Designing ad display campaigns
Various graphics for streamers: badges, overlays, and more
Designing graphics for mobile applications: app icons, splash screens, UI, and more
The base model MacBook Air meets the minimum requirements of the following design applications:
Adobe Photoshop
Adobe Illustrator
Affinity Photo
Affinity Designer
CorelDraw
GIMP
Inkscape
Krita
If your application of choice is not listed then bear in mind that you can always add upgrades to your MacBook Air for a premium, which will allow you to enjoy the power of a MacBook Pro but without the fan noise.
Who Shouldn't Use A MacBook Air for Graphic Design
If you plan on using your MacBook for any of the following tasks then you may want to consider something with a little more power:
Animation
3D/modeling
Open Source designers (Inkscape and GIMP users)
Anything that requires you to create large files with lots of elements
Multi-tasking: running multiple applications at the same time
The base model MacBook Air does not meet the minimum requirements for the following applications:
Conclusion
Using a MacBook Air for graphic design — when it's more suitable for common everyday computing tasks — may be pushing the boundaries depending on the type of design you're doing. But if you're a casual designer who just likes to edit photos in Photoshop and make vector illustrations in Illustrator, then it should be more than sufficient. However, for anything more intensive than that, you'd be better served considering a higher-end device, like a MacBook Pro.
Master The Software
Want to learn everything there is to know about your favorite design apps? Check out our interactive video courses and private community for getting help when you need it!
The Inkscape Master Class

A comprehensive series of 60+ videos where I explain every tool and feature in Inkscape.

Affinity Designer Master Class

A series of 80+ explainer videos where I go over every tool and feature in Affinity Designer.

The Illustrator Explainer Series

A series of 100+ explainer videos where I go over every tool and feature in Adobe Illustrator.

The Logo Design Academy

An 18-part video series teaching my entire creative process for designing logos, from start to finish.
This post may contain affiliate links. Read affiliate disclosure here.