So, you know design. Maybe you went to school for it, or maybe you've learned the technical proficiencies of the software and the principles of effective design on your own. You have this highly valuable skill set, and now you want to know how you can put it to work.
I'm going to show you 5 clever ways in which you can start monetizing your graphic design skills online. Most of these won't require you to invest a penny on advertising. The only thing you'll need to invest is time, hard work, and exercise a bit of persistence and patience.
1.) Freelancing Sites
Let's say Joe is starting his own line of craft beer. Joe needs a logo made. Joe goes to a freelancing site and creates a job posting briefly outlining the work he needs done.
Once his job posting is submitted, anywhere from 10-50 (or even more in some cases) freelance graphic designers will send in written proposals, along with their portfolio, in effort to win the job. This is when the bidding war begins.
Typical logo projects will be quoted at a fixed rate price from anywhere between $25 to $600 on average. Joe takes a look at all of the proposals, portfolios, and has a read through the reviews and feedback scores that previous job posters had left for each freelancer, then makes his hiring decision.
The benefit of the freelancing site for Joe is that it gives him a broad range of providers to choose from, and the providers all have objective and unbiased reviews and feedback scores left from previous clents who have hired them. The platform also offers means for Joe to leave a review for whichever provider they choose, which means accountability. Freelancing sites offer a client the security of not having to worry about someone taking their money and disappearing.
The benefit for the graphic designers who use these sites is it gives them immediate access to countless freelance gigs without ever having to spend a cent on advertising. The only thing that will cost them is when the site takes their cut of the profit, which is usually around 10%, depending on which site you're using.
2.) BrandCrowd
So let's say you've been using the freelancing sites for a while and have completed 100 logo projects. You presented each client with at least 3 different design ideas, but they only chose 1 of them, meaning that the other 2 are still your property. You now have at least 200 logo designs that you own, sitting on your computer, doing nothing. In comes BrandCrowd.
BrandCrowd is a site where prospective logo buyers can browse through a wide variety of design ideas relevant to their niche and purchase the ones they like best from anywhere between $200 and $500. The designer who created and uploaded the chosen design surrenders ownership rights to the buyer and is compensated for their work.
If you've been creating logos for a while and have a lot of unused concepts collecting dust, then I suggest you sign up for an account with BrandCrowd and start uploading some designs. You may not sell anything at first, and it may take a while before you make your first sale, but the more inventory you have on the site, the better your chances are.
3.) Stock Photo Sites
Stock photo sites aren't just for buying stock photos. Tens of thousands of people purchase vector designs, icons, badges, character drawings, buttons and logo templates for use on their websites, photos, advertisements, and mobile applications on a daily basis.
Let's say you upload a set of icons you've designed to a stock photo site. Each time that set of icons is purchased, you will earn a royalty of about 25 cents, which doesn't sound like a lot, but adds up quick.
If you have plenty of quality designs uploaded to the site, to a point where you're making 500 sales in total each month (which isn't an unachievable feat), you'd be making $125 of passive income every month. Is that a lot of money? Well, no, but when we're talking about something that you've only had to work on once, but keep getting paid for it over and over, that's when the value becomes apparent.
The designs that tend to sell best on stock photo sites are niche-specific. If you're going to upload a set of icons, upload a set of food-related icons, or sports-related icons, or car-related icons, etc. instead of general contact and navigation icons. The reason for this, I believe, is that there is far less competition and designs to choose from in the niche-specific arena.
Bear in mind that most stock photo sites only accept the best of the very best to put up for sale on their site, so make sure your design skills are sharp and on point.
4.) Teespring

Teespring is an online platform that lets you upload your own designs to be printed and sold on t shirts. What makes Teespring so great is that unlike most other online t shirt printing services, the profit margin is tremendous. Instead of making $0.25 per shirt sale, you can make as much as $10. You get to set the price, so you can decide just how much you'd like to make.
Making sales with Teespring comes down to zeroing in on very specific niches, then setting up an ad campaign on Facebook that targets that specific niche. Check out this case study demonstrating how someone made $400 by advertising a Teespring campaign on Facebook.
5.) Youtube
Monetizing your design work on Youtube is rather simple and a lot of fun too. Come up with a design idea, use screen recording software to record yourself creating the concept, play it back in 8x speed, overlay some music, then upload it to Youtube as a time lapse video.
In addition, you can also make tutorial screencasts teaching aspiring designers how to use the software, which is also a lot of fun and very rewarding too.
Money is made from the advertisements and commercials played before and during the videos, which for me has averaged out to about $3 for every 1,000 views. It doesn't seem like a lot of money, but it adds up quick, and it's passive income. The more videos you upload, the more views you'll get, so you'll want to aim for uploading at least 2 videos per week.
Conclusion
You're probably not going to become wealthy from any of these methods I've outlined, and it's likely not going to replace your income as a freelancer. You can most certainly use these methods to supplement your earnings with some passive income streams, though.
Just like anything else in life that is worth being successful at, it's not going to be easy and it's not going to happen overnight. It's going to take a lot of hard work, clever planning, a touch of marketing savvy, time, persistence and patience. It's worth every bit of it, though.
If you can dedicate some time to these methods every week, there's no reason you won't be able to bring in some extra earnings every month.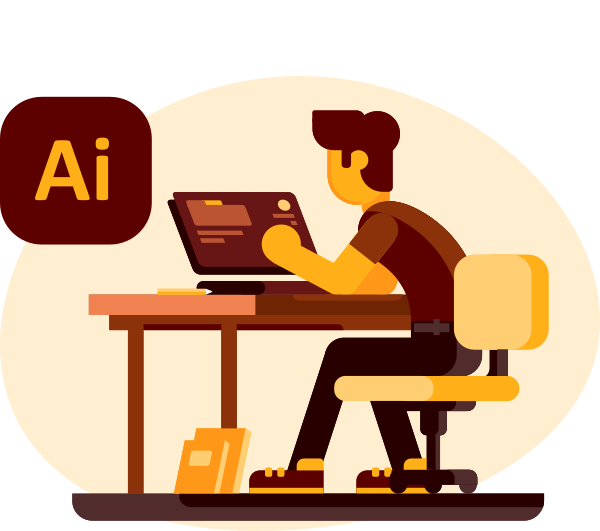 Become A Master of Adobe Illustrator!
Want to learn more about how Adobe Illustrator works? Check out my Illustrator Explainer Series - a comprehensive collection of over 100 videos where I go over every tool, feature and function and explain what it is, how it works, and why it's useful.
This post may contain affiliate links. Read affiliate disclosure here.