In this post I'll be sharing my logo design invoice template in a variety of editable formats that you can alter and use yourself! Simply remove my contact info and add your own.
Payment processing services like PayPal and Square offer invoicing capabilities for you to collect payment from your clients, but sometimes your client (or their accountant) will request a traditional invoice on official company stationery.
As a side note, invoices generally aren't used as a payment method. They're more so for your client's accounting records. Think of it as a more detailed receipt. Check out my post about how to collect payments as a freelancer if payment processing is what you're looking for.
Logo Design Invoice Template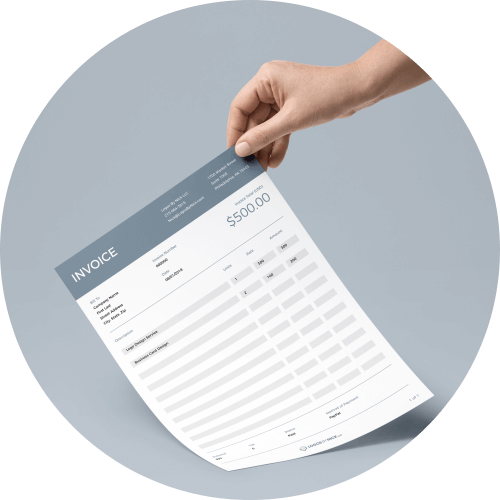 Invoicing is a pretty standard practice for most service-based businesses, so it's a good idea to have a template available for your own use because 1) it will save you time that otherwise would've been spent designing an entirely new logo design invoice template for each client, and 2) it just looks professional.
The information included on the invoice template is as follows…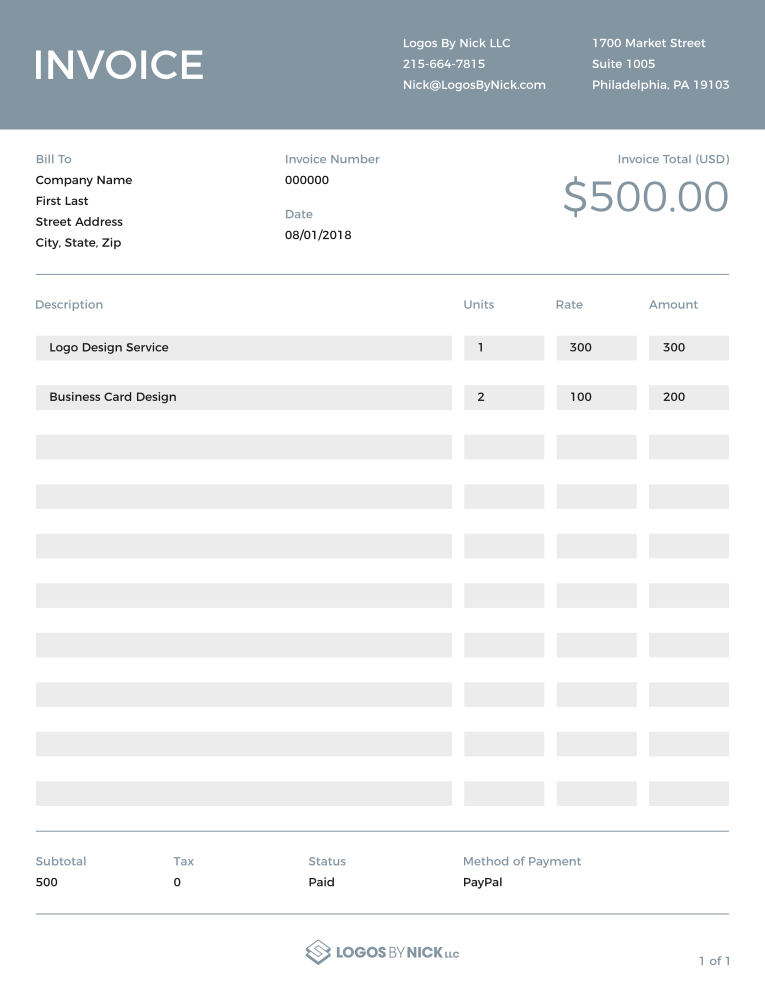 It's all the standard information you would normally see on any other invoice, only I added a touch of design so it doesn't have that drab office look. Also, note that there's several lines for additional services that you can add on, like business card design, Facebook cover photo design, etc. This is useful because it's not uncommon for clients to want additional services.
Terms and conditions for you and your client aren't included on the invoice — that will have to be addressed by a separate service agreement document (or if your payment processor of choice has a designated area for it like PayPal does.)
Free Download
The logo design invoice template can be downloaded for free here: logo-invoice-template.zip
I've included 4 different formats, which are as follows…
SVG – Native Inkscape format
AI – Native Adobe Illustrator format
PSD – Native Photoshop format
PDF – Editable with InDesign, Scribus, Inkscape or Illustrator
The font used is called Montserrat. It can be downloaded for free here. Make sure to download and install every variation of the font before you open the documents to edit them, otherwise your system's default font will replace the text, potentially ruining the design.
Enjoy!
Logos By Nick LLC is a participant in the Amazon Services LLC Associates Program, an affiliate advertising program designed to provide a means for sites to earn advertising fees by advertising and linking to Amazon.com. As an Amazon Associate I earn from qualifying purchases. Read affiliate disclosure here.