One of my favorite features in Inkscape is having the ability to create a document and save it as a template that you can launch directly from within Inkscape any time you want. This is useful because it means you won't have to waste time formatting your document every time you go to create certain types of designs that you may regularly work with, like YouTube thumbnails, channel art, business cards, invoices, and so on. In this post I'll be sharing 11 of my free templates for Inkscape that you can install directly into your templates library. I'll also be including instructions for how to install them.
Creating Templates in Inkscape
If you go to File > New From Template, you'll see a list of templates that are already formatted for whatever it is you'd like to create.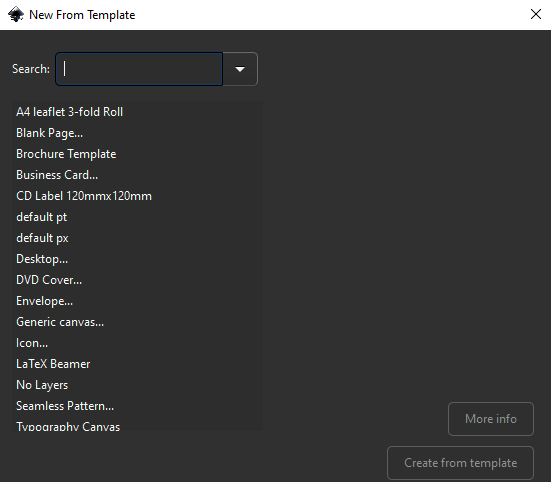 If you're using Inkscape version 1.0 or later, you can add your templates to this library by going to File > Save Template, and from there you can choose a name, along with some other metadata, and whatever it is you're currently working on in Inkscape will be saved to that library as a template that you can launch any time you'd like.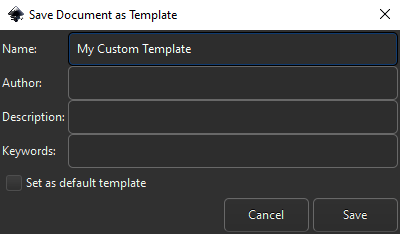 All you have to do to use your custom template is go to File > New From Template, and there it will be.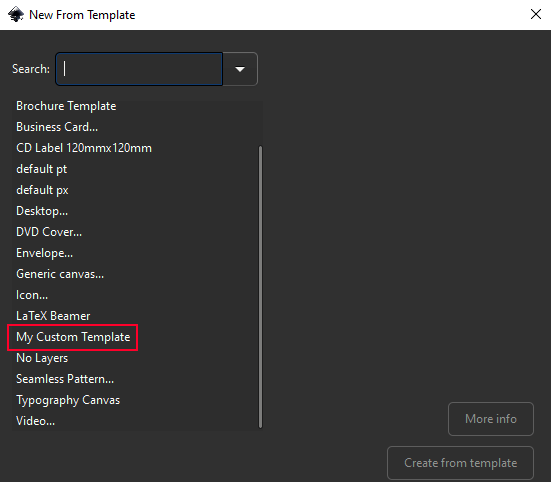 Free Templates for Inkscape
Because of this, I've generated a list of 11 free templates for Inkscape for common design items, like print-ready business cards and tri-fold brochures with bleed lines and DPI already accounted for. And just to be clear, these are not designs, these are just blank templates that you can load into your template library and use to create your own designs.
The included templates are as follows…
Tri-fold brochure
Business cards  (in all sizes)
Contact icons for business cards
Facebook cover graphic
Google display ads
Logo design invoice
Logo presentation
Twitch banner
YouTube channel art
YouTube thumbnail
The templates can be downloaded here: inkscape-templates.zip
Like I mentioned earlier, all you have to do is open one of these files with Inkscape, then go to File > Save Template. This is assuming you're using Inkscape version 1.0 or later.
If you're using an earlier version of Inkscape that doesn't yet have the Save Template feature, you can simply navigate to C: > Program Files > Inkscape > Share > Templates, and copy and paste all of the files into that folder. And the next time you launch Inkscape you will be able to create a new document based one of those templates.
This method also works for Inkscape version 1.0 if you don't feel like opening each document one-by-one and saving it, although the pathway is slightly different. Navigate to C: > Program Files > Inkscape > Share > Inkscape > Templates.
About The Templates
One thing I'd like to point out is that some of these templates may be a little confusing when you first open them. Take the brochure template for example. It has separate layers with boundaries that represent the bleed cutoff line. Another example would be the business cards template. As you may already know, business card sizes differ by country, so I created a master file with every size included.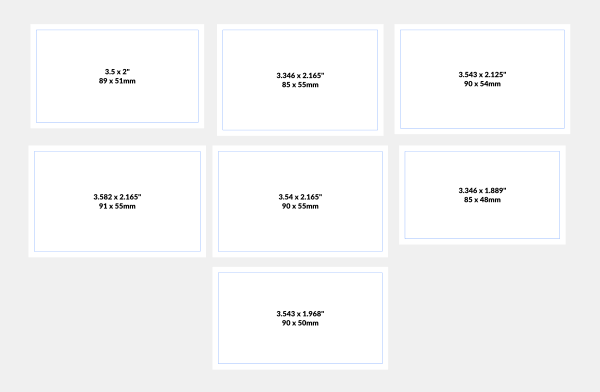 If you're unsure of how this works then I would recommend checking out the PDF document in the zip folder. It has links to some articles that I've written in the past where I explain how some of these templates work in more detail. Other templates, like the Twitch banner for example, are more self-explanatory because it's just a document set to a specific width and height.
Usage Permissions
The templates are free to download and use however you'd like, without any need for attribution. I'm releasing them into the public domain, so use them however you want! You can even re-distribute them if you'd like.
If you have any questions leave a comment below, and as always, thanks for watching!
Master The Software
Want to learn everything there is to know about your favorite design apps? Check out our interactive video courses and private community for getting help when you need it!
The Inkscape Master Class

A comprehensive series of 60+ videos where I explain every tool and feature in Inkscape.

Affinity Designer Master Class

A series of 80+ explainer videos where I go over every tool and feature in Affinity Designer.

The Illustrator Explainer Series

A series of 100+ explainer videos where I go over every tool and feature in Adobe Illustrator.

The Logo Design Academy

An 18-part video series teaching my entire creative process for designing logos, from start to finish.
This post may contain affiliate links. Read affiliate disclosure here.