In this post I'll be going over some guidelines for designing shirts and how to appropriately size your artwork. The best logo size for shirts depends on which print service you'll be using. Below you will find 9 of the largest print-on-demand services along with their guidelines for uploading artwork.
Print Shop Recommendations
Each print service is different, so it makes sense to prepare your designs to the specifications of your chosen print shop. If your print shop isn't listed below then I would recommend searching their website to see if their specs are indicated. If not then you may have to contact them directly.
1. TeeSpring

TeeSpring is probably the largest shirt printing company I can think of. It certainly seems quite popular among the content creator community.
According to TeeSpring's design specifications, they recommend the following…
High resolution PNG
CMYK color format is recommended but they do accept RGB
300 DPI (120 DPI is the minimum they'll accept)
Maximum width of 14.9 inches
Maximum height of 17.9 inches
Maximum file size of 50 MB
2. Spreadshirt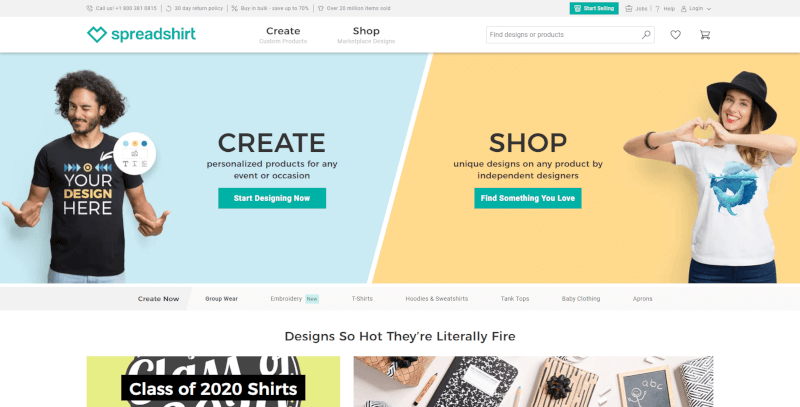 Spreadshirt is my personal favorite service to order custom shirts from. I've had shirts printed through them on several occasions and was always satisfied with the quality of their work.
Their recommended specs are as follows…
PNG, JPG, BMP or GIF format
Minimum DPI of 200
Maximum size of 4,000 x 4,000 pixels
Maximum file size of 10 MB
3. Custom Ink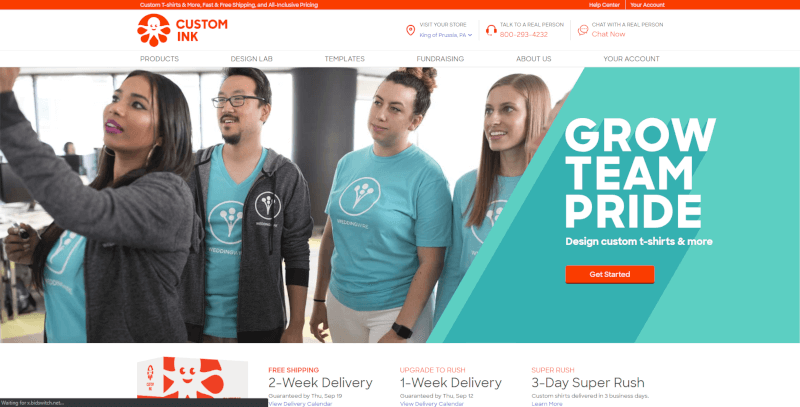 Custom Ink is a full scale print service that allows you to create custom prints for everything from shirts to stickers to trade show banners and more.
When uploading custom artwork, Custom Ink recommends the following…
Minimum DPI of 200 for raster formats
Minimum DPI of 72 for vector formats when it will be dark ink on a light shirt
Minimum DPI of 120 for light ink on a dark shirt
Accepted formats: AI, PS, EPS, JPG, PSD, BMP, GIF, PNG, WMF
Maximum file size of 5 MB
I couldn't find any documentation specifying a dimension size, so I would just render the design as large as you can without going over the 5 MB limit.
4. VistaPrint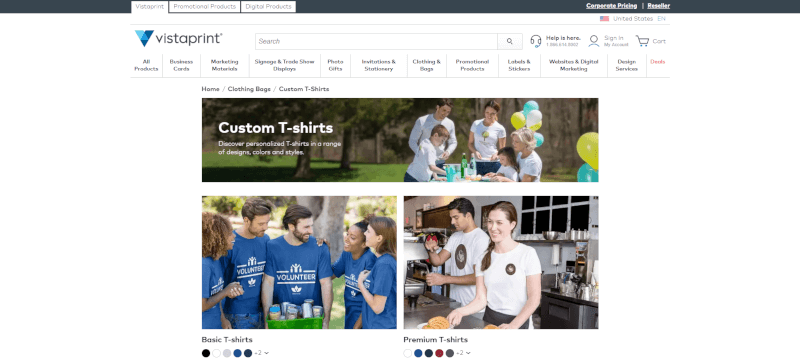 VistaPrint is probably the largest and most well-known print-on-demand service. They were one of the pioneers. I remember ordering business cards from them as far back as 2005.
Although they're best known for their business cards, VistaPrint does print t shirts as well. The specs for their basic short sleeve t shirts are as follows…
12.00″ x 12.00″
30.5 x 30.5 cm
2100 x 2100 pixels
Accepted formats: PDF, AI, PSD, BMP, GIF, JPG, JPEG, PPT, DOC, PCX, PIC, PICT, PCT, PNG, PS, TIF, TIFF
5. CafePress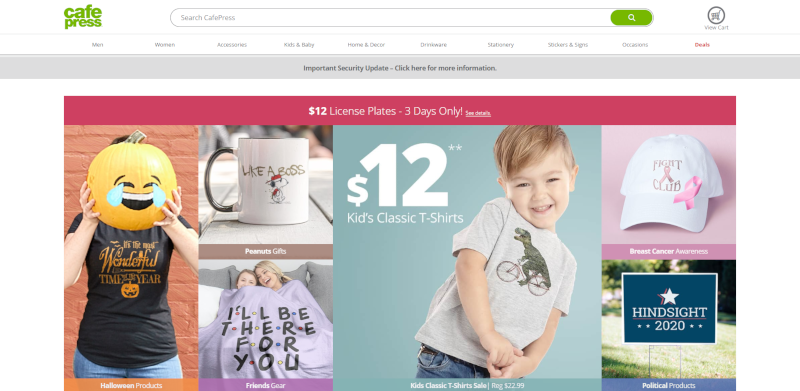 CafePress is unique in that they allow you to upload your designs to their site and sell them to their user base so you can earn commissions from each sale. I remember uploading a few designs back in 2013 and completely forgot about them. A few years later I was taken by surprise when I got a notification that someone had bought a shirt with one of them.
The best logo size for shirts, according to CafePress specifications, is as follows…
10 x 10 inches
200 DPI
2,000 x 2,000 pixels
TIF and PNG recommended for files up to 4 MB is size
JPG and PSD recommended for files up to 10 MB in size
JPG recommended for anything over 10 MB in size
6. Designhill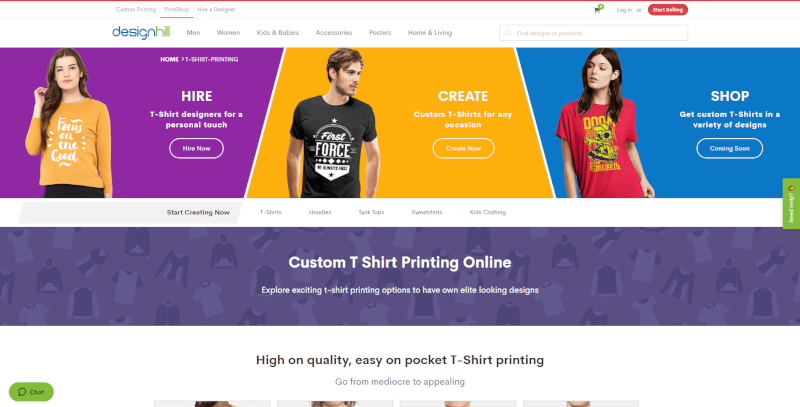 I was not aware that Designhill offers t shirt printing services, but apparently they do. Their upload requirements do not provide a specific logo size for shirts, but they recommend "high-resolution" artwork that isn't blurred once uploaded, and at a minimum DPI of 150. So I guess their recommendation is to simply see how it looks once uploaded.
7. Underground Printing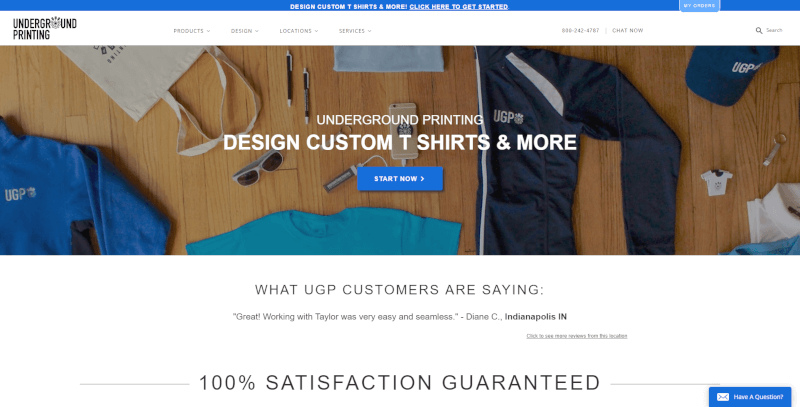 Underground Printing is a print-on-demand service that focuses primarily on shirts and apparel. They do offer other novelty items, but shirts are clearly their main focus by looking at their website.
Underground Printing recommends using AI (Adobe Illustrator) format. For raster designs they accept PSD, JPG and GIF. They don't specify any particular size, they just recommend a high resolution and DPI.
8. Rush Order Tees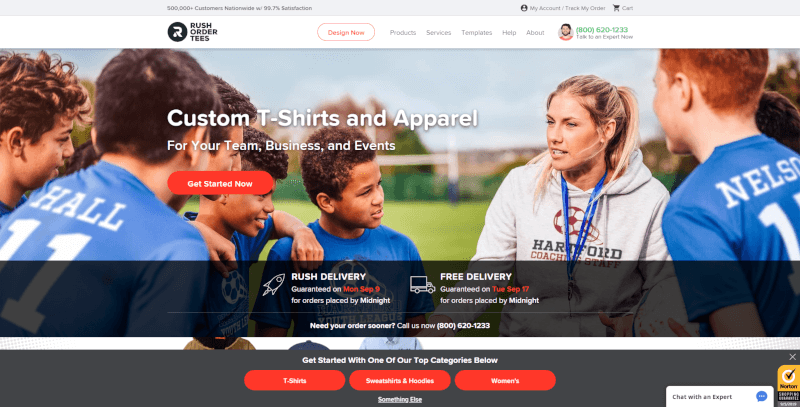 Rush Order Tees is another custom apparel print service. According to their FAQ, they prefer to work with vector formats or high-resolution artwork at 300 DPI, although it isn't a requirement.
Preferred formats: EPS, AI, PDF, PSD
Other accepted formats: JPG, JPEG, GIF, PUB, DOC, XLS, PPT, TIF, BMP, PNG
9. Bonfire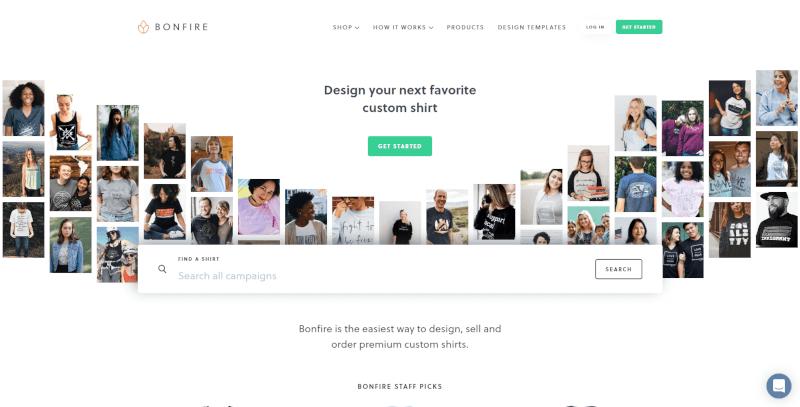 Bonfire — another print-on-demand service that specializes in shirts and apparel — recommends the following specification…
Accepted formats: AI, EPS, PDF, PNG, JPG
Maximum file size: 10 MB
Minimum image size: 200 x 200 pixels
Maximum of 8 colors
1-3 colors recommended
300 DPI recommended
Best Logo Size for Shirts
Based on all of the various recommendations from different print shops, it's safe to assume that the best overall logo size for shirts would be 2,000 x 2,000 pixels, in PNG format, in CMYK color format, and rendered at 300 DPI.
Those specifications would work for each of the print services mentioned in this post, and I don't see why that wouldn't work for 99% of all other print shops as well. That, in my opinion, would be a good one-size-fits-all solution.
This post may contain affiliate links. Read affiliate disclosure here.