Today I'll be sharing a pack of 12 free flat style vector avatar faces that you can download and edit however you'd like. Check the video tutorial to learn how to create your own using Inkscape:
Flat Vector Avatars
Learning how to create these faces in Inkscape is just a matter of working with basic shapes like squares, circles, and polygons. You can then add colors and accent pieces of your choosing.
Here's a breakdown of the steps taken to create a male face. As you can see, each shape is created individually and layered on top of each other.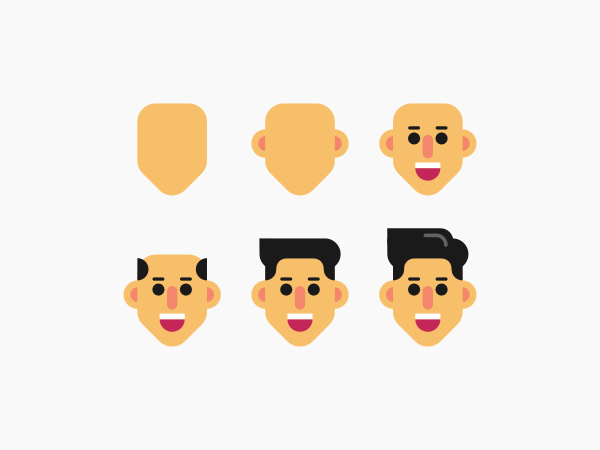 In addition to the shape tools, you'll also have to supplement with other tools like the Bezier Pen and the Nodes tool in order to have more granular control of the shapes of your objects. In the video tutorial at the top of the page I also used the new Corners path effect from Inkscape version 1.0.
Here's another breakdown demonstrating how to design a female avatar…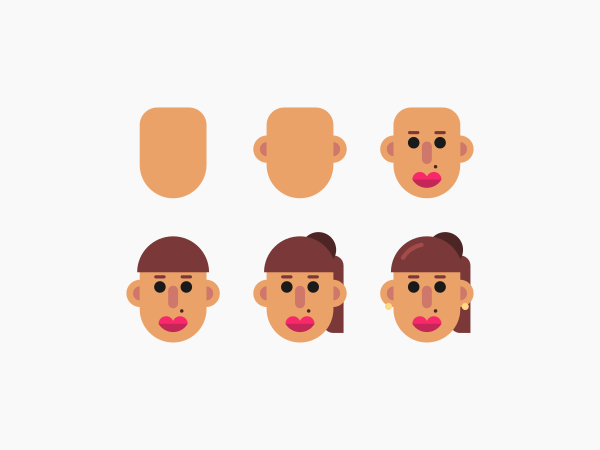 Free Download
Below you can download a free pack of 12 vector avatars designed by yours truly. The designs are as follows…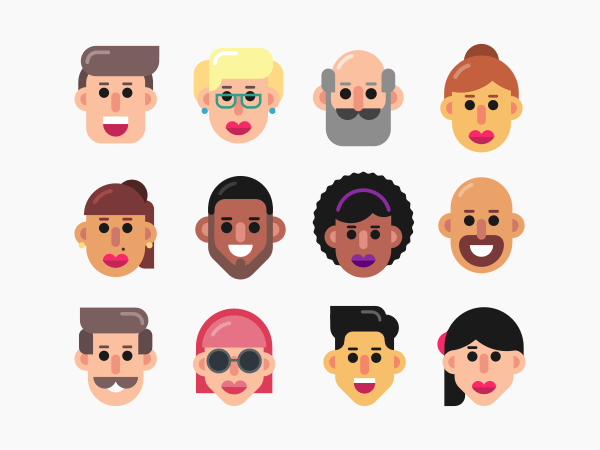 Once you've downloaded them you can mix and match different elements, colors, body parts, etc. however you'd like.
The vector avatars can be downloaded here: vector-avatars.zip
The format provided is a vector PDF document. To open it, open up Inkscape and then click and drag the PDF document onto your canvas to import it. Once imported, ungroup everything by pressing control + shift + g, and then the designs should be available for use.
Usage Rights
I'm releasing these designs into the public domain so feel free to use them however you'd like, including personal and commercial use. No attribution necessary. All I ask is that you please do not re-upload the vector files for these designs anywhere else, or list them for sale on a stock photo site or any other marketplace.
If you have any questions please leave a comment below. As always, thanks for watching!
Master The Software
Want to learn everything there is to know about your favorite design apps? Check out our interactive video courses and private community for getting help when you need it!
The Inkscape Master Class

A comprehensive series of 60+ videos where I explain every tool and feature in Inkscape.

Affinity Designer Master Class

A series of 80+ explainer videos where I go over every tool and feature in Affinity Designer.

The Illustrator Explainer Series

A series of 100+ explainer videos where I go over every tool and feature in Adobe Illustrator.

The Logo Design Academy

An 18-part video series teaching my entire creative process for designing logos, from start to finish.
This post may contain affiliate links. Read affiliate disclosure here.