Seeing as how my contact icons and social media icons were well-received and regularly bring in search traffic, I figure it would make sense to come up with some kind of useful design to create and give away maybe once a month or so. This week's giveaway: a 100% Money Back Guarantee logo. I've often seen these badges around the internet on various different sales pages and for sale as templates on stock photo sites. If you have anything to sell or market online (or even in print,) you may find yourself needing a graphic like this. You may also find yourself paying $20+ for it on a site like Fotolia. Until today, that is.
Inspiration
I always thought it would be fun to design something like this. After doing a Google image search and browsing through a couple of stock photo sites, I didn't really see any designs in particular that jumped out at me. There were some that had elements I liked, but they also had elements I didn't like. And the rest of them fit that mold as well. They all looked great in a bunch, as a whole, but individually, they seemed lacking. I kind of just soaked it all in for a while then used it as inspiration to come up with an original of my own…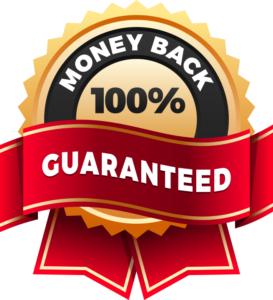 I also created a couple of color variations in case red doesn't suit your fancy…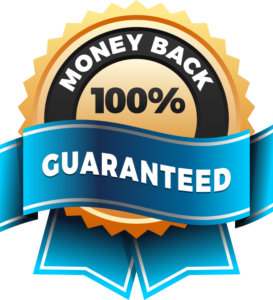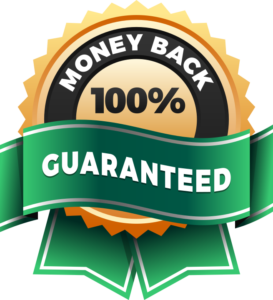 The font I used — in case you'd like to know so you can use it elsewhere — is Montserrat Black, which is a completely free font. No need to worry about copyright complications, although I did convert the text to paths/curves in the vector files, so don't worry about installing the font if you don't really want it.
Download: 100% Money Back Guarantee Logo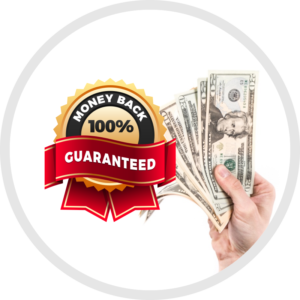 The files for this graphic are located in a zip folder which can be downloaded here: 100-money-back-guarantee-logo.zip
The file formats included are: .svg, .eps, .pdf, .psd, .png with a transparent background, and .jpg. If you'd like to edit this design, change its colors, try out a different font, or whatever else, I would recommend opening the .svg file if you're using Inkscape or Illustrator. If you're using GIMP or Photoshop, I would recommend opening the .psd file. If you'd just like to use the designs as-is, the .png files have transparent backgrounds and should lay nicely against whatever background you place them on.
Usage Permissions
You are free to use these designs for both personal and commercial use with no need to credit me, acknowledge me or link back to my site. You can even use them in your client work if your client's website or flyer needs a 100% money back guarantee logo. All I ask is that you do not resell or redistribute these designs anywhere else and do not make the source files (.svg, .eps, .pdf, .psd) publicly available anywhere. Other than that, enjoy!
Feedback?
Feel free to share your comments and criticisms in the comments section below. Also, let me know if you have any requests for the free design posts I'll be making every once in a while. Let me know what you need!
This post may contain affiliate links. Read affiliate disclosure here.