Working with fonts is a daily routine for designers and creative professionals alike. Whether you're a graphic designer, web designer, publisher, or anything else that requires creative copy, you've likely worked with many different fonts. Not all fonts are created equal though, and they all come with varying usage permissions. In this post I'm going to help you find what those permissions are and how to tell if a font is copyrighted.
What Is Copyright?
According to the Copyright Alliance website, a copyright is a collection of rights that are automatically assumed by someone who creates an original work of authorship, and this includes those who create fonts.
When you create an original work, you are entitled to reproduce the work, prepare derivatives, distribute copies, and display it publicly. Not only that, but you are granted protection in the form of legal recourse if someone infringes on those rights by reproducing or redistributing it without your permission.
This is why it's important to pay special attention to things like usage permissions whenever using third-party design assets like fonts, stock photos, and pre-made templates. If you use a font in a way that violates the user license agreement, you could find yourself in a world of trouble.
Types Of Font Licenses
Just because a font is free to download that doesn't mean you're free to use it however you want. Generally speaking, there's three different types of licenses that fonts typically come with. They are as follows.
1. Free For Personal Use
"Free for personal use" means that the font cannot be used for any commercial purpose. This includes selling products and promoting a business or brand.
So let's say you wanted to create a meme to send to your friends for some laughs. That would be an example of personal use because there's no commercial intent behind it.
On the other hand, if you were to have that meme printed on t shirts so you can sell them to your friends, that would be considered commercial use and a violation of the font license.
2. Free For Personal & Commercial Use
These are fonts that you can use both personally and commercially, and are typically the safest fonts to use.
So if you're using a font to design a product, or to promote your business, or to use on your website where you intend to profit in some way, it's a good idea to look for fonts that specifically state in their license that commercial use is okay.
I personally try to use free-for-commercial-use fonts as often as I can because there's the least amount of risk attached to them. A great site for free commercial use fonts is Font Squirrel.
3. Requires The Purchase Of A License
Finally, these are fonts that you can use commercially so long as you purchase a license to do so from the copyright holder. Whether or not you can use that license just once or over and over again for different clients depends on the license, so be sure to check.
This would describe a lot of the premium fonts that you would find on sites like Creative Market. Not only that, but a lot of fonts that you could typically download for free from sites like Dafont may be free for personal use but require you to purchase a license to use them commercially.
Like I mentioned earlier, just because a font is free to download that doesn't mean it's free to use however you want. A lot of font designers release premium fonts on a free-for-personal-use basis as a way to encourage you to purchase a commercial license from them (kind of like how I release free Inkscape tutorials as a way of encouraging enrollment in my paid Inkscape course.)
This is a common misunderstanding among clients and newcomers to design. I can't count how many times I've had a client link me to a "free" font they wanted me to use for their logo, only to end up having to explain to them that I cannot use it unless they purchase a license. You have to be careful when using free font sites like Dafont because they are notorious for this.
Repercussions Of Misusing A Copyrighted Font
The consequences of infringing on someone else's copyright (in the United States anyway) are dire. They can include both civil and criminal penalties.
If the owner of the copyright can prove that you gained financially by infringing on it, they can sue you for whatever amount you gained. Not only that, but according to Larissa Bodniowycz of LegalZoom, they can also sue for statutory damages of up to $150,000 USD per work!
Needless to say, knowing how to tell if a font is copyrighted is quite valuable if you're a designer. Just ask NBC Universal, who faced a potential lawsuit for $3.5 million for alleged misuse of a copyrighted font back in 2012.
How To Tell If A Font Is Copyrighted
Considering that every font was once created by some human somewhere, technically all fonts are copyrighted. However, I'm going to operate under the assumption that by "copyrighted" you really mean "what are the restrictions on how I can use it?"
Knowing how to find out if a font is copyrighted breaks down to four simple steps…
Let's elaborate on these a bit.
1. Check The Download Folder
Whenever you download a font (especially from sites like dafont.com) it usually comes in a .zip folder. More often than not, the copyright holder will leave a text document in the folder that spells out the usage permissions.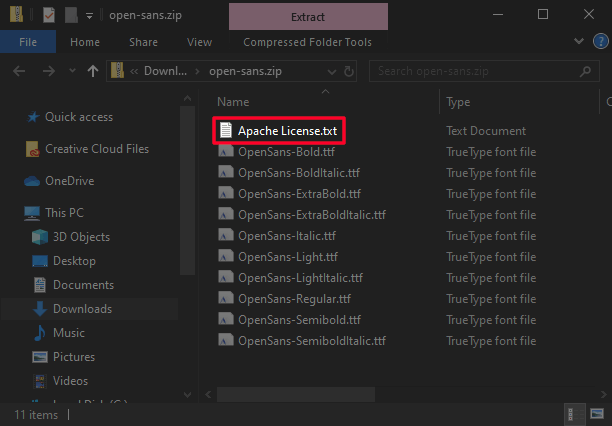 If you still have the zip folder that the font came in, check for a document titled "license.txt" or "readme.txt". If you no longer have the zip folder, or if the font never came with a license, read on.
2. Check The Website You Got The Font From
Most major font websites will tell you how you can and cannot use a specific font directly on the download page, or somewhere else on their website. If you remember where you downloaded the font then check back to see if those details are indicated.

If not, move on to the next step.
3. Do A Google Search
If you can't find a font license and you don't know what website you got the font from, or maybe it's been a while and you simply forgot, just search Google for the name of the font to see if there's a website where the font is hosted along with its usage rights.

This method can be unreliable though because there's a lot of sketchy font sites out there that upload copyrighted fonts illegally without any regard for copyright law. Using these sites can be dangerous, and not just from a legal perspective. Some of these sites try to infect your computer with malware.
Many times I've tried to download a font from some unheard of website, only to have my Norton antivirus swat it down. The biggest red flag to look for is if the download file is in .exe format. In that case, run away and never return. A reputable font site will usually upload the font file as .ttf, .otf, or in a .zip folder.
Personally, I only trust the larger, more established font websites. Here are some of them…
Dafont
Font Squirrel
Fonts.com
1001Fonts
Adobe Fonts
Google Fonts
MyFonts
FontSpring
Creative Market
Linotype
Those are just a few. There's several others that I can't remember at the moment.
4. Do A Search By Image Scan
If all else fails and you still can't find the usage permissions for a specific font, or maybe you don't know the font by name, another method for knowing how to tell if a font is copyrighted is to search for it by image.
For this sort of thing I like to use a site called WhatFontIs. This is an image-based search engine that allows you to upload an image of the font in question. The site will scan the image letter by letter and attempt to find a match based on their database of over 600,000 fonts.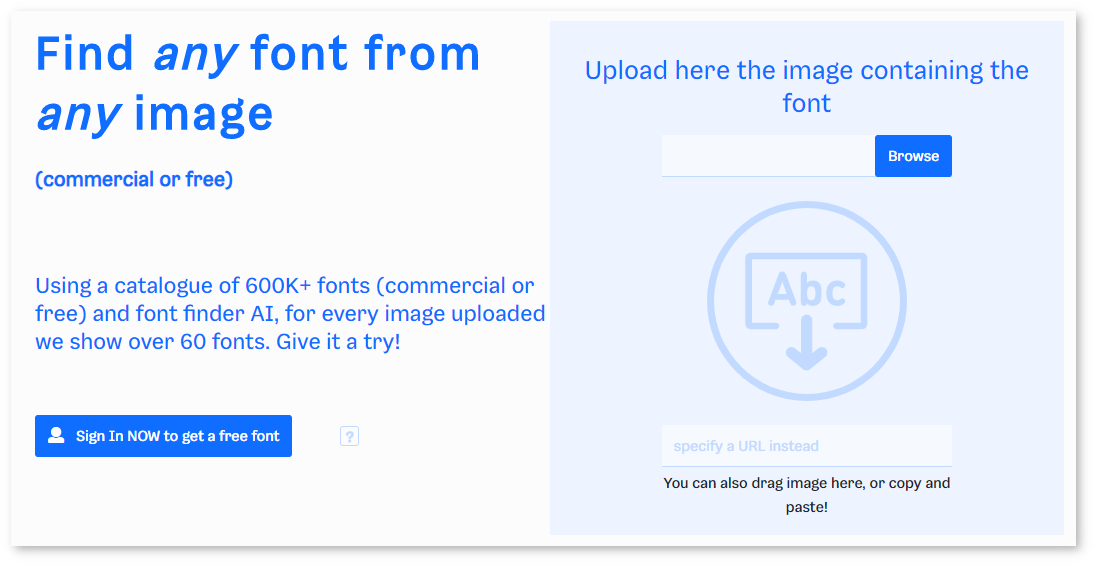 For best results it is recommended that you generate a plain image with a white background, black lettering, and no other details that could possibly interrupt their scanning process.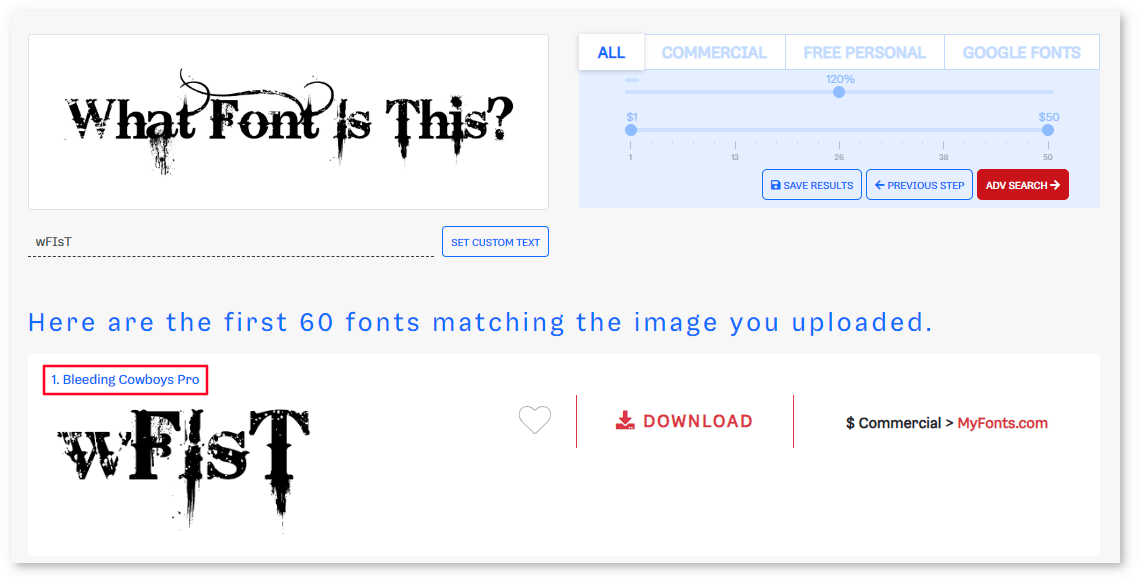 This website is incredibly useful, and not just for knowing how to tell if a font is copyrighted. I've had many clients over the years that wanted me to re-create their logo in vectors but didn't know what font was used. I simply upload a clear snapshot of it and let WhatFontIs work its magic.
What If I Still Don't Know?
If all else fails and you still don't know what the usage permissions are for your mystery font then it's probably in your best interest to play it safe and not use it. Although a font that is so obscure that you can't even find it in a Google search probably isn't anything to worry about, there's no way to really know for sure, and there's too much at risk.
Master The Software
Want to learn everything there is to know about your favorite design apps? Check out our interactive video courses and private community for getting help when you need it!
The Inkscape Master Class

A comprehensive series of 60+ videos where I explain every tool and feature in Inkscape.

Affinity Designer Master Class

A series of 80+ explainer videos where I go over every tool and feature in Affinity Designer.

The Illustrator Explainer Series

A series of 100+ explainer videos where I go over every tool and feature in Adobe Illustrator.

The Logo Design Academy

An 18-part video series teaching my entire creative process for designing logos, from start to finish.
This post may contain affiliate links. Read affiliate disclosure here.