Before beginning any logo design project, you'll need to collaborate with your client so that you can understand their business, the market they play in, and who their ideal customer is. This is known as a briefing, and in this post I'll be going over a sample creative brief for logo design clients that you can download and use yourself.
Why A Creative Brief?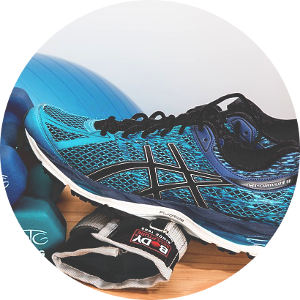 In order to design a logo, you'll need a thorough understanding of exactly what it is you'll be designing it for.
If your client says they need a logo for their shoe company, you'll need to know if it's a retail store where they sell various different brands of shoes, or if they're starting a shoe brand of their own. A logo would obviously be approached much differently for each of these concepts, so we need to iron out these details before moving forward with the design process.
The creative brief is not just for your benefit either. It's also in your client's best interest because it defines the scope of work and outlines a clear and concise plan of action so that they know exactly what to expect from the process.
It also offers assurance that both of you are on the same page as far as your vision for the project goes. Very rarely does someone pay for something without knowing exactly what it is they're getting, so it's important that we get the creative brief right.
A Written Brief Is Best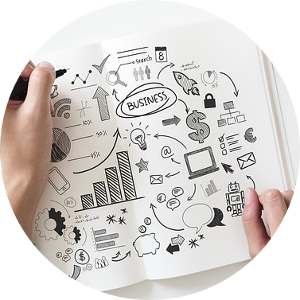 Sometimes a client will want to discuss their project verbally over the phone, Skype, or in person, which is understandable. Sometimes it's just easier (and more effective) to vocalize something than it is to write it out in text.
I don't have a problem with this. I always give my clients the opportunity to verbalize their requests if they so desire, but in addition, I still request that they fill out the brief, and for two main reasons…
It covers all bases – it's not uncommon for the natural flow of a conversation to cause us to gloss over important details and bits of information that we'll need for our design exploration. It's hard to remember everything on the spot. A written brief addresses each area of concern in a neat, organized format.
It gives you a written record to refer to – as designers, we're usually not just taking on a single project at a time. It's normal for us to be working with several different clients on a multitude of projects, which means we have a lot of information to juggle at a time. If we take on a project without written notes, and rely solely on our own recollection of what was said during the conversation, we're going to forget some things. A creative brief gives us a written record to refer back to when needed. Without it, you run the risk of giving your clients the impression that you don't pay close attention to the details, which is a not a particularly flattering trait for a logo designer.
Don't Scare Your Client Away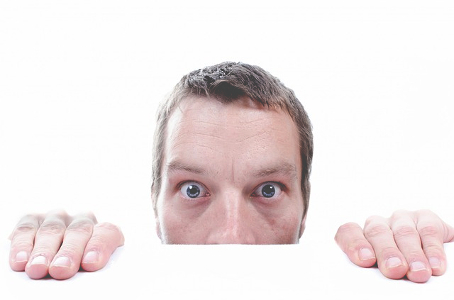 A big mistake many designers make is creating an extraordinarily long brief. This can be overwhelming. Handing your client a 6-page questionnaire is like handing them a homework assignment. They will put it off until they can get to it, which means it often gets procrastinated and ultimately disregarded.
Would you want to hire someone who makes doing business with them feel like you're at the DMV applying for a HAZMAT Endorsement for your drivers license? I certainly wouldn't — I'd probably go look for somebody who makes the process a little easier, which is what your clients will likely do as well.
Believe it or not, I've had clients who initially reached out to me specifically stating that they didn't have the time or interest in filling out a lengthy creative brief.
Don't Miss Important Details Though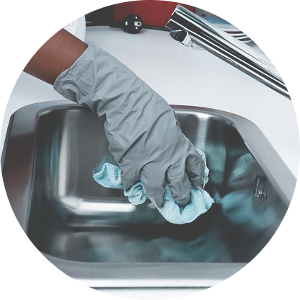 On the flip side of the coin, you don't want to make the brief too short either, because you run the risk of leaving out key pieces of information. The more information you have, the better of a job you can do, so it's in your best interest to encourage your client to open up about their business and the vision they have for it.
This makes the creative brief for logo design clients a very precarious matter. It needs to be brief and to-the-point, but without leaving out any important details.
Sample Creative Brief for Logo Design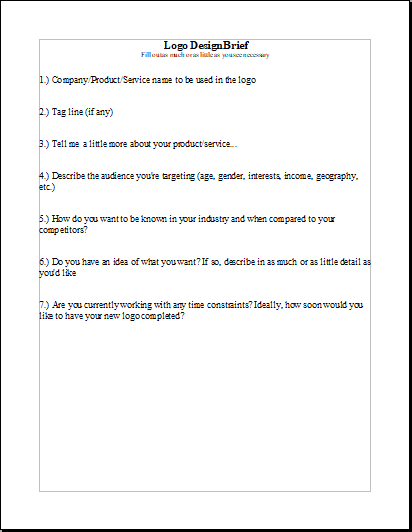 The following is a sample creative brief for logo design projects that strikes the delicate balance between being relatively short and to-the-point, but without glossing over any important areas.
It's a simple 7-question survey that I've crafted over nearly 7 years of experience. Below I'll go over all 7 questions, then I'll be giving you a copy in Word format that you can use for your own logo design clients.
If you don't have Microsoft Word and want a free alternative, I would recommend Apache OpenOffice.
Question 1: Company/Product/Service name to be used in the logo
It's a pretty obvious question, I know, but believe it or not I very regularly have clients contact me and tell me everything about their company except for the name. It's hard to build a logo when you don't know what name you'll be building it for.
Question 2: Tag line (if any)
A lot of clients like to include tag lines with their logos. A tag line is a brief sentence which serves to clarify and/or reinforce a thought. For example, I sometimes use the tag line "Enhance Your Brand" beneath my name in my own logo in order to reinforce what "Logos By Nick" is all about and highlight what I believe to be my biggest selling point.
Question 3: Tell me a little more about your product/service…
This where the client takes the stage and we get to find out who this company is and what they do. I left this question open-ended so the client would feel compelled to open up about their company and go into more detail than "I sell houses." I asked them to tell me a little more about it, which encourages them to elaborate on things.
Question 4: Describe the audience you're targeting (age, gender, interests, income, geography, etc.)
This is important information to know, and we have to ask it because a client usually doesn't think to disclose this information on their own. We wouldn't design a logo that was intended for an audience of little league soccer players the same way we'd design a logo for an intended audience of 52 year old poker players, so this is important to know.
Question 5: How do you want to be known in your industry and when compared to your competitors?
This is my favorite question because it forces the client to look beyond "I sell houses" – it encourages them to open up a little more and share more of their vision.
If they respond with something along the lines of "I want to be known as someone who sells prestigious houses of high value to an upscale caliber of successful clientèle," that lets us know that we should design something that would appeal to the kind of consumer that pays top dollar for the finer things in life — a prestigious look.
If they say something along the lines of "I want to be known as someone who finds the best deals on houses for first-time home buyers," that let's us know that we should design something that will resonate with the common man.
Question 6: Do you have an idea of what you want? If so, describe in as much or as little detail as you'd like…
Sometimes a client has no idea what they want (which I personally like because it gives me creative reign.) Sometimes a client sort of knows what they want. For example, they like certain colors, or may want to explore having a house icon made of the letter A in their name, and so on. And sometimes a client knows exactly what they want, they have a sketch to send you and they just need you to create a clean and professional digital rendering of it.
Question 7: Are you currently working with any time constraints? Ideally, how soon would you like to have your new logo completed?
This question doesn't really aid us in regards to the design process, but it's important information to have nonetheless. It gives you an understanding of what the priority is for this project, which can help you determine the price you quote them at.
If the client needs the logo done in a hurry and is willing to pay extra for expedited service, knowing that beforehand allows you to price the job accordingly. Alternatively, if there's no rush and they're willing to let you take all the time you need to perfect it, you can then factor that into your pricing.
Free Download
Grab yourself a free copy of my sample creative brief for logo design clients (in Word format) at the following link: DesignBrief.doc
Love it or hate it, it works. I've relied on this template for clients large, small, and everything in between, and I've yet to find a blind spot. Enjoy!
Master The Software
Want to learn everything there is to know about your favorite design apps? Check out our interactive video courses and private community for getting help when you need it!
The Inkscape Master Class

A comprehensive series of 60+ videos where I explain every tool and feature in Inkscape.

Affinity Designer Master Class

A series of 80+ explainer videos where I go over every tool and feature in Affinity Designer.

The Illustrator Explainer Series

A series of 100+ explainer videos where I go over every tool and feature in Adobe Illustrator.

The Logo Design Academy

An 18-part video series teaching my entire creative process for designing logos, from start to finish.
This post may contain affiliate links. Read affiliate disclosure here.