Building A Logo, From Start To Finish
Knowing how to use the design software is only one piece of the puzzle. In order to create great, original and effective logos, you'll also need an understanding of design theory. You'll need to know what the ingredients for a great logo are and how to build ideas around these principles.
For the past few months I've been working on developing a logo design guide that covers every aspect of this.
This book is creativity oriented; not technical. The lessons do not require any design software, and I won't be demonstrating how to create specific designs in tutorial format like you'd see on my Youtube channel. Instead, I'll be teaching the systematic approach that inspires the designs I create – the entire blueprint for my creative process, from start to finish.
If you've ever looked at a logo I've created and wondered how I came up with that idea, you'll see exactly how it happens in this book. After completing these lessons, you will know how to come up with original design ideas and will be able to create logos for any concept, using the same approach I use.
Beginners: Aspiring designers who already have a basic understanding of a particular design software and want to learn more about logo design theory and creation so they can offer their design services in commerce
Intermediates: Logo designers who are just starting out and want a clear, concise and actionable strategy to elevate their design skills so they can start aiming at a higher caliber of clientele
Any designer looking to enhance their creative approach and improve their efficacy and workflow so they can earn more from their work and start taking on bigger projects
What Topics Will Be Covered?
An introduction to the role of graphic design in branding
Logo design theory – the ingredients of a good logo, a great logo, and a bad logo
Color theory – defining a color palette that abides by design principles and functions effectively within the context of a logo
The standard protocol for communicating with your client in order to get all of the information you need from them to create the best logo you possibly can
How to use that information to conceptualize appropriate design ideas using an 11-step approach that can be applied to any logo design project, as well as my methodology for finding inspiration for unique and effective design ideas
Conducting a competitive analysis of your client's industry
Client presentation: how to present your design ideas to your client in a professional manner that makes an impact and "sells" them on your designs
Production: how to finalize the design your client has chosen and prepare it in all of the formats they'll ever need for a logo, along with the proper documentation
Project simulation: I'll be walking you through every step of a mock design project for an example client to help reinforce the contents of these lessons
In addition to the book, you'll also be receiving various documentation I use for my own clients, including…
A proven and effective design brief that I send to every client
A branding guide to send every client once their logo is completed, so they'll know how to best utilize their files
A digital brochure that I send to prospective clients that briefly outlines what makes a great logo
Cheat sheets to reference throughout your work day
Private label rights to all of these documents, meaning you can remove my logo and contact information and replace it with your own, so you can use them for your own clients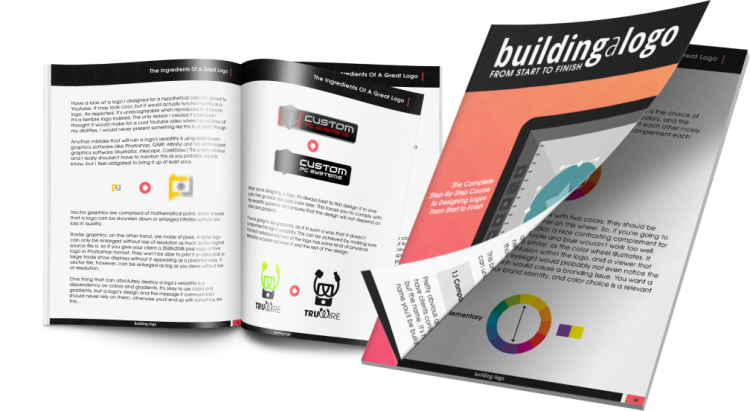 Building A Logo, From Start To Finish
80 Pages; 17,000 Words | Estimated Length: 3 Hours