On the surface it may seem like the only purpose a virtual office serves is the vanity of looking larger and more influential than you really are, but that's not the only benefit, and it's certainly not why I currently use one. Simply put, a virtual office is worth it if you don't want your home address becoming public information, but that's not the only reason you may want to consider using one.
What Is A Virtual Office/Address?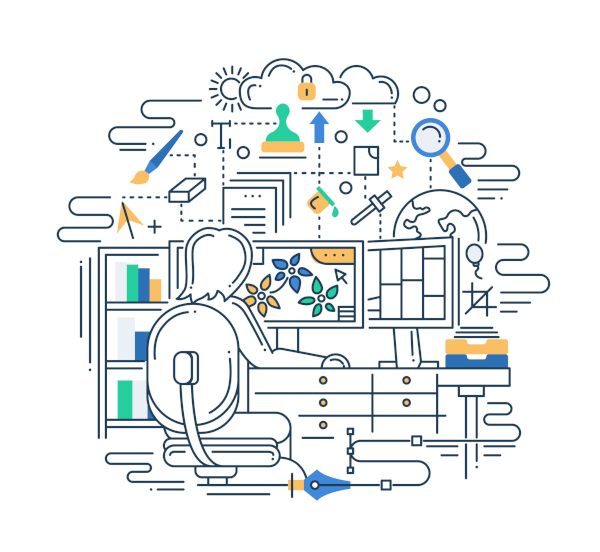 A virtual office is a physical office location that another company owns but allows you to use as your own business address for a monthly fee, even though you don't physically work or reside there. This allows people who run businesses from home to have a professional, public-facing business address to use on their business cards and marketing materials. It also allows you to have a business registered in a city/state that you may not reside in.
Most virtual office providers that I've looked into offer the following services…
Legal Business Address: Virtual offices provide a physical address where you can legally register your business.
Mail Forwarding and/or Pickup: The virtual office provider will accept mail on your company's behalf. You can stop by the location and pick it up yourself or you can arrange to have them forward it to your home address.
Phone Answering: For an additional monthly fee, you can arrange to have a receptionist answer your phone calls on your company's behalf.
Temporary Work Spaces: Some providers have private offices, desks, and conference rooms that you can rent out on an hourly or daily basis.
Virtual Office Providers
The main virtual office providers that I'm aware of are as follows…
There's many more providers as well based on your geographical location, how much you're looking to spend, and what kind of amenities you'd like.
When A Virtual Office Is Worth It
A virtual office may or may not be for you. Let's expand on that a bit.
Benefits Of Having A Virtual Office
Generally speaking, if you're a solopreneur who works from home (a freelancer for example) and you don't foresee yourself ever needing to expand into a public-facing place of business, most likely a virtual office is worth it.
Your Home Address Remains Private
Back in 2016 I registered "Logos By Nick" with the state of Pennsylvania as an LLC in order to take advantage of some of the benefits of having an LLC as a freelancer. I don't know how other states work, but when you register a business in Pennsylvania, it must be registered to a physical street address. It can't be a P.O. box.
Since most people who run their businesses from home don't have any other street address to register their business at, they simply use their home address. The problem with doing that though is that business addresses are public information, meaning your home address becomes widely known and publicly available for anyone to look up.
This is the main reason why a virtual office is worth it if you're a freelancer, and it's why I signed up for one myself. I don't want my home address being so easily discoverable to the hundreds of thousands of people who watch my YouTube videos and read my blog every month.
It Gives Your Business A Professional Appearance
Having a physical office location that you can put on your website, business cards, and other marketing materials provides for a very professional appearance. This can be a double-edged sword though. Some people may think that you're trying to project a dishonest image of who and what you really are.
It Provides Temporary Work Spaces
Having a physical office that you can use for a day or two is really useful if you have family staying at your place, or there's noisy construction going on nearby, or any other temporary nuisance that may distract you from getting your work done. It's also useful if you want to meet with a potential client in-person, in a professional setting, rather than the local Starbucks.
You May Get A Minor Boost In Your Website's SEO
"SEO" stands for search engine optimization. It's the practice of working to make your website more suitable for search engines so that more people will discover it.
Recently Google has been moving more and more towards prioritizing authoritative sources in the search results. Having a physical business address that is associated with your website adds credibility to your name, which can help you rank higher in the search results.
You'll also get to have a Google My Business profile…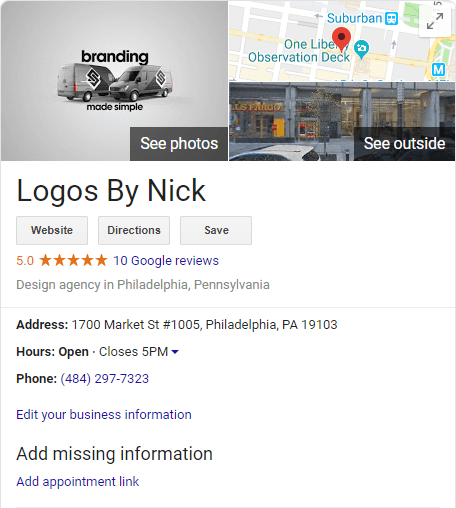 This is especially helpful in obtaining objective reviews for marketing purposes and acquiring local business. I've been hired by quite a few local clients thanks to my Google My Business page. Needless to say, a virtual office is worth it for someone like a photographer who relies largely on local business.
It Can Keep Your Email Marketing CAN-SPAM Compliant
One final benefit of having a virtual office is that you can use your virtual address for the footers of your email marketing campaigns.
If you're in the United States and you do email marketing, you are required by law to display a mailing address in the footer section of every email you send. Unlike your registered address, you're allowed to use a P.O. box for this, but this is a nice added benefit if you're registering a virtual office for other reasons.
Downsides Of Having A Virtual Office
A virtual office is worth it for some, but not all. Let's have a look at some of the downsides.
You May Give Off A Deceptive Appearance
You have to be careful with how you use your virtual address. Some potential customers and clients may get the impression that you're trying to deceive them by projecting a dishonest image about what your business really is. They may even show up in person to your office expecting to see you and your place of business, only to be angrily disappointed.
This is why you should make an effort to be upfront with people that you're using a virtual office. I make it pretty clear on the contact section of my website that this is just a mailing address and not a physical location that I work out of or can be reached at.
There's Limited Room for Growth
If you plan to eventually expand into a physical work space and hire employees, I wouldn't bother with a virtual office. In my opinion you'd be better off using a co-working service like WeWork.
Co-working spaces allow you to rent individual desks that you can use as often as you'd like. It's more suitable for a small and growing team. Co-working spaces tend to be a little more costly than a virtual office, but not nearly as expensive as renting out traditional office space.
They're Costly
Finally, virtual offices are pretty expensive. I'm paying somewhere around $100 per month for mine (I don't remember the exact number.) That's not a lot of money in the grand scheme of things, and it's a cost that I can certainly absorb, but it feels like a lot of money relative to how often I actually use it.
Personally, I just stop by my "office" every once in a while to check my mail, and that's about it. It's a nice office in a beautiful building with very friendly staff, and I love having an excuse to go into the city and get lunch during the work week, but it feels like a lot of money to be spending on something I hardly use. However, it's the cost of doing business, and it is a tax write off. It's a cost that's easier to swallow when you consider the other benefits that may sometimes be taken for granted. Considering that I'd say my virtual office is worth it.
In Summary
A virtual office is worth it if you're a freelancer or solopreneur who works from home and values their privacy. However, if you have plans to expand and hire employees, you may want to look elsewhere.
Logos By Nick LLC is a participant in the Amazon Services LLC Associates Program, an affiliate advertising program designed to provide a means for sites to earn advertising fees by advertising and linking to Amazon.com. As an Amazon Associate I earn from qualifying purchases. Read affiliate disclosure here.