If you're a frequent visitor to this website then you've probably noticed that things are looking a little different around here.
More importantly, you've hopefully noticed that the site is a little snappier and quicker to load too.
This is because I've been busy overhauling pretty much every aspect of LogosByNick.com over the past couple of months.
In this post I'd like to discuss that a bit and give you some insight on why I made these changes.
The Backstory
LogosByNick.com gets most of its traffic from Google Search.
Recently, Google has made some updates to their search algorithm that have resulted in favorability being granted to websites that score well on their user experience metrics — or "core web vitals" as they're called.
One aspect of Core Web Vitals is how fast your website loads, which is something that has always been a weakness for this website.
Considering that, here are some of the things I've been working on to try and speed things up a bit…
Simplified Website Design
The biggest change you'll probably notice is the new, streamlined design.
Here's how the old design looked:
The reason why I changed the design is because the WordPress theme that I was using here is big and clunky, requires lots of special plugins, and I suspect that it was slowing the site down.
New WordPress Theme
I decided to change the WordPress theme to Acabado — a theme that was created for the specific purpose of being as fast as possible.
I've been using this theme on another website that I run and that website passes Core Web Vitals without issue, so I'm confident that switching to this theme will have a positive impact.
The downside of using this theme is that, because of how lightweight it is, it doesn't have any of the added features that made the old design look as fancy and polished as it did.
That's okay though, because form follows function, and a lot of those bells and whistles were responsible for slowing the site down.
At the end of the day, this website exists to teach you how to use graphic design software. It doesn't have to be a work of art in order to do that.
Changed Web Hosts
The biggest behind-the-scenes change I made to Logos By Nick is the hosting company that I use.
When I first launched LogosByNick.com in 2015, I went with the cheapest shared hosting plan I could find because that's all I could afford at the time. However, the cheapest hosting isn't always the fastest hosting, and thankfully I have a bigger budget these days, so I embarked on a journey to find the fastest WordPress hosting in all the land.
I ended up going with Kinsta.
They may not be the cheapest option, but they checked all of the boxes that I was looking for in terms of performance and features.
Backend Changes
Here are some backend changes I've made to (hopefully) improve page speed…
Double-compressing every image that I upload
Using browser caching
Routing traffic through a CDN
Deleting plugins that I don't absolutely need
Thanks to the theme change, no more clunky page builders!
Making use of a speed tool that my ad network offers
I've taken email off of this server and moved it over to Google Workspace
I was already doing some of these things, so hopefully they'll yield better results in combination with the other changes I've made.
Some other site-level updates:
Redesigned every site page: Because of the theme change I had to redesign all of my site pages, which was arduous, but it provided an opportunity to trim off a lot of fat.
Content pruning: I went through my entire catalog of content and deleted a bunch of posts that were either thin (low word count,) not ranking well, or weren't getting any views.
Updated page structure: In addition to deleting outdated posts, I also deleted a bunch of pages that weren't necessary, such as the pages the menu links to. They've been replaced with category links now.
No more mailing list pop-ups: Although those pop-ups help in building my mailing list, user experience has to take priority, so off they go.
Hopefully these changes will result in a leaner website with a competitive edge.
The Verdict
The tests that I've run so far using Google's PageSpeed Insights are promising: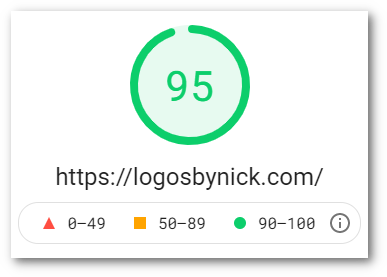 That said, I still have to wait a while for Google's index to catch up with these changes before I'll know the full impact.
It's been a very challenging and time-consuming process, and I'm relieved to be on the other side of it. Here's to hoping it wasn't all in vain 🤞.
Hope you guys enjoy the new site!