I've been in business as a freelance designer since 2011, but I always did business under my own name. In 2016 I decided it was time to start an LLC for Logos By Nick. Starting an LLC as an artist was one of the wisest decisions I've made throughout my career, and Incfile did an excellent job of handling it. In this post I'll be sharing my experience using Incfile to form my LLC and why I recommend them.
Fair disclosure: I liked their service so much that I decided to become an affiliate, so this post will contain affiliate links. I've been referring my own clients to them long before I joined as an affiliate, so I figured it would make sense to promote them formally.
Why Start an LLC as an Artist?
Starting an LLC as an artist comes with a wide variety of benefits — too many for me to cover all at once. Here's some of the reasons why I formed one though…
Professional Business Name
Doing business under an LLC gives you a professional company name to work under instead of using your own name.
I find this to be beneficial because I've been able to open bank accounts under my business' name and accept payments addressed to "Logos By Nick LLC" as the payee instead of my own name. This just looks more professional in the eyes of clients, and it offers you some personal protection as well.
Personal Protection
LLC stands for Limited Liability Company. LLCs offer protection in that they limit your personal liability. Since the LLC is legally separate from yourself, the LLC is responsible for its own debts an obligations.
Your personal assets (house, car, bank accounts, etc.) can't be used to collect on business debts. This also applies for any partners or employees you may have. When you do business under your own name as a freelancer, you're putting yourself at more risk than necessary.
Tax Advantages
The main reason why I chose to form an LLC instead of incorporating is because it involves less paperwork and various other obligations.
As an LLC, you can elect to file as a pass through entity. According to NOLO, the business' profits and losses pass through to its owners (you), who report them on their own personal tax returns. This basically means that you continue to file your personal taxes every year like you normally would, and without having to file a separate return for your business like you would with a corporation.
In addition, corporations are required to hold annual meetings (which would basically be me talking to myself) and keep extensive records. That's a headache I chose to avoid by forming an LLC instead.
Why Incfile?
Incfile is one of many services that allow you to register your business name and file the appropriate forms and paperwork with your state for a small fee as opposed to hiring an attorney to do it for you. And they handle everything online.

Starting an LLC as an artist, I chose to work with Incfile simply because 1.) very reasonable price, and 2.) they presented everything in the simplest, most straightforward way that made it easiest for me to digest and understand everything. I was quite confused by the language and terminology used by competing services, and I found their rates to be a bit high as well.
To get started, you simply choose your entity type and your state, then proceed to answer a few simple questions and place your order.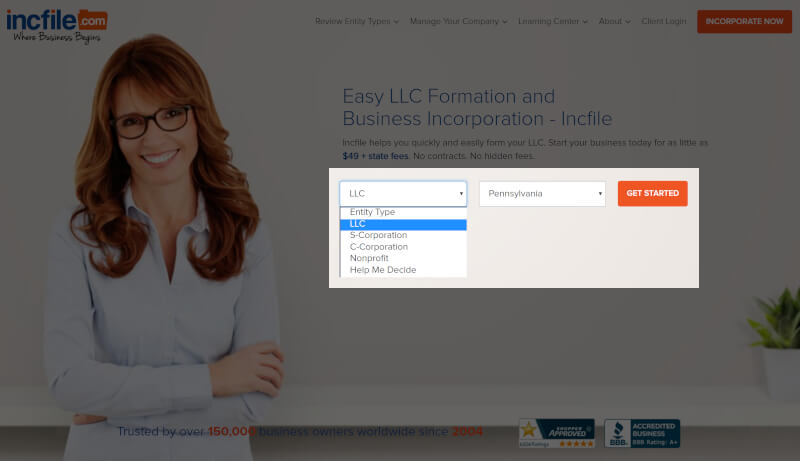 I chose the cheapest pricing plan. The fee is $49 + state fees for whichever state you'll be registering in.
Within 2 weeks of placing my order I received a manila envelope that contained all of my order details plus state paperwork. They even provided a complimentary phone consultation with a tax specialist in order to get you started on the right foot, which I thought was pretty cool and very helpful.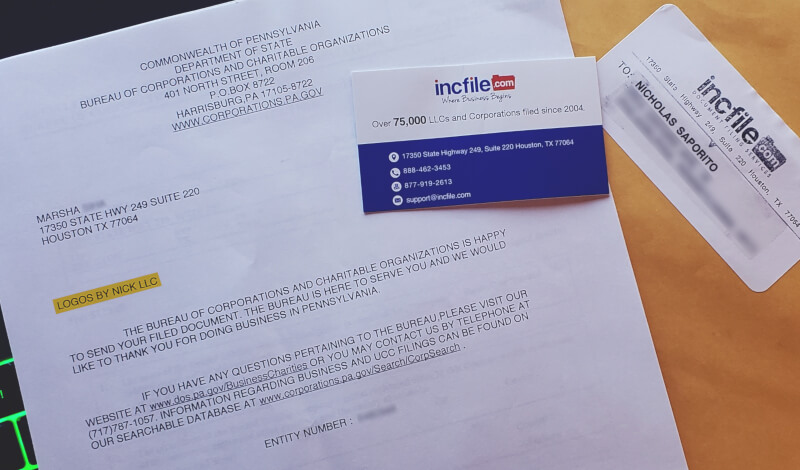 And with that I was set! Logos By Nick LLC was officially a company and I was free to do business and open business bank accounts under that name. Incfile made the process of starting an LLC as an artist quick, cheap and incredibly easy, and I couldn't be happier to promote them.
If you plan on forming an LLC through Incfile, please consider doing so using my affiliate link (click here). It won't cost you any extra, but since I referred you, they'll send a little commission my way. If you have any questions then drop a comment below, and as always, thanks for reading!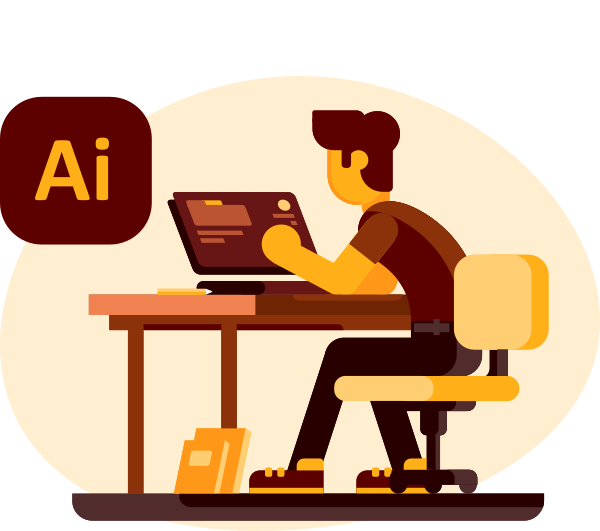 Become A Master of Adobe Illustrator!
Want to learn more about how Adobe Illustrator works? Check out my Illustrator Explainer Series - a comprehensive collection of over 100 videos where I go over every tool, feature and function and explain what it is, how it works, and why it's useful.
This post may contain affiliate links. Read affiliate disclosure here.