Of all the ways of monetizing blog content, my favorite method is to create and sell digital products like learning materials and design templates. I've found that it's extraordinarily more profitable than running ads from networks like AdSense, and self-made products convert at a much higher rate than an affiliate product that someone else created. The service I use to facilitate this is Payhip, and in this post I'll be sharing what I both like and dislike about the service based on my Payhip experience as a seller for 2+ years.
My Payhip Experience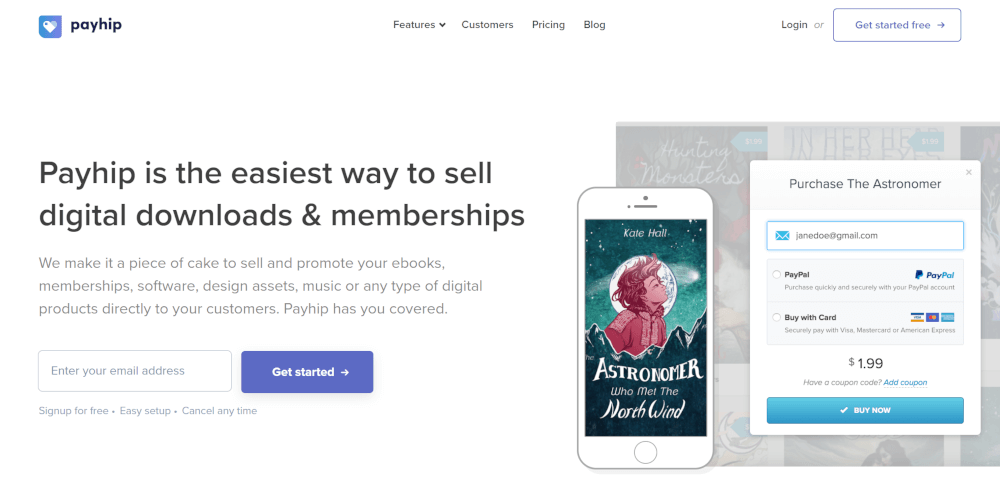 If you've ever wanted to sell digital products through your own website, you'll need a way to facilitate transactions — some kind of infrastructure that will allow a customer to select your product, pay for it, and have it instantaneously delivered to them with complete hands-off automation. Payhip solves this problem.
What I Like About Payhip
Let's get to the details. After my 2+ year Payhip experience, here's what I really like about the service…
Payments Are Instantaneous

Payhip let's your customers pay with PayPal or by credit/debit card with Stripe, and they don't pay out monthly/weekly/quarterly or make you wait for them to clear some kind of holding period. When a customer makes a purchase, the money is immediately available in your account, and if you have the PayPal and Stripe apps installed on your mobile device, you'll get notifications whenever a sale happens.
I happen to love this. The excitement of seeing a new sale never gets old. It's also great to wake up in the morning, reach for your phone, and see that you made X amount of dollars while you were sleeping, and it's all readily available for you to spend. The only caveat to this is Stripe. If your customers pays by card using Stripe, there will be a 3 day hold until the money is available. This is all Stripe though — Payhip does not hold your money at all.
No Monthly Fees
One of the things that Payhip initially sold me on is that there's no monthly fees or setup charges — just a simple flat fee of 5% per sale.
This was appealing to me back in 2016 because, at the time, my readership was less than 1/10th of what it is now, and I wasn't positive that I was going to consistently sell enough product to justify paying a monthly fee for a similar service like Gumroad. As a relatively new blogger with a small audience, Payhip was the no-risk solution that best fit my situation.
Easy To Understand Analytics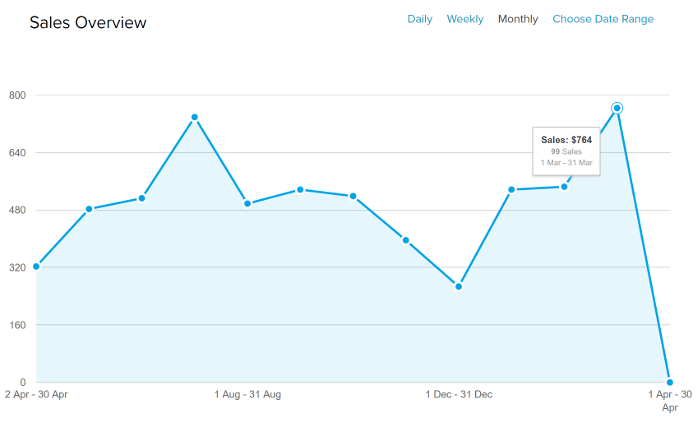 Payhip's back end offers an analytics page that lets you see transactions and earnings quantities relative to the day, week, month, year, or any other specified range. Best of all, it's a very simple and to-the-point report.
If you've ever used Google Analytics or Facebook analytics, the amount of data you're immediately smacked in the face with can be a bit overwhelming, and a lot of it is mostly useless too. Payhip just gives you what you're there to see — sales data. Nothing more, nothing less.
Run Promotions with Coupon Codes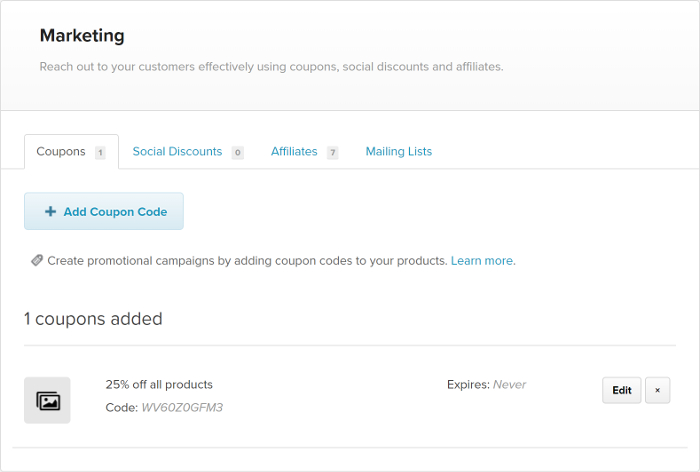 Another benefit users of Payhip experience is the ability to run promotions by creating coupon codes.
The codes can be for any percentage you'd like and for any (or all) products. They can run for whatever duration you'd like (or even permanently,) and the code itself can even be customized to whatever string of text you desire.
I've found this to be very useful. Sometimes I'll run a weekend promotion, post it on Facebook, then boost the post targeting a pixel re-marketing audience and I never fail to go ROI positive with it. People really do respond well to limited time offers.
Your Own Affiliate Program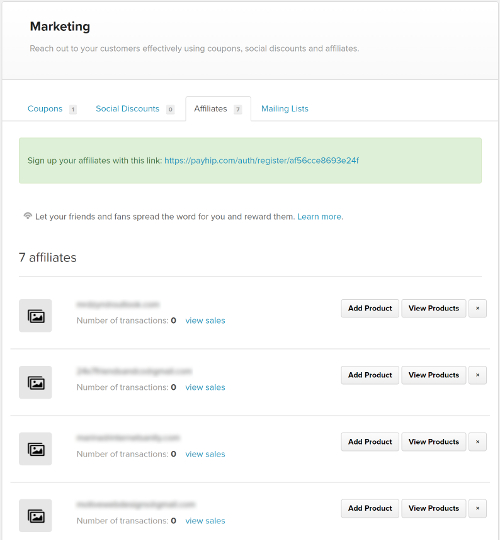 Payhip gives you the ability to let your readers sign up as an affiliate of your store, and whenever someone purchases a product using their custom affiliate link, you can award them a commission of whatever percentage you'd like.
This is useful because it allows other people to sell your products for you, and if they have a platform and an audience of their own that they can tap into, the commissions paid will be well worth it.
Easy Integration with Email Marketing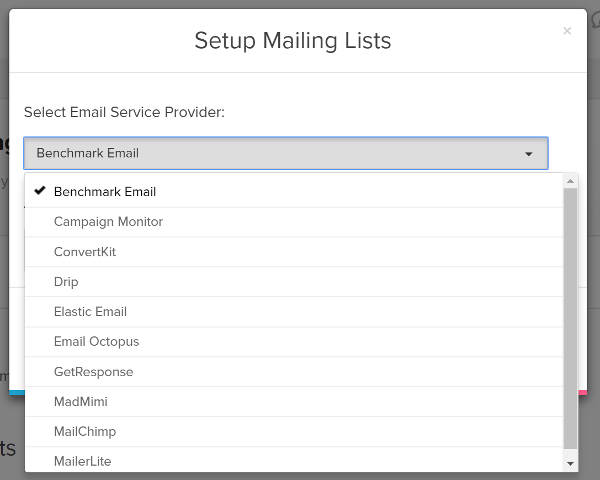 If you're into email marketing, you'll be able to easily integrate Payhip with your chosen email marketing provider so that whenever a sale is made, the purchaser's email address can be added to a chosen list.
Purchaser Watermarks
This is relatively minor but I think it's pretty cool so I want to give it a mention — if you so desire, you can have Payhip stamp the purchaser's email address to the top left corner of every page of a PDF document they've purchased.
So if someone intends to buy your PDF book then make it publicly available for free somewhere else, they'll have to be okay with their personal email address being publicly available as well. I think that's a really creative way of deterring pirating.
Upload Many Kinds of Files
Payhip isn't just a marketplace for ebooks — you can upload virtually any kind of digital file. Font files, video/audio files, photographs, software, etc.
Overall Simplicity and Modern Design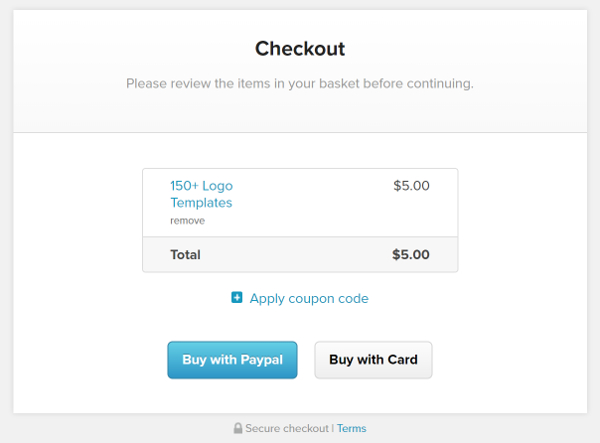 One thing that can't be overlooked whenever you're selling something is how current your site looks. People generally don't trust websites that look outdated, myself included. If a site looks like it hasn't been updated since the web 2.0 days, I start to wonder if perhaps I'm in an abandoned building and putting my payment info into it would pretty much be like throwing my money into a black hole.
That's not the case with Payhip though. The site has a very modern and simple design. If you were to buy a digital product on the internet, this is what you would expect a checkout page from a trustworthy company to look like.
Another thing I like about Payhip is its overall simplicity. From the very second a visitor lands on your product page, Payhip stays out of the way. They display your graphics, sales copy, and only the critical info (like price.) They do absolutely nothing to interfere with your sale — no self-promotion whatsoever.
Customer Security
Finally, what I really like about Payhip is that they don't store customer payment info, meaning your customers' payment details are safe. The payment is completely handled through PayPal or Stripe, and I prefer it that way because they are big, successful companies with lots of money to spend on top-shelf security.
What I Dislike About Payhip

As much as I like Payhip, it's far from perfect. Here are some things that I dislike about the service and would like to see improved…
You're Forced To Use PayPal
UPDATE April 27th, 2018 – One of the founders of Payhip actually reached out to me regarding this post and informed me that you can indeed use just Stripe if you'd like, and you're not forced to use PayPal. I didn't originally see that option, so I thought it didn't exist. So you can cross this off the list. They also informed me that they're working on addressing much of which is listed here and adding a lot of new features, so I'll be sure to update this post as they roll out!
No Mobile App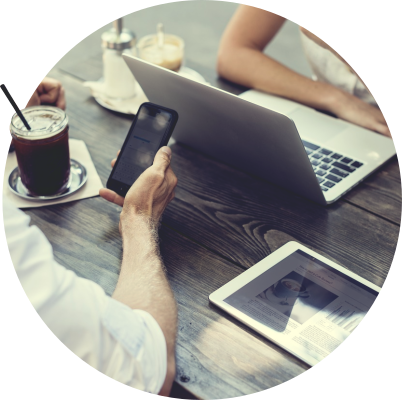 One thing that bugs me about Payhip is that they don't have a mobile app. It would be convenient to be able to open an app and have a look through my sales data while I'm out and about. You can log in to the website and do this, but the site isn't even optimized for mobile devices.
I like Payhip, but this is a really bad look in 2018. There's no reason you shouldn't have a website optimized for mobile, and once you have that, you should be able to easily turn the site itself into it's own app so users don't have to manually sign in every time they want to check sales data. Let users of Payhip experience a better platform when they're on their mobile devices.
No Upsells or Add-Ons At Checkout
UPDATE April 17th, 2019 – Payhip now includes an upselling feature! As you can see from the screenshot below, I've made good use of it.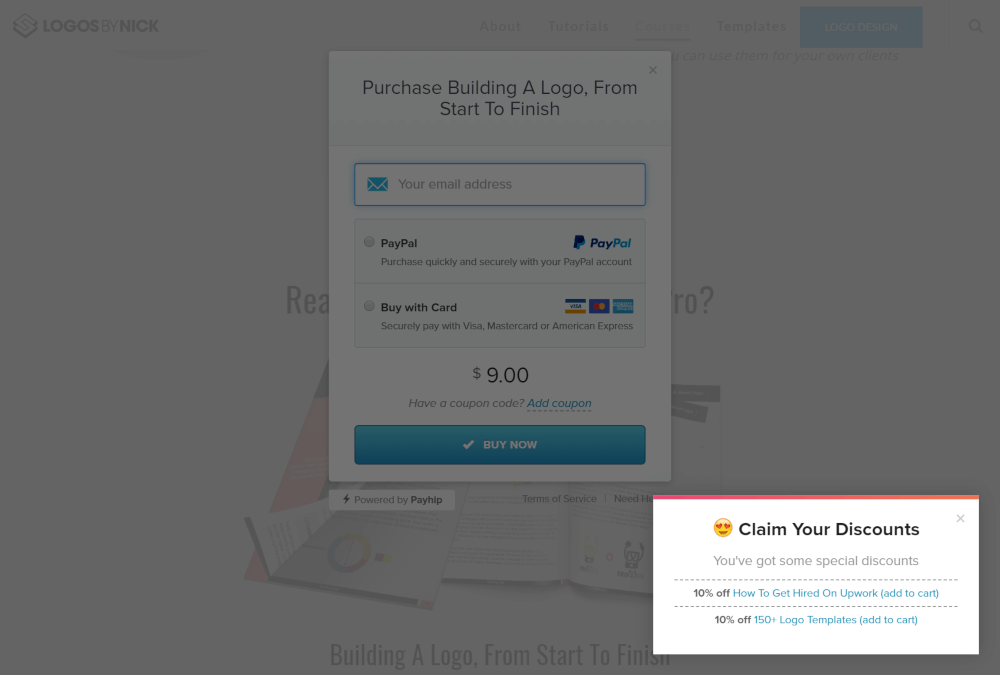 Now when a user clicks to purchase a product, you can arrange for an interstitial to appear in the bottom right corner of the page that offers a discount of your choosing if they'd like to purchase additional items as well.
I've been using this feature for a while now and the results are solid. I regularly see customers taking advantage of these discounts, and it means both myself and Payhip experience more earnings. Great to finally see this!
Set On A Fixed Timezone
This one is mostly frivolous, but I'd still like to see it corrected.
Since Payhip is located in London, they have the working timezone for the entire site set to BST. Since I'm located in the EST, I'll sometimes check my analytics at 7PM or later and see that I made 0 sales for the day because Payhip thinks it's midnight and its data reflects that.
Again, this is mostly a non-issue, but I would like to see the ability to adjust the site to your own timezone.
More Flexibility with Coupon Codes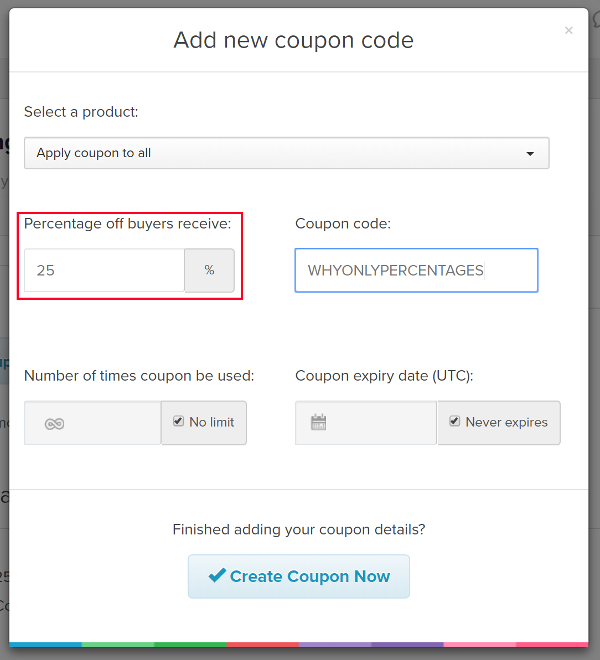 I know I raved about the coupon code feature earlier, but it's not quite perfect just yet.
As it currently stands, the only promotion you can run through a coupon code is for a percentage off. Ideally, I'd like to be able to offer a dollar amount off the original price, or the ability to set a specified sale price.
At the moment, if I want to put a $27 product on sale for $10, I have to break out the calculator and manually do the math to figure out what percentage off would leave the final price at $10. I think this is unnecessary and could be improved.
Would I Recommend Payhip?

This leaves us with the burning question: after 2+ years as a seller on Payhip, would you recommend it? Overall, yes. I am very much a satisfied customer, but whether or not you should use it depends on your situation.
If you're a new blogger with a small audience and you can't justify spending $10+ per month for something like Gumroad, then yes, I would absolutely recommend Payhip. However, if you have a massive audience or sell a high-ticket product and know that you'll be doing at least $1,000 in sales every month, you might want to look into something most cost-efficient.
As of the date of this writing, Payhip works on a flat fee of 5% of every sale. Gumroad's fee is currently 3.5% + $0.30 per transaction + $10 per month.
If you're going to be selling less than $1,000 per month in total volume, the math should (in most cases) favor Payhip. But if you're selling well into the thousands, you'll probably want to go with Gumroad or look into some other alternative. This is all largely dependent on how many transactions it takes to reach those sales numbers though, so make sure to crunch the numbers for yourself.
Personally, I absolutely love the Payhip experience and am very grateful for their services. I want to see them continue to grow and succeed.
What Do You Think?
I know a lot of you who regularly read my blog have purchased products from me yourselves, so I want to know — what do you think? How was the Payhip experience from the other side of the transaction, as a consumer? Did it handle the transaction seamlessly? Did it strike you as a trustworthy platform? Is there something that I missed that you think could be improved? I would really appreciate your feedback!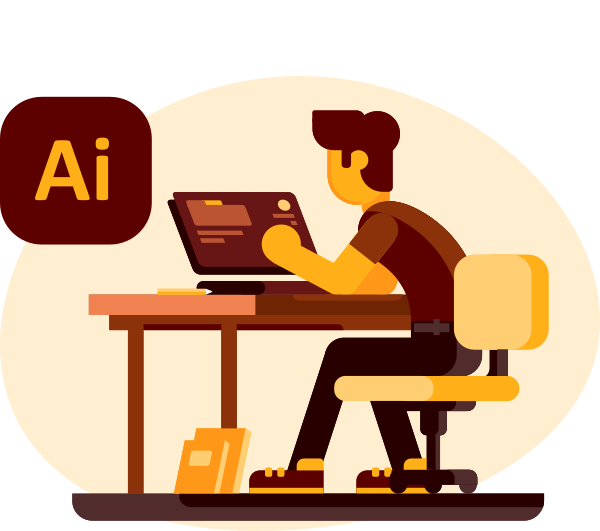 Become A Master of Adobe Illustrator!
Want to learn more about how Adobe Illustrator works? Check out my Illustrator Explainer Series - a comprehensive collection of over 100 videos where I go over every tool, feature and function and explain what it is, how it works, and why it's useful.
This post may contain affiliate links. Read affiliate disclosure here.