UPDATE for March 2018: I've written a new, updated post with more extensive and relevant information for 2018. Check it out here.
The project isn't finished once your client declares the design has been perfected to their liking. At this stage, all they usually have is a low resolution preview of their design, in PNG or JPG format. Your client is going to need more than that. In this post I'll be going over the proper logo files for clients to receive.
Your clients are going to need an editable format for any amendments that may need to be made by you, another designer, or even themselves, down the road. They're also going to need high resolution PNG formats with a transparent background for use on websites, mobile apps, or anything with a digital display. In addition, they're going to need monotone variations of each, in both black and in white.
In this post I'm going to explain the production phase of a logo design project and cover all of the individual variations and formats for a finalized logo design that are necessary to send to your clients. These formats and variations will cover all uses your client may ever need from their new logo.
Editable Formats/Source Files
First and foremost, your client is going to need editable files, otherwise known as source files. These are formats that can be opened with vector graphics software, giving the end user the ability to alter each and every individual aspect of the design.
The source files I like to send to my clients are .svg, .eps, and .pdf. Saving your client's logo in these formats will allow them (or any other user) to open and edit their logo with Inkscape, Illustrator, CorelDraw, or any other vector graphics software they'll be using.
Since these formats will be what you'll use to render the rest of the files, they should be in high resolution. Your client's logo should be rendered at no smaller than 1024×1024 pixels.
Color Variations
It's always good practice to send your client three variations of their logo – full color, black, and white. Be sure to send all three color variations of the logo to your client, making sure each variation includes all of the file formats referenced in this posting.
Monotone variations are particularly useful in instances where the client will be having their logo embroidered onto apparel in a single color.
Transparent Backgrounds
A logo with a transparent background will be the most commonly used file by your client. With a transparent background, your client can paste the logo onto their website without having to worry about changing the website's background color to accommodate the logo. This is what makes the .png format so wonderful. It's a format that supports alpha channels, whereas .jpg doesn't allow you to have a transparent background.
When creating a .png format with a transparent background with Inkscape, it's imperative that you do not save it as a .png file. It won't render as intened if you do. Instead, go to File, then select Export Bitmap.
JPEG
The most useless format of the bunch (within the context of a logo, mind you) is .jpg. A JPEG file will have an unsightly white frame encasing the entire graphic. However, sending copies in .jpg format is standard practice in graphic design, regardless of how useless they may be in terms of a logo, and your client will be expecting them.
Instances where a JPEG file can come in handy would most likely be social media. When uploading a .png file to use as your profile picture, sometimes it doesn't upload as crisp and clear as a JPEG does. Another good use for a JPEG logo file would be on certain online marketplaces (Amazon, Ebay, VistaPrint, etc.) that only accept a limited selection of formats in which .png is excluded.
Since Inkscape doesn't give us the ability to render a graphic in .jpg format, we'll have to first export it as a .png file, then open the .png file with GIMP and export it as a .jpg.
Fonts
If you didn't use a custom, hand drawn font for the client's logo and used a traditional font file instead, it's a good idea to include a link to whatever fonts were used in the logo so the client can download and install them across all of their branding.
Logo Format Guide
Most designers don't do this, but they should.
Since your client likely hasn't the slightest clue what each of these formats are, what differentiates them, and how to best use them, it's good practice to design a Logo Format Guide in .pdf format that you can send to every client with their files.
The guide simply lists and briefly explains, in lay terms, all of the individual formats included with their files. Here's a link to the PDF guide that I send to every logo design client…
You are more than welcome to save this file, open it with Inkscape, alter it with your own branding, and use it to send to your clients as well. If you plan on editing the file, you'll first need to download the Tex Gyre font.
Recap
With that being said, here's an infographic that demonstrates the proper logo files for clients (click to enlarge)…
Logo Files for Clients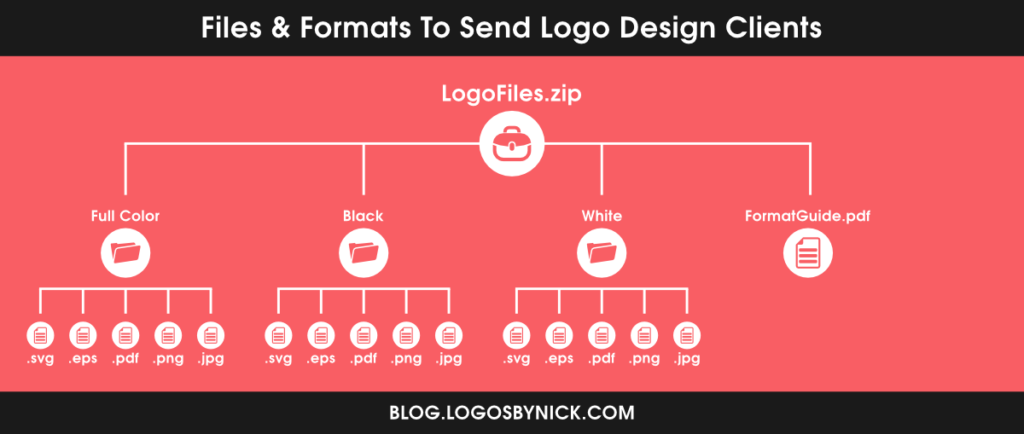 Master The Software
Want to learn everything there is to know about your favorite design apps? Check out our interactive video courses and private community for getting help when you need it!
The Inkscape Master Class

A comprehensive series of 60+ videos where I explain every tool and feature in Inkscape.

Affinity Designer Master Class

A series of 80+ explainer videos where I go over every tool and feature in Affinity Designer.

The Illustrator Explainer Series

A series of 100+ explainer videos where I go over every tool and feature in Adobe Illustrator.

The Logo Design Academy

An 18-part video series teaching my entire creative process for designing logos, from start to finish.
This post may contain affiliate links. Read affiliate disclosure here.