If there's one hard lesson I've learned about standing the test of time as a freelancer, it's that you can never rely on just one source of anything, whether it be income, clients, vendors, service providers, etc. We live in a world that never stands still — things are always changing. Businesses are opening, closing, merging. Technology is evolving and changing consumer behavior. And when you live in the online world, this all happens at an accelerated rate. I've already experienced it myself with the closing of Elance, and I've since worked hard to build a robust and diverse infrastructure with many eggs spread out among many baskets.
Because of this, I know that the way I source new client work today will most likely be ineffective within 5 years, and if I want to still be in business when that time comes then I'll have to make sure I've been keeping up with the times.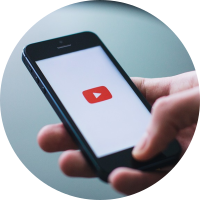 As of right now, in 2017, my largest source of new client work is Youtube. At least 80% of the people who send in design requests on my Hire page originally found on me Youtube. Nothing has had a greater impact on my career than Youtube has, but at the same time I know that if I don't balance out my marketing strategy with some new sources, this can (and will) eventually have catastrophic consequences for me. Youtube will likely not be relevant forever, and based on recent controversies the company finds itself in and how poorly they've handled them, I'm not too confident in the site's future. They've recently stripped away a lot of the incentive to create good content for the site and I think it's going to discourage the next generation of creators and entice them to invest their efforts elsewhere, which will eventually be Youtube's undoing.
So as you could imagine, I'm always on the search for new marketing channels. I've had relative success with Facebook Ads, and this website and its contents bring in a modest amount of search traffic, but nothing I've tried yet has given me as much hope and excitement as Instagram recently has.
Instagram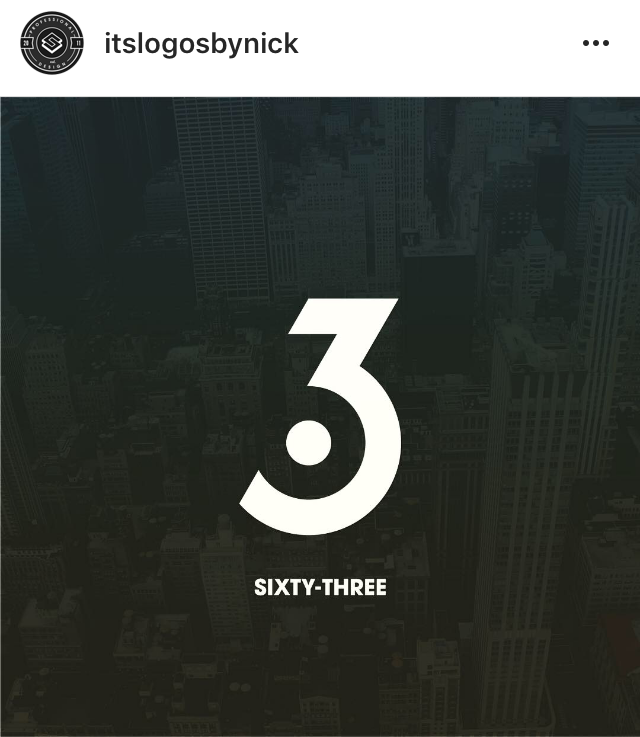 I have to be honest, Instagram never really interested me. I tried getting into it, but it just couldn't keep my attention for very long. It seemed too one-dimensional, for a lack of better terms. I much prefer the more dynamic nature of Facebook and Twitter when it comes to consuming social media, so that's probably why I never really took it seriously as a creator either.
I was very late to the Instagram party, and once I did show up, I went through phases of posting for a few days then abandoning it for months. As you could imagine, the size of my audience and the engagement my posts get is a pretty accurate reflection of the half-baked effort I've put in. But something happened recently that completely changed my outlook on Instagram and has me taking it as seriously as anything else right now…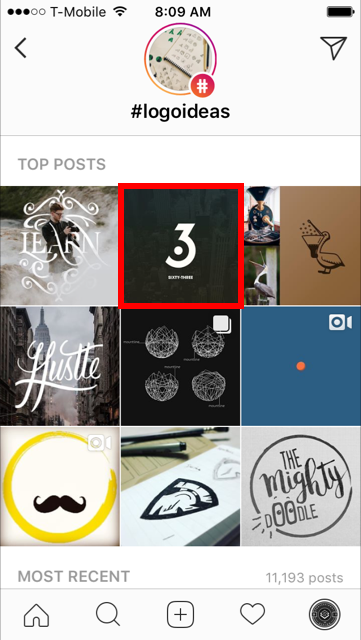 What you're looking at is the Top Posts section for a particular hashtag – #LogoIdeas. Every hashtag has one, and if you click on it you'll be taken to a dedicated page where the top 9 posts that included the hashtag are displayed at the top of the page, then the rest of the page displays most recent posts using that hashtag.
I'm not quite sure which metrics Instagram uses to determine what makes a "top post" just yet, but I know for sure that more goes into the equation than just the number of likes it gets, and I say that because last Sunday one of my designs that I posted got ranked in the top posts for various different highly-trafficked hashtags, and it only had a small handful of Likes. The hashtags I ranked for include #Logos, #LogoIdeas, #LogoInspiration and #LogoDesigns.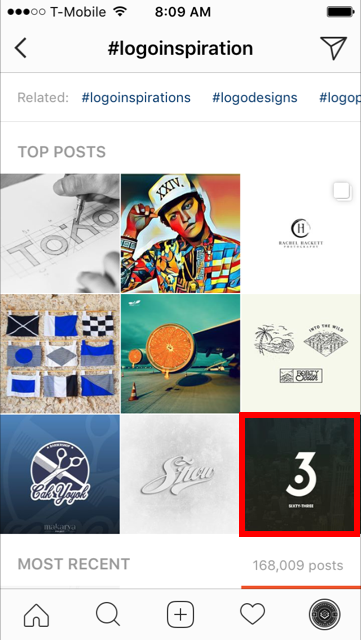 Apparently a lot of users browse these hashtags, because it resulted in a swarm of activity! In the day and a half that I ranked for these tags, I received roughly 10 design requests from people stating that they found me through Instagram. From that I was hired for 3 projects, and I even received an offer from someone wanting to buy the design that I had posted. All of this was the result of deciding on a whim to share one of my recent logos with my small audience, then ranking in the top posts section for a brief moment in time because of the modest amount of engagement it got. Naturally, this got me very excited about what could be possible with a larger and more engaged audience.
Needless to say, I will now be taking Instagram much more seriously, and those of you who follow me there can expect to be seeing posts from me far more often. This is all still very new to me so I don't really have much insight or advice on the best way to go about this, but I know enough to know that there is real potential here. I will report back once I have a better handle on this. In the meantime, be sure to follow me at @itslogosbynick if you haven't done so yet!
Logos By Nick LLC is a participant in the Amazon Services LLC Associates Program, an affiliate advertising program designed to provide a means for sites to earn advertising fees by advertising and linking to Amazon.com. As an Amazon Associate I earn from qualifying purchases. Read affiliate disclosure here.