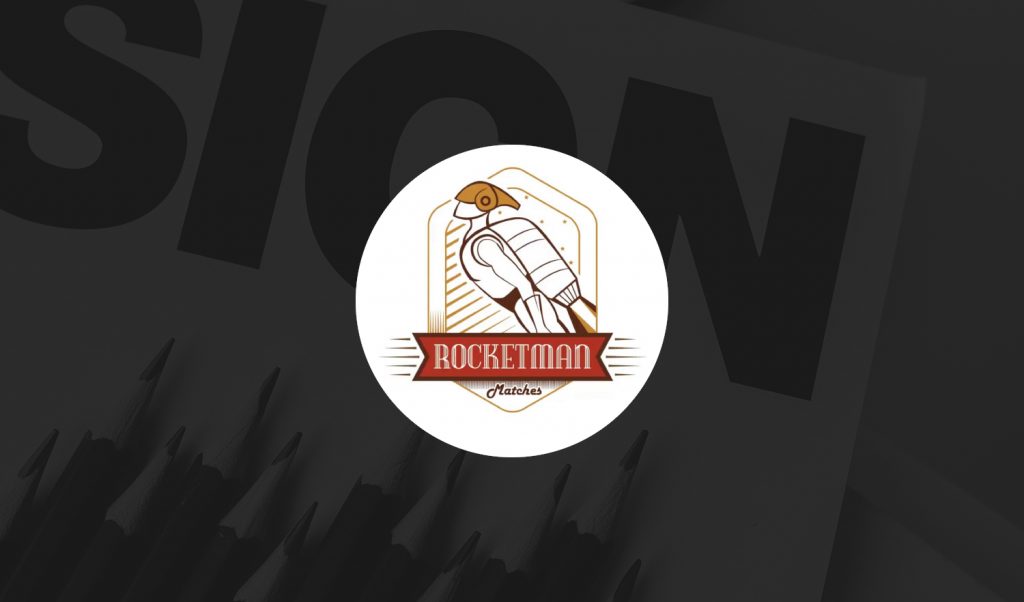 Illustrator Retro Logo Tutorial
Illustrator Retro Logo Tutorial
https://logosbynick.com/wp-content/uploads/2018/12/illustrator-retro-logo-1024x602.jpg
1024
602
Jennifer Stone
Jennifer Stone
https://secure.gravatar.com/avatar/857232726191a51d8c6565af8d6b885a?s=96&d=mm&r=g
Retro logo designs were thought to be extinct, but in this decade, the design trend has taken over several industries with businesses wanting to create a vintage brand identity. Every day, we find impressive logo collections with old-school styles. In fact, vintage design elements are paired with modern graphic elements to create a new look.
Learn How To Design Logos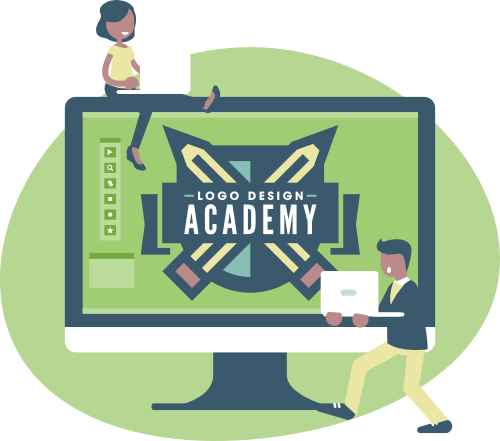 If you want to learn how I come up with logo design ideas, be sure to check out my Logo Design Academy - an interactive 18-part video course where you will learn my entire creative process for coming up with logo ideas and implementing them.

By using retro design techniques to create brand logos, you become part of the family that pays tribute to this matchless era – one that sparked since the 1960s and is still cherished for its outstanding uniqueness.
Designing a retro logo becomes easier if you spend a little time researching beforehand. It's always a good idea to explore and take inspiration from wonderful retro design ideas found on the web to become familiar with the style.
Since retro logo designs are popular these days, you must learn to make one. Most retro logos included imaginative characters in them, such as a rocket man. Back then, adding this human touch to logos was impressed by superheroes that resonated with the audience well.
In the video below, you'll discover exactly how a retro logo mascot is sketched and placed in a brand logo to complete a visual identity.
150+ Logo Templates Need a professional logo but have a limited budget? Or are you a designer looking to add to your inventory of design elements? Check out my bundle of 150+ high quality logo templates, all designed by Yours Truly.

In the video, you'll learn how to:
Create a frame for your mascot
Make a banner for the logo name
Put the parts together into one design
1) Sketch The Mascot Design
Begin your retro logo designing process by first drawing a rough draft of the rocket man mascot on a piece of paper. Create an outline with all the essential lines that will assist you in tracing the sketch.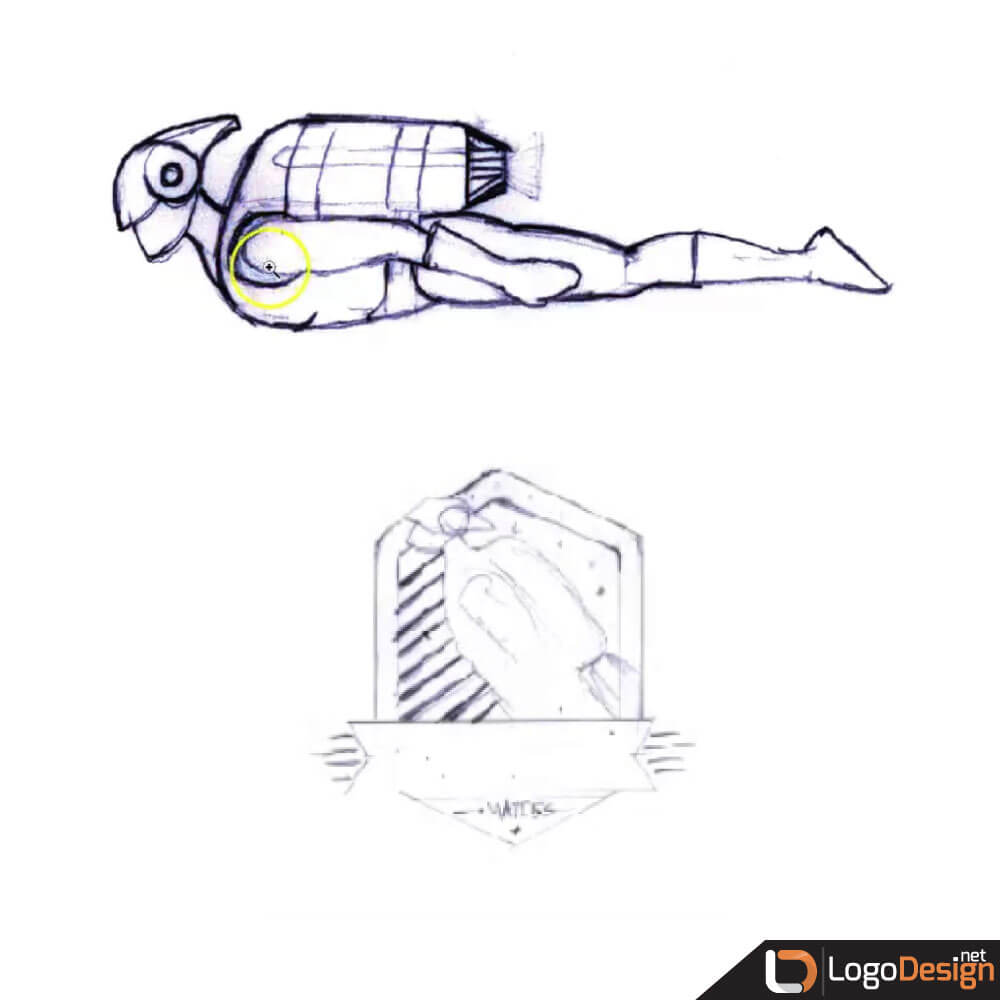 The best way to go about this is by:
Brainstorming to create rough ideas with quick drawings. Try to create new designs following a similar theme. Make at least 5 to 10 concepts.
Deciding which idea best resembles the creative brief, or in this case, the tutorial drawing and use that to start making your retro style logo design.
HELPFUL TIP: Use a graphite pencil to draw your sketch so it's easier to sketch, erase, re-sketch, and trace.
Drawing the selected idea on an A4 sheet by clearly defining the lines and shapes. You can refer to the image above for ideas, or if you want to add anything extra you can.
Scanning your sketch and saving the file on your desktop once you're done. Later, you'll be dragging it into the design software to execute the final design.
Takeaway: The better your sketch, the best your vector drawing in the software will be. It will help you easily work with the pen tool.
2) Set Up Your Document
You can design a logo on Corel Draw, but most designers prefer using Adobe Illustrator because it has more complex functions that help create a spectacular design. As a start, you need to set up your software for designing logos.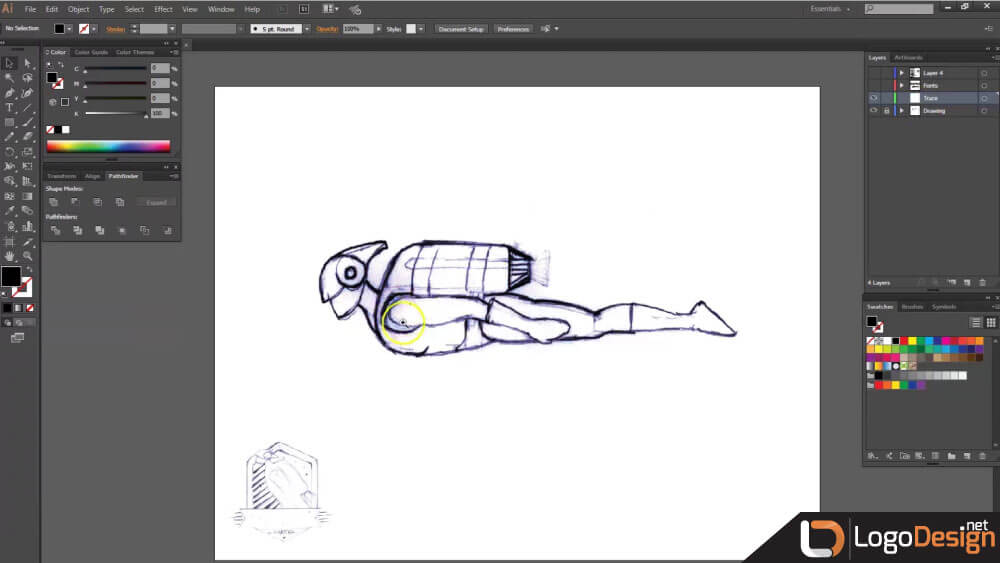 To set up, do the following:
Open a new document in Adobe Illustrator and name it "Retro Mascot Logo". Naming your file will help you identify it among the ocean of files.
Set the dimensions in pixels to whatever you want, because a vector image can be scaled up or down without losing the quality. In this case, keep the artboard size 1000px on each side.
In the Illustrator, you get two options for color setting. One is RGB that is used for screen and the other is CMYK, which is good for print or mass production. To make this retro logo design, select the CMYK option.
When designing a logo or any brand identity design, you need to describe the resolution that is commonly known as pixels per inch (PPI). Ideally, you should keep it as 300 or more for high-quality designs.
In the 'new document' window, you will see a section that lets you define the number of artboards you'd like to see. For this design, keep it to one art board. You can later add more if you like.
Place your scanned sketched drawing in Illustrator and adjust the opacity to 30% or 40%, so you see just enough. Lock this layer after naming it.
Takeaway: The best thing about Adobe Illustrator is that you can work around an art board. This comes in handy when you're designing a vector object.
3) Start Redrawing Your Sketch
When drawing or redrawing anything in the Illustrator, a pen tool comes in handy. It helps you construct perfect, straight lines (made by pressing 'Shift' on your keyboard) and also liberates you to make organic lines, such as curves.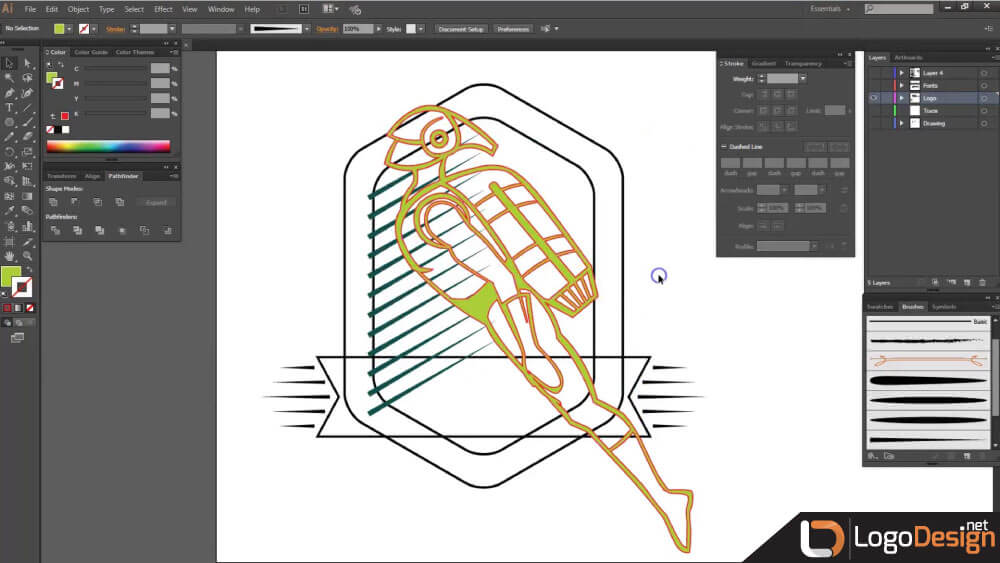 Once your rocket man sketch is set on the art board, use the zoom tool to closely see the drawing. Work in sections. So, start off with the helmet, then shoulders, and later go down towards the chest, waist, and legs.
HELPFUL TIP: Use the hand tool to hover around the mascot sketch by pressing the spacebar key on your keyboard.
Be as precise as you can be. You can change the width, weight, and style of the lines from the 'dock menu' in Illustrator found just above the document tabs. Here are two tips to create the perfect lines for this mascot logo:
Use the pen tool to draw a double line, so to create an enclosed shape and fill it in with a bright solid color.
If you're making a single line with the pen tool, then make sure the width of the lines varies.
When you're done with tracing, hide the sketch layer or keep it aside – preferably outside the artboard or simply delete it.
4) Complete Your Mascot Logo
The major chunk of this logo design is to perfect the mascot drawing. The rest of the design is all about getting all the different parts of the logo in one captivating composition.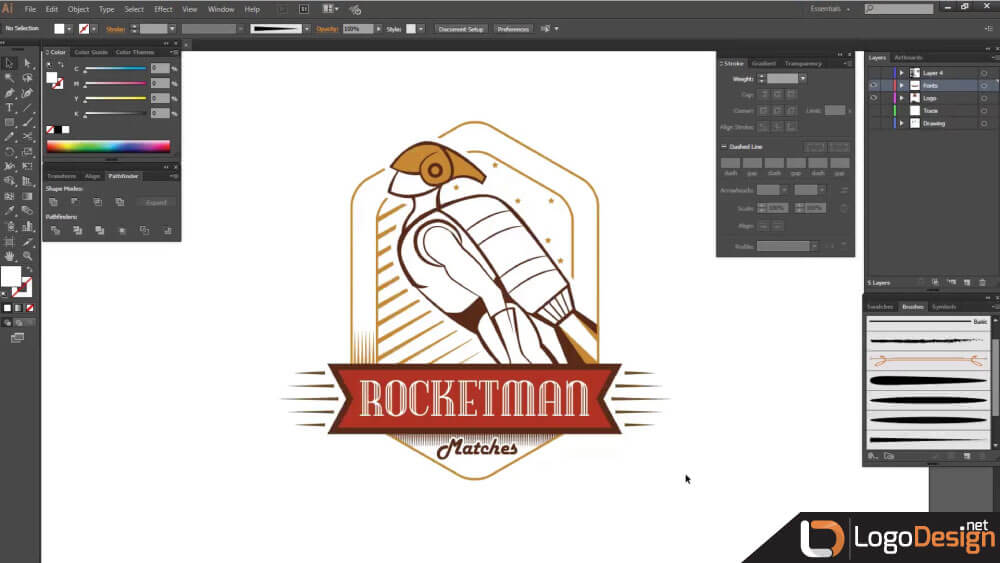 Be Notified of New Posts
Join the Logos By Nick mailing list to be notified of new posts. Members receive free design templates and special discounts on courses and various products. Your information will not be shared with any third parties.
---
Logos By Nick LLC is a participant in the Amazon Services LLC Associates Program, an affiliate advertising program designed to provide a means for sites to earn advertising fees by advertising and linking to Amazon.com. As an Amazon Associate I earn from qualifying purchases. Read affiliate disclosure here.