In this post I'll be tackling a big challenge many new designers (and some experienced designers as well) face — how to get logo design clients. This is a process that I believe to have mastered over the years, so I'd like to share exactly how I get logo clients myself in hopes of offering help to those who may need it.
It's been over 8 years since I started offering my logo design services commercially, and in that time I've served over 1,800 clients. That averages out to 225 clients per year, or 18.75 clients per month, or 4.33 clients per week.
One thing I can say with a reasonable amount of confidence is that I have a solid understand of the sales and marketing techniques that allow me to get logo design clients. Not only that, but my approach is diversified (so I'm not dependent on a single source) and it has stood the test of time. So if you can follow along with what I'm doing then you'll be in a stronger position than most.
No Freelancing Platforms!
My goal for this post is to give you unique and actionable advice that isn't the obvious advice you'd hear elsewhere, like using freelancing platforms.
If you don't know what a freelancing platform is, it's a website that connects designers with clients who may be looking to hire designers for one-off jobs and tasks, like logo design. Some examples of freelancing sites would be the following…
Fiverr: Probably the largest and most well-known marketplace for remote services. It's kind of like Ebay, only it allows users to buy and sell creative services instead of products.
99Designs: A platform for design contests. It allows clients to hold a contest to see who can design the best logo, and the winner is awarded with pay. I believe they allow clients and designers to work with each other directly as well.
Designhill: An online marketplace similar to Fiverr, only it seems to be focused exclusively on design.
Upwork: A freelancing platform that connects clients and freelancers, facilitates payments, and provides an infrastructure to work from.
Freelancer.com: Another freelancing platform, similar to Upwork. Probably the largest of the two.
These are all great options if you haven't exhausted them yet, but if you've found your way to this post I'm assuming that already know about these sites and you're looking for better ways to get logo design clients.
Freelancing sites tend to be very competitive, which makes it difficult to get hired. It also drives down the price of your services because of a lack of balance between supply (designers) and demand (clients). Combine that with the cut of your pay the platform is going to take, which can be as high as 20%, and you'll be lucky if you're left with enough to pay your bills after you deduct for taxes.
Worst of all, when you use a freelancing site, you're building the website's brand and not your own. You're helping them grow their platform — a platform they can shut you out of any time they want. This is why it's better to think like a marketer and start sourcing your own clients.
How To Get Logo Design Clients
The following are all strategies I've used over the years to successfully get logo design clients. I've tried and failed with many different strategies, so I'm only going to give you what's been proven to work for me.
YouTube
YouTube has been my biggest source of logo design clients over the past 5 years. YouTube is great because of how large the user base is, and their algorithm makes it easy for newcomers to be discovered and reach lots of viewers.
The way that I get logo design clients on YouTube is by creating tutorial videos where I teach how to design logos.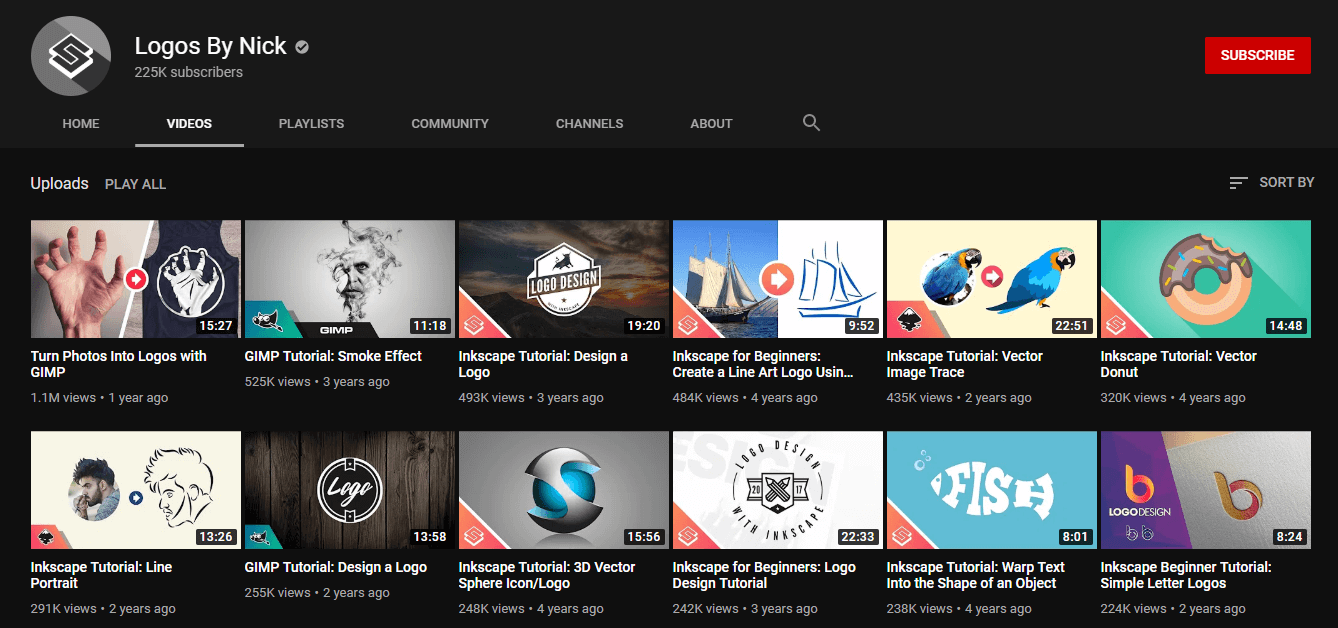 At the beginning of every video I make sure to mention my website, "This is Nick with logosbynick.com…" and add a little pitch with a link to my website in the video description. It's important to let people know exactly where they can go to hire you if they're interested in doing so. Make it as easy as possible to find and do business with you.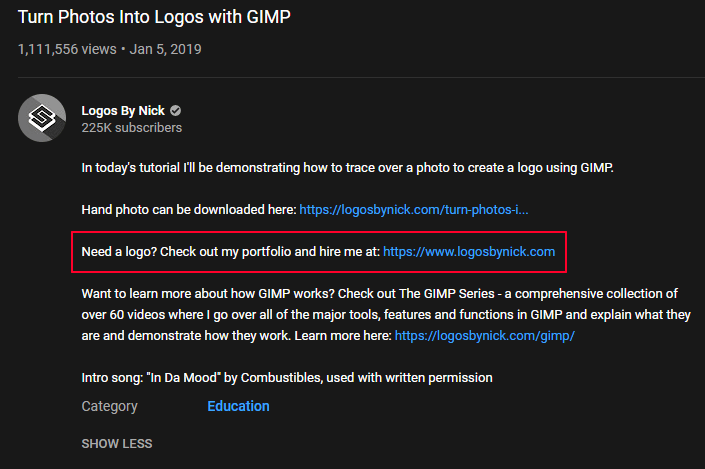 It may seem counter-intuitive that you're teaching people how to make their own logos, but I've found that most of the people who hire me to design their logo initially found me because they were searching for ways to make their own logo. Once they watched one of my videos they realized just how much skill and expertise it requires, then decided it would be more practical to simply pay me to do it for them instead. You'd be surprised just how many of my clients fit that description!
Don't be intimidated by the thought of creating a YouTube channel. You do no need a lot of views to be discovered by clients ready to pay you. I started my channel in June of 2015, and within just a couple of weeks I already had my first paying client who discovered me through one of my videos. By September of 2015 YouTube had become my largest source of new clients despite the fact that I was only getting a handful of views at the time and didn't even have my first 1,000 subscribers yet.
If you'd like more details about this then I would recommend checking out a post I made a few years ago about using YouTube to get logo design clients. Starting a YouTube channel is a lot of work though. There's a lot to learn, and you won't get very far if you don't know what you're doing, so I'd recommend checking out some videos about learning how to build and grow a YouTube channel. I'm personally a fan of Derral Eves. I learned a lot from him back when I was building my own channel.
Blogging and SEO (Search Engine Optimization)
My next biggest source of logo design clients is what you're looking at right now — the Logos By Nick blog.
The way that I get logo design clients through blogging is by writing articles that target search phrases related to logo design. A good example of this would be a post I wrote last year about choosing the right font for a photography logo. Here's a snapshot from my Google Search Console depicting how this post has performed over the past 28 days…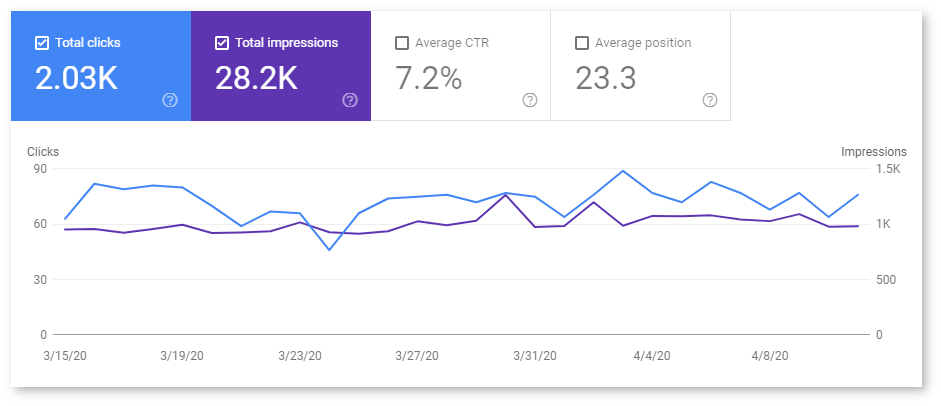 As you can see, this one post exposed my services to 28,000 people in a single month, 2,000 of which visited my website. That's a lot of reach, and the only thing it cost me was the hour and a half I spent putting that post together. Just imagine how many people you could reach once you've written 50 more posts!
You'll Need A Website
There's a higher barrier to entry with starting a blog than there is with starting a YouTube channel. For one, you're going to need your own website. I personally use a self-hosted WordPress site with a premium theme. I would absolutely recommend using WordPress and paying for web hosting so that you have complete ownership of your content (I use HawkHost to host my website.) When you use other platforms, like Blogger or Medium, you're giving up a lot of control and ownership of your content.
Having your own website to promote your logo design services is an excellent idea because it gives you a single location to direct traffic to from every other potential client source you may use, like YouTube, Instagram, Pinterest, or whatever else. Not only that, but a website makes you look more professional and trustworthy. This is important if you want clients to trust you with their money. Logo designers are a dime a dozen on sites like Behance and Dribbble, but a professionally made website of your own can help you stand out.
Learning About SEO
Another challenge with blogging is that learning how to get your posts to show up in the search results is very complicated, and there's a lot of competition. I've found that the easiest way to get logo design clients is to target really specific search phrases that fewer people have addressed.
For example, instead of targeting "best colors for a logo," target "best colors for a fitness logo".
Instead of "how much to charge for a logo design," target "how much to charge a friend for a logo design".
Instead of "photography logo", target "aerial photography logo".
(By the way, these are all search phrases that I have successfully targeted. They bring me lots of traffic every month.)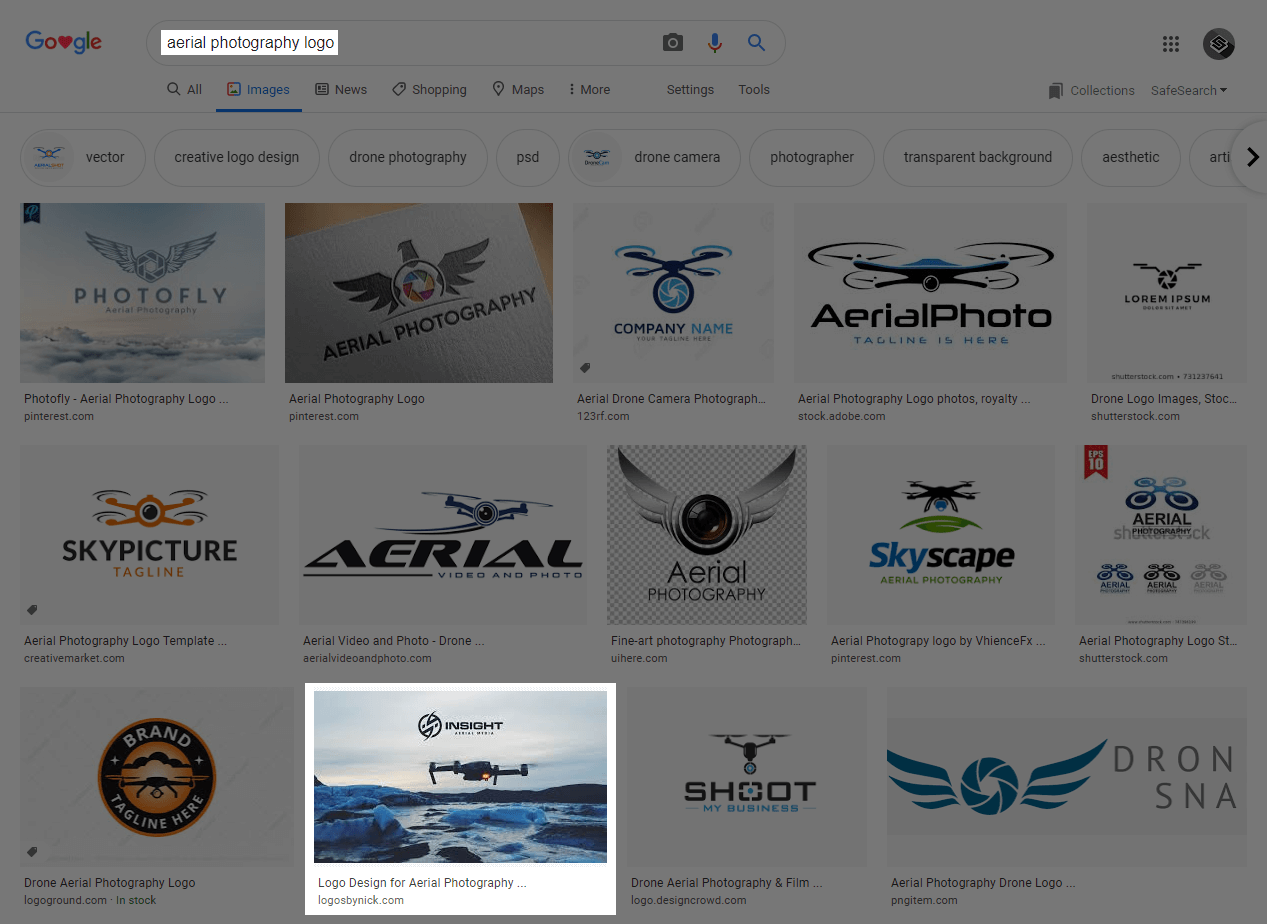 The more specific you are with your targeting, the less competition you'll have in the search rankings. You may not reach as many people as you would have if you were to rank for something more broad, like "photography logo", but there's so much competition for that search phrase that you'd probably never rank for it anyway. It's better to get some traffic than it is to get no traffic.
If you're interested in using blogging and SEO to get logo design clients then check out a post I wrote last year about why you should start a graphic design blog. To learn more about getting your website ranked in the search results, I would recommend checking out Brian Dean and Income School on YouTube. They both provide incredibly useful information. My blog wouldn't be as successful as it is today if it weren't for them.
Email Marketing
Another method I use to get logo design clients is email marketing. And no, I don't mean mass sending copy ad paste email templates to complete strangers. That's not marketing, it's SPAM.
The way that I get logo design clients through email marketing is by using it as a tool to get back in touch with potential clients who may have reached out to me in the past, but didn't hire me for whatever reason. Back when I worked in the marketing department for a home improvement company, we used to call these "rehash leads".
The way that it worked was someone would go to the company's website, fill out a form requesting info about home improvement services, then someone from the sales team would meet with them at their home to try and close the sale. If they weren't able to close the sale, the person's contact info would be sent to our department where we followed up with them a month later and offered a discount if they'd reconsider. This was highly effective! Rehash leads had a higher conversion rate than all other leads by far.
I was able to take what I had learned at my old job and apply it to my logo design business in the form of email marketing utilizing the services of MailChimp.
If you want to hire me to design your logo, there's a brief questionnaire to fill out beforehand. This allows you to tell me about your design needs so I can assess the project and get in touch with you the next day. If you decide not to hire me, you'll be added to an email marketing campaign that automatically sends you an email 30 days later offering a 15% discount to reconsider.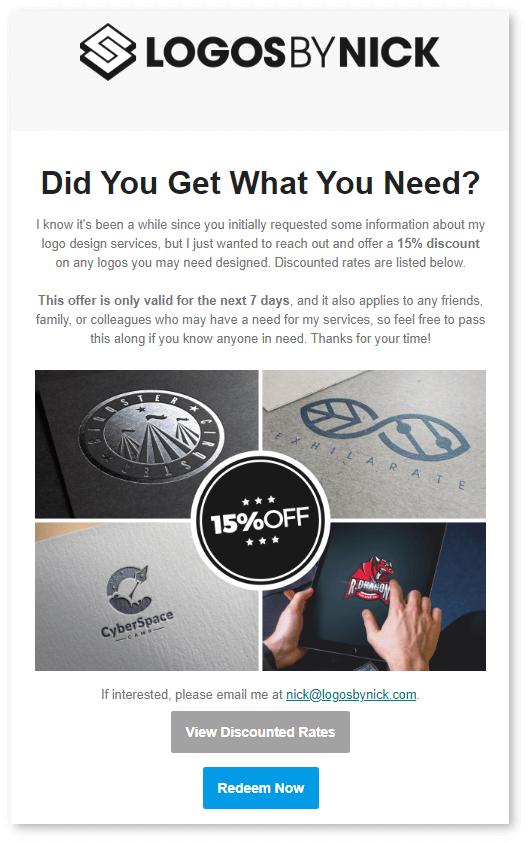 If they don't take me up on this offer then they get added to the "Free Logo Of The Month" mailing list where they automatically get sent 3 free logo templates each month.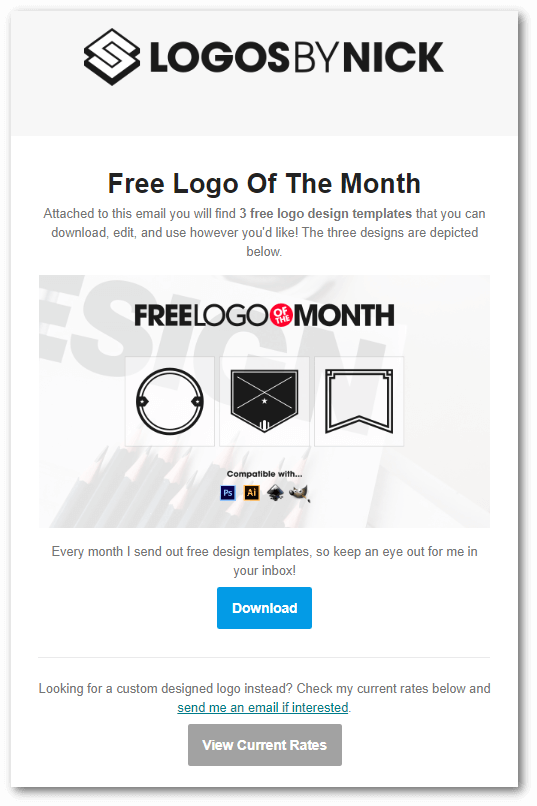 The catch is that I also send out a promotional offer once per month.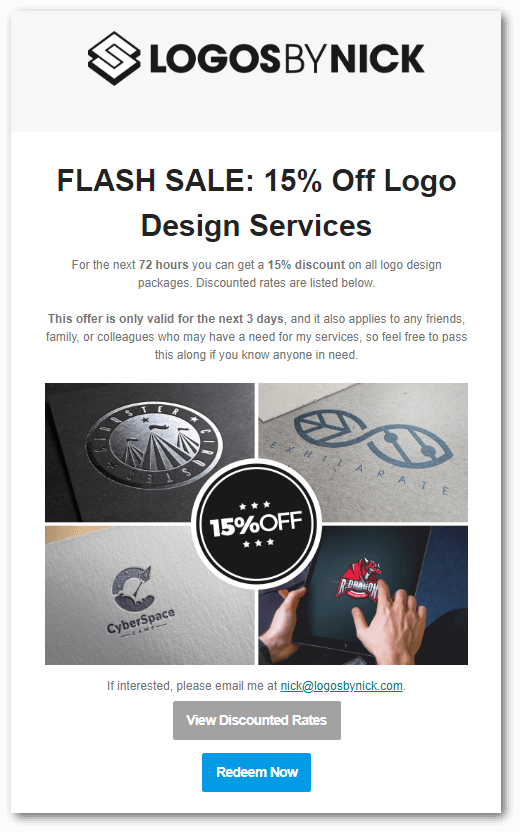 I give them free templates every month because it gives them an incentive to stay on the list and receive my promotions. If you do nothing but advertise at people all the time they're eventually going to unsubscribe or send you to their junk folder.
In case you're wondering, I've since ended this campaign, so I no longer offer this. However, just like at my old job, this was wildly effective! I had many clients take me up on these offers that I otherwise wouldn't have had the opportunity to work with.
This method of email marketing doesn't necessarily bring new people through the door like YouTube or Blogging does, but it does help you make more efficient use of the people who have already come through your doors. I've been able to get logo design clients and recoup tens of thousands of dollars in client acquisitions by doing this. These are leads that you earned with your hard work. They're valuable, and there's no reason you shouldn't try to get the most out of them as you possibly can.
If you're going to pursue email marketing please make sure to educate yourself on some of the laws beforehand, and make sure to follow them. Depending on your country of residence, there's a lot of rules and regulations that must be followed in regards to email marketing.
Which Should You Pursue?
There's other methods that I've used to get logo design clients, like Facebook ads and Instagram hashtags. I've had a modest amount of success with each, but I haven't put as much time and effort into them as I have the other methods discussed in this post, therefore my understanding of them isn't as extensive.
In my experience I've found that it's best to just focus on one thing at a time and learn how to do it well. If you try doing everything at once you're going to spread yourself so thin that you'll never make any kind of appreciable progress with anything. I started my YouTube channel in June of 2015, I spent several months getting my process down, then I started my WordPress blog later on in September of 2015.
Even today, I could learn new ways to get logo design clients if I wanted to, but I've done so well with these three methods that my time would be better spent reinforcing them. I think you'd be better served approaching your own marketing strategies with a similar mindset.
Logos By Nick LLC is a participant in the Amazon Services LLC Associates Program, an affiliate advertising program designed to provide a means for sites to earn advertising fees by advertising and linking to Amazon.com. As an Amazon Associate I earn from qualifying purchases. Read affiliate disclosure here.