If you currently use Upwork, either as a client or a freelancer, it may be time to start making other arrangements. According to some data I've recently seen in a very interesting article, the company isn't doing too well and Upwork going down may be a very real possibility.
Upwork was formed as a result of the merger between Elance and oDesk — rival staffing platforms that allow employers to hire competing freelancers for projects ranging from design, programming, writing, web development and administrative tasks, among other duties that can be delivered digitally. It lets employers choose from a diverse, global pool of talent, and gives workers immediate access to a wide variety of jobs they can be hired for without having to market and acquire clients on their own. In return, the site takes a small percentage of the transaction as a fee. The two companies merged due to the declining number of jobs being posted.
Elance vs oDesk
Personally, I had quite a bit of experience with both platforms before the merger.
Elance was the better of the two. It was simple, easy to navigate, payments were prompt, fees were fair, and the quality of jobs being posted was great. oDesk had the reputation of being the second-rate version of Elance, with lower priced projects and questionable workers. Suffice to say, I didn't have much success with oDesk, nor did I have any interest in doing so.
Elance, on the other hand, was a different story. It's where I began my freelancing career, and for many years I was a proud supporter of the company. Before I had my own website, I would direct all of my clients to Elance to sign up for an account if they wanted to hire me for work. I simply didn't have any other means of conducting business & delivering work at the time, and in my opinion, the 8.75% fee was very fair considering they did all of the marketing for me. I liked the service and wanted the company to do well, so I didn't have a problem with bringing clients I acquired outside of Elance through the site.
The Upwork Experience
When the two sites merged to form Upwork, it was like diluting fine wine with fruit punch. The quality of jobs being posted had gotten worse, and the number of jobs being posted seemed to be in decline. In addition, Upwork introduced some new policies I'm not too crazy about, to say the least.
The most debilitating of all is a 6-day holding period on payments. So, if I finished a project today and delivered the work to the client, and the client was happy with the work and released the funds to me, I wouldn't have that money in my possession until 6 days from now. After then, I'd have to wait another day or two for the funds to be deposited into my bank account.
This was a deal breaker for me as it would be too disruptive to my cash flow, so I started looking at other options and eventually ended up having success acquiring contracts on my own. In hindsight, this turned out to be the best thing to happen to my career yet as I now have full control over my business and am no longer beholden to freelancing platforms.
Upwork's reasoning for implementing the 6-day hold on payments is, in their own words, "security reasons." They won't elaborate on it any further than that, so I suspect there's other motives. If they would've kept things the way they were, I would probably still be driving business to their platform.
Upwork Going Down
According to some data presented on an article at ZeroHedge.com, T. Rowe Price's valuation of Upwork has the company in a downward trajectory, and only worth about $7.3 million as of March 2016. This is a little disconcerting when you take into consideration the $30 million in funding they raised in August of 2014.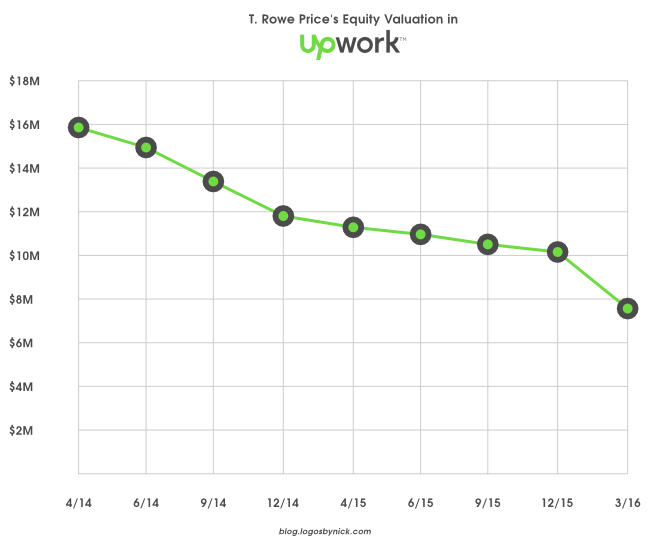 If that's not an ominous sign, I don't know what is. And if things don't take a quick and drastic turn for the better, Upwork might not be around long enough to see 2017.
We can only speculate about the cause of Upwork's apparent downfall. If I had to guess, I'd say it's a combination of poor execution from management along with what is, in my opinion, a product that needs improvement.
Based on my own experience, the Upwork website is disorganized and needlessly complicated. I often struggle to locate things on the site and regularly find myself guess-clicking links to find what I'm looking for. This is coming from someone who has been active on the web since the late 90's. I can't imagine what a nightmare navigating Upwork must be for someone who isn't as web savvy.
In addition to that, Upwork recently increased their fee from 10% to 20%. The reason for this being that the company actually loses money on smaller projects. But of course, in predictable corporate fashion, they framed it as a new fee structure that rewards high value, long term projects.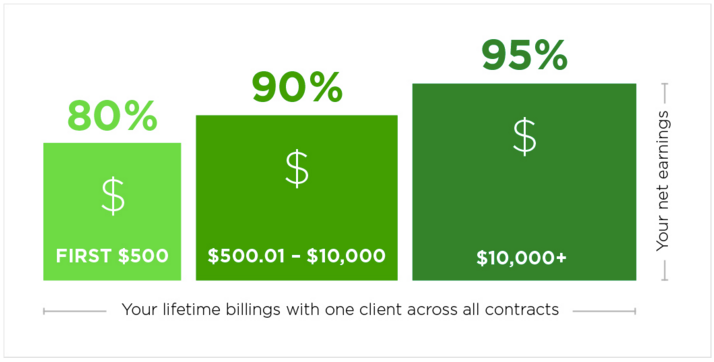 This was the final nail in the coffin as far as I'm concerned. I'll still use the site to maintain current business relationships I have with clients there, but barring any kind of drastic slowdown in business, I can't see myself using the site to look for work moving forward. The majority of graphic design jobs posted on the site is less than $500 on average, and the 20% fee is just too big of a hit for me to absorb, especially when you consider that even more of that money needs to be deducted for taxes. Simply put, I'm better off sourcing my own work.
The fee hike appears to be a last-resort from a company trying to keep itself afloat. Compound that with the 6-day hold on payments, the bargain basement jobs being posted, less frequent job postings, and the site's user-unfriendly UI, and Upwork becomes a stark contrast to the golden era of Elance. It's now a less appealing product than it previously was.
…And despite all that, I still think Upwork is one of the better freelancing platforms, so I'm hoping they turn things around.
Alternative Freelancing Sites
If Upwork does indeed meet its demise in the near future, it'll be a big hit to the online freelancing industry. From what I've seen, there aren't many worthy opponents, but there's some. Here's some other sites you could use to find work if the company ends up closing their doors for good…
Freelancer.com – Freelancer currently holds dominion in the crowdsourcing world. The publicly traded company, based out of Sydney, Australia casts a shadow over Upwork and is currently the largest platform for online outsourcing. I'm not too crazy about the site though. From what I remember from my most previous experience with them (2014,) the site is even more chaotic and disorganized than Upwork's. In addition, the volume of design contests (see: spec work) that get posted drowns out the quality jobs from paying clients. This is one area where I have to tip my cap to Upwork. For as long as I remember, the company has always stood firmly on their position regarding unpaid work being against the rules. For all I know, Freelancer could've improved since the last time I used it. Certainly worth checking out at the very least. Looking at their stock's price over the past 5 years, the company seems to be faring better than Upwork.
Behance.net – Behance is sort of like a social networking site for graphic designers. The company, which was acquired by Adobe in 2012, isn't exactly a freelancing platform, but it is a place where you could get in front of a targeted audience and link out from your profile to your own site where potential clients could contact and hire you. This requires a far different approach and skill set than using a traditional freelancing site, but if you could leverage it to your advantage, it looks like it could be a very effective way to get work. I don't personally have any experience using the site, but from what I can see just by looking at the front page, it gets a lot of traffic. If you can get an item from your portfolio featured on the home page, it could lead to a surge of traffic to your own site.
LinkedIn.com – LinkedIn is better known as being a social networking site for businesses, employers and employees. Recently, however, LinkedIn launched their own online marketplace similar to Upwork's, where employers can hire freelancers for various types of gigs. The jury is still out on whether or not this could be a fruitful endeavor to pursue as a freelancer as this is still a fairly new play by LinkedIn, but it piques my interest nonetheless, and I will be keeping an eye on it. Considering the large audience of decision-makers that frequent the site, it has a lot of promise.
There's probably a lot more that I'm unaware of. For the past year I've been getting all of my work from my own marketing efforts, so I've been out of the game for a while and may be a bit out of touch with what else is out there. If you know of any other sites freelancers could use to find work, please, lend a helping hand by sharing them in the comments.
If you're like me and are fed up with the unpredictable and unstable nature of being beholden to freelancing sites, it may be in your best interest to have your own website built and start learning how to market yourself and get hired for work without their assistance. As I wrote about earlier this month, creating videos for Youtube has brought me tens of thousands of dollars worth of new business since I started a little over a year ago, and recently my blog posts are showing up in search and being discovered by paying clients. I've also been experimenting with running ads on Facebook, Google and Bing. I'll report back once I have that figured out and can offer some actionable advice.
Logos By Nick LLC is a participant in the Amazon Services LLC Associates Program, an affiliate advertising program designed to provide a means for sites to earn advertising fees by advertising and linking to Amazon.com. As an Amazon Associate I earn from qualifying purchases. Read affiliate disclosure here.