One of the most common questions I receive as a logo designer is regarding how much a logo costs. The answer isn't as simple as expected, but in this post I will estimate the average cost of a logo design based on my 8 years of experience.
Asking how much a logo costs is kind of like asking how long a piece of string is — it depends. There are logo designers for virtually every budget, so it mostly depends on what you're looking to spend versus who you hire, what their experience level is, and what your expectations are.
I always advice my clients to think of logo pricing in terms of buying a designer's time rather than buying a logo. In order for you to have a personalized logo made, a designer has to dedicate their time to making that logo for you. The more of their time you're able to purchase, the more time and effort will go into your logo. What a designer's time is worth depends on their experience and how much demand there is for it.
Average Cost Of A Logo Design
Generally speaking, there's 5 different avenues to consider when looking to hire a logo designer, and their prices all vary. Let's explore.
1. Design Contests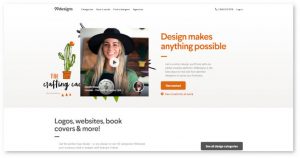 A design contest allows you to receive custom-designed logo proposals from a large pool of designers. Once you've found a design that you like, you can pay only for that design and be on your way. 99Designs would be a good example of this.
Average Cost Of A Logo Design: $300 to $600 USD
Pros
Allows you to choose from a wide variety of logo designs.
Usually hosted on a centralized platform that you can trust.
Cons
Since most designers who enter design contests end up working for free, it has a tendency to attract students and beginners who lack the experience to be paid for their work.
Considering what you would pay for a similar experience level elsewhere, you're paying a premium for the abundance of choice. If the goal is to get a professional logo that is tailored to your business, you may want to spend those dollars on experience rather than an abundance of inexperience. This is something I touched on a bit in a post I wrote earlier this year where I compared 99Designs to a buffet rather than a steakhouse.
2. Crowdsourcing Platforms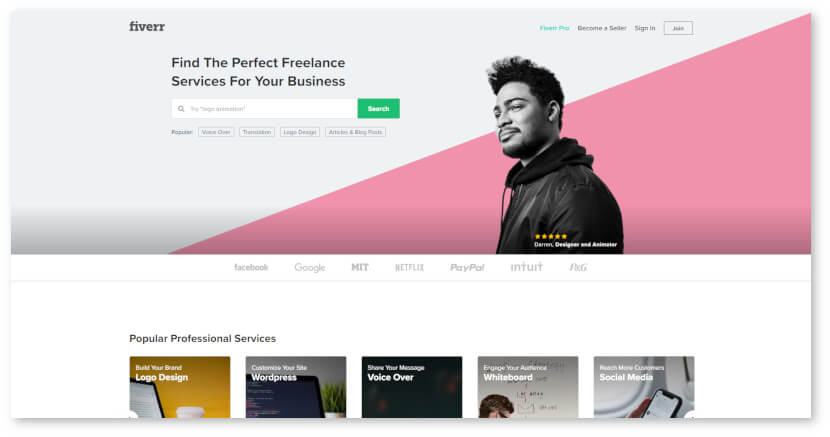 A crowdsourcing platform is kind of like Ebay, but for services that can be rendered remotely. It's a website that connects clients and service providers. So if you're looking to have a logo designed, you can post a job stating what you're looking for, then a bunch of different designers will send in a proposal outlining what they can do for you and what their price will be. You can review each designer's proposal, portfolio, price, then make a hiring decision. The most popular crowdsourcing platforms would be Fiverr, Upwork, and Freelancer.
Average Cost Of A Logo Design: $5 to $200 USD
Pros
Makes it easy to shop for the right designer for you
Prices and experience level vary greatly, so if you're in the market for a cheap logo you can find something on Fiverr for as little as $5; but if you're looking for a bit more experience you can also find an experienced designer in the range of $250.
It's hosted on a centralized platform that you can trust.
There's usually a third party mediator you can appeal to if you're not happy with a designer's service.
Cons
The competitive nature tends to drive prices down, so it mostly attracts designers who are inexperienced and willing to work for less because they have no other options.
Due to the competitive nature of pricing, it causes designers to adopt an assembly line work ethic where they're pumping out logos around the clock in order to keep the lights on, meaning your logo could be haphazardly thrown together without much thought or effort going into it.
There have been complaints of plagiarism, which could land you in hot water if you're not careful.
It can be a cumbersome experience. You have to sign up for an account, add payment details, familiarize yourself with the site and its interface, etc.
3. Private Freelancer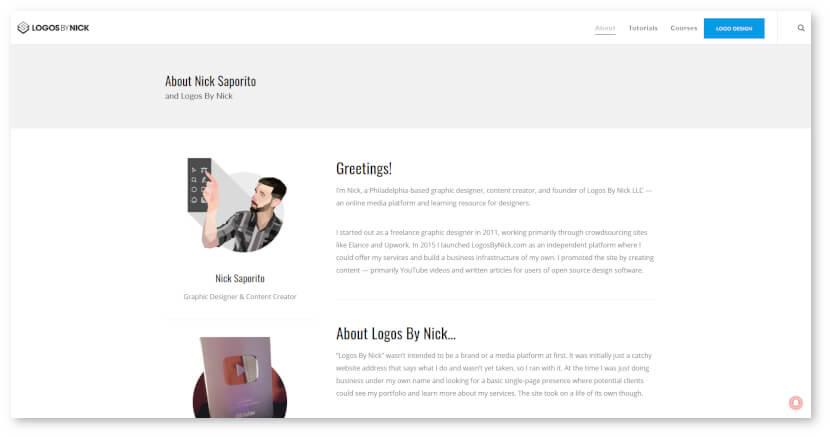 A private freelancer is someone who works independent of any platforms or third-party services. This is someone you would typically find by personal referral, your local AIGA directory, or possibly from a Google search. This is the category I would place myself under. You can simply reach out to us by email or phone and we will work with you directly.
Average Cost Of A Logo Design: $500 to $2,000 USD
Pros
We're able to put more time, thought, and effort into your logo since we're being paid what we feel our time is worth. A private freelancer is the way to go if you want a truly personalized experience and a logo that is tailored to your needs rather than the mass-produced quality of work you would normally get from the cheaper alternatives.
Not that all private freelancers are experienced and reputable, but designers who are experienced and reputable tend to work for themselves (or an agency.) We don't need to resort to things like design contests and crowdsourcing platforms that force us to cut corners and take a cut of our pay, so you won't find many of us there.
We're easy to work with. We usually work with you directly through email and phone. No need to sign up for an account and enter your payment details into an unknown website that you probably won't use again.
Cons
Compared to the alternatives, we usually aren't the best option if you're looking for something cheap. A private freelancer is only a good fit for you if you're seeking a true pro and have the budget to accommodate it.
You really have to do your due diligence when looking to hire a private freelancer and make sure you've found someone that you can trust. If something goes awry, you won't have a third party mediator to appeal to aside from the payment processor (PayPal, Square, etc.) and the legal system.
4. Small Studio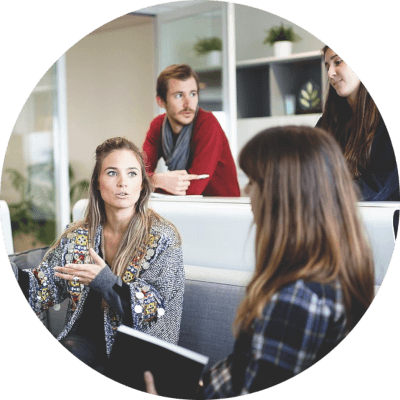 A studio is a collective of designers who work as a team to fulfill your design needs rather than working with an independent designer. You may be able to find a studio by word of mouth, Google search, or from your local chamber of commerce. This doesn't just include design studios but also boutique marketing agencies that have designers on staff.
Average Cost Of A Logo Design: $10,000 to $30,000 USD
Pros
You get all of the experience and trustworthiness that you would normally get working with a private freelancer.
You're working with a team of designers rather than a single designer, meaning there's more of collaborative effort. You get more input, more ideas, more feedback, and more possibilities.
Cons
The price will be higher since you're working with a team rather than a single designer.
Studios tend to have a lot of overhead (rent on commercial spaces, employee benefits, different types of licensing and insurance, etc.) that gets baked into their prices. When you hire a studio you're paying a premium for working with a team, but you're also paying for their overhead.
5. Large Agency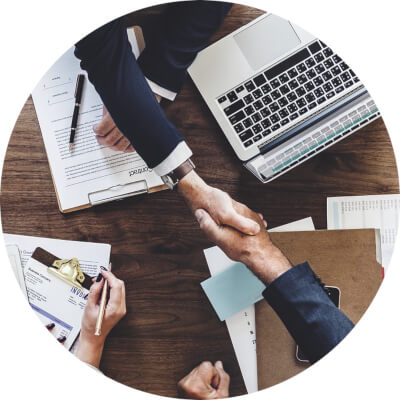 At this point we're not just talking about logo design, we're talking about brand strategy and consulting as well. Since this is something most designers aren't qualified for, the agency usually consists of a large team of professionals that specialize in different things.
Average Cost Of A Logo Design: $30,000 USD and up
Pros
Agencies offer more than just design. They offer consulting as well. This would be ideal for an already-established brand that is looking for guidance from worldly veterans. Whenever you see that an already well-known company had their logo redesigned, it was usually through a large agency. For example, the American Express logo was recently redesigned by an agency known as Pentagram.
Since you have so many specialists working on your project, large agencies are where you're likely to get the best results.
Cons
When you hire a large agency, you're not just buying a logo design. You're paying for consulting and guidance from an entire team of professionals.
It's not cheap, and certainly not for everyone. Prices can go as high as you can count. It it reported that Accenture paid $100 million for their logo!
Logos By Nick LLC is a participant in the Amazon Services LLC Associates Program, an affiliate advertising program designed to provide a means for sites to earn advertising fees by advertising and linking to Amazon.com. As an Amazon Associate I earn from qualifying purchases. Read affiliate disclosure here.