You may be shortchanging yourself if you hire a logo designer simply because they have an impressive portfolio. Ideally, you should first communicate with a prospective designer you're considering hiring to make sure they fully understand the answers to the following questions…
1. What is the featured selling point of your product/service?
Simply stating that you're coming out with a new line of headphones isn't going to be enough. What makes your headphones special? Are they a high-end product? Are they economical? Are they water-resistant? Your designer should understand, in full detail, exactly what problem(s) your product/service solves.
Knowing this information gives your designer a starting point as far as brainstorming goes, and it's always a good idea to lead with your strengths.
2. Who is your target audience?
Making sure your designer knows your market is in your best interest. This gives him or her someone to communicate to.
For example, if you're selling athletic headphones that come in a wide variety of colors and are competitively priced, your target audience would be young athletes. They're probably involved with sports, whether it be at school or university, so the age range would be 15-24.
It obviously doesn't make sense to design a logo for this product the same way you would a luxury car dealership who is targeting men aged 50 and up with an income of at least $100K per year.
A good designer will do the necessary research to get an understanding of what appeals to this demographic and how to communicate that through your logo.
3. Who are your competitors?
Letting your designer know who you'll be competing with is a great way for him or her to go about getting a feel for your market.
We're obviously not looking to copy anybody else, but rather get a sense of how your competition goes about communicating their brand through their creative materials. If your competitors are established and successful, it's probably a good idea to try and learn something from the way they execute.
4. What makes your product/service stand out from your competition?
Knowing what separates you from the rest and leading with that information is an approach you'll want to pursue. This information is particularly handy for your graphic designer. Although it may not have too much influence on the logo design itself, it may play some small (but significant) role.
5. What would you like your logo to communicate?
Your logo should communicate your mission in as relevant a way possible. Your logo designer should have a clear understand of what your vision is for your brand, so he or she can use that as a cornerstone of the design process.
6. What feeling(s) would you like to inspire upon first sight of your logo?
If you're selling personal training services, your logo should inspire a feeling of optimism and hopeful outlook. If you're selling automotive repair services, your logo should inspire feelings of trust and technical knowledge. If you're selling craft beer, your logo should inspire a sense of community on a local level as well as a touch of casual.
Get as good a handle possible on how you'd like your viewers to feel when in front of your brand and communicate that to your designer so they can use it as a variable in the design process.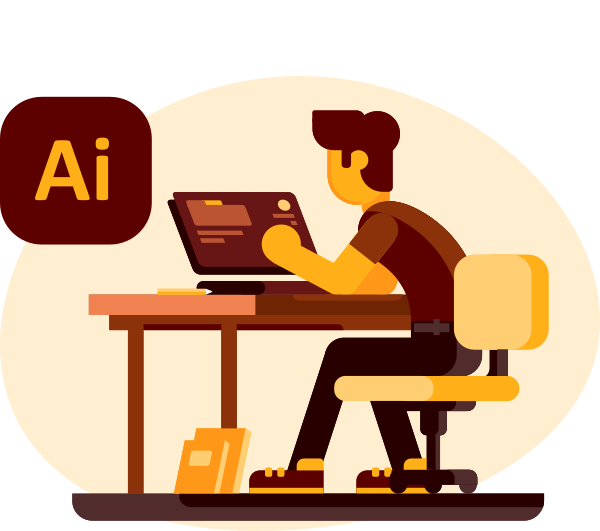 Become A Master of Adobe Illustrator!
Want to learn more about how Adobe Illustrator works? Check out my Illustrator Explainer Series - a comprehensive collection of over 100 videos where I go over every tool, feature and function and explain what it is, how it works, and why it's useful.
This post may contain affiliate links. Read affiliate disclosure here.