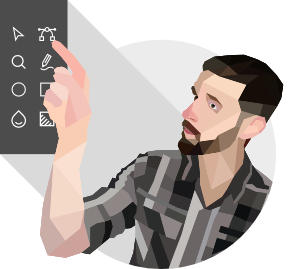 Nick Saporito
Graphic Designer
Greetings!
I'm Nick…
A freelance graphic designer from Philadelphia who specializes in branding-specific design.
My passion for design began back in the late 90's when I learned how to code HTML and use design software as a hobby, starting at the age of 13. This sent me down a long path that I am still on today.
Since 2011, I've worked professionally as a graphic designer and in that time have worked for over 1,000 different clients on a freelance basis. Notable clients include Johnson & Johnson, Prudential and the University of California, Irvine.
My freelancing career began in 2011 on a freelancing platform known as Upwork (formerly Elance) where I maintained a feedback rating of no less than 4.9 stars out of 5. Early in 2015, I launched LogosByNick.com and started down the path to building my own infrastructure and business assets.
In addition to my freelance work, I also create screencast tutorials for my Youtube channel that teach aspiring designers how to use open source design software, as well as my blog, where I share more in-depth details about design and the business of freelancing.
In addition, the creation and promotion of informational products and digital downloads is something I actively pursue. Notable successes are my freelancing guide, my logo design course, and a set of customized icons I designed for Inkscape.
All of this has been made possible by a genuine passion I have for design, as well as a never-ending curiosity to learn more and more about business and marketing.
Creative Services Offered
Branding & Logo Design
Social Media Branding
Desktop & Mobile Application Graphics
Web Icons, Headers and Graphics
Print Design
PPC Ad Design
Ready To Get Your Design Project Started?
Tell me a little more about your design needs by stopping by my contact page and filling out a short questionnaire. Be as brief or descriptive as you'd like, but keep in mind that the more information I have, the better of a job I can do. Once submitted, I will be in touch with you within 24 hours to discuss your project further and how I intend to help you.